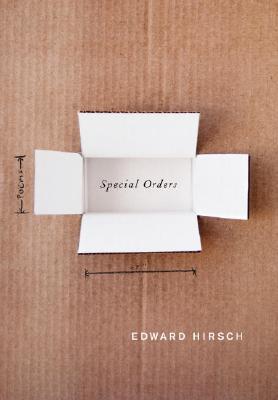 Special Orders: Poems (Hardcover)
Poems
Knopf, 9780307266811, 80pp.
Publication Date: March 11, 2008
* Individual store prices may vary.
or
Not Currently Available for Direct Purchase
Description
In Special Orders, the renowned poet Edward Hirsch brings us a new series of tightly crafted poems, work that demonstrates a thrilling expansion of his tone and subject matter. It is with a mixture of grief and joy that Hirsch examines what he calls "the minor triumphs, the major failures" of his life so far, in lines that reveal a startling frankness in the man composing them, a fearlessness in confronting his own internal divisions: "I lived between my heart and my head, / like a married couple who can't get along," he writes in "Self-portrait." These poems constitute a profound, sometimes painful self-examination, by the end of which the poet marvels at the sense of expectancy and transformation he feels. His fifteen-year-old son walking on Broadway is a fledgling about to sail out over the treetops; he has a new love, passionately described in "I Wish I Could Paint You"; he is ready to live, he tells us, "solitary, bittersweet, and utterly free."
More personal than any of his previous collections, Special Orders is Edward Hirsch's most significant book to date.

The highway signs pointed to our happiness;
the greasy spoons and gleaming truck stops
were the stations of our pilgrimage.

Wasn't that us staggering past the riverboats,
eating homemade fudge at the county fair
and devouring each other's body?

They come back to me now, delicious love,
the times my sad heart knew a little sweetness.

from "The Sweetness"
About the Author
Edward Hirsch is the author of six previous collections of poetry, including "Wild Gratitude," which won the National Book Critics Circle Award. He has also published four prose books, among them "How to Read a Poem and Fall in Love with Poetry, "a national best seller. He has received numerous awards, including a MacArthur Fellowship, and publishes regularly in a wide variety of magazines and journals, including "The""American Poetry Review" and "The New Yorker." A longtime teacher in the creative writing program at the University of Houston, he is now the president of the John Simon Guggenheim Memorial Foundation. He lives in New York City.
Praise For Special Orders: Poems…
"Hirsch summons the past and holds it like a stone in his palm . . . It is possibly the most triumphant kind of mourning, that which holds that things gone by are not lost, only transformed." —The Pedestal Magazine (online)

"A chronicle of the triumphs and failings of life . . . supersaturated with his delightful, instructive allusions to the greats of yore." —New York
Advertisement