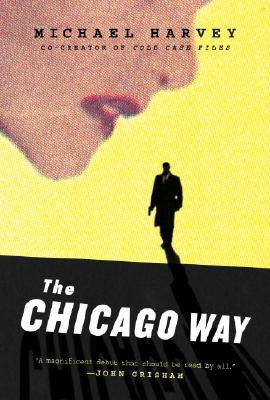 The Chicago Way (Hardcover)
Knopf, 9780307266866, 320pp.
Publication Date: August 21, 2007
Other Editions of This Title:
Digital Audiobook (8/20/2007)
Digital Audiobook (8/20/2007)
Paperback (7/8/2008)
Hardcover, Spanish (8/1/2008)
* Individual store prices may vary.
Description
From the co-creator and executive producer of the television show Cold Case Files, a fast-paced, stylish murder mystery featuring a tough-talking Irish cop turned private investigator who does for the city of Chicago what Elmore Leonard did for Detroit and Raymond Chandler did for Los Angeles.

Chicago private investigator Michael Kelly is hired by his former partner, John Gibbons, to help solve an eight-year-old rape and battery case, a case it turns out his old friend was once ordered to forget. When Gibbons turns up dead on Navy Pier, Kelly enlists a team of his savviest colleagues to connect the dots between the recent murder and the cold case it revived: Diane Lindsay, a television reporter whose relationship with Kelly is not strictly professional; his best friend from childhood, Nicole Andrews, a forensic DNA expert; Nicole's boyfriend, Vince Rodriguez, a detective with a special interest in rape cases; and Bennett Davis from the DA's office, a friend since Kelly's days on the force. To close the case, Kelly will have to face the mob, a serial killer, his own double-crossing friends, and the mean streets of the city he loves.

Ferociously plotted and crackling with wit, The Chicago Way is first-rate suspense steeped in the glorious, gritty atmosphere of a great city: a marvelous debut.
About the Author
Michael Harvey is a writer, journalist, and documentary producer. He has received national and international awards for his work. Mr. Harvey earned a law degree from Duke University, a master's degree in journalism from Northwestern University, and a bachelor's degree in classical languages from Holy Cross College. He lives in Chicago.
Praise For The Chicago Way…
Praise for Michael Harvey's The Chicago Way

"A magnificent debut that should be read by all."
—John Grisham

"Harvey's debut delivers a fast-paced thrill ride through Chicago's seedy underbelly . . . [He] masterfully combines the sardonic wit of Chandler with the gritty violence of Lehane's Kenzie and Gennaro series. Bringing Chicago to life so skillfully that the reader can almost hear the El train in the distance, Harvey is poised to take the crime-writing world by storm."
—Publishers Weekly (starred review)

"Heartfelt, ambitious . . . Kelly, a wisecracking Irish Scrapper, slings metaphors like Philip Marlowe and reads Homer and Aeschylus in Greek . . . Harvey ends up delivering the goods."
—Kirkus

"Michael Harvey's tightly plotted evocation of the Chicago underworld is set in the present but brings to mind the voices of Chandler and Hammett."
—New York

"Gritty and witty, The Chicago Way is done the classic Raymond Chandler Way. Harvey's taut plot, snappy prose, and memorable characters make this debut novel a real winner."
—Kathy Reichs

"The Chicago Way is a wonderful first novel. Michael Harvey has studied the masters and put his own unique touch on the crime novel. This book harkens the arrival of a major new voice."
—Michael Connelly

"The efficiency of [Harvey's] cinematic style . . . suits the brisk, animated shots of Chicago that give the story both grit and authenticity."
—New York Times Book Review

"It is a measure of the ambition of Michael Harvey's first novel, The Chicago Way, that we start it thinking about Dashiell Hammett and end it pondering Aeschylus."
—The Washington Post Book World

"Not to be outdone by his work in television, Harvey has written a provocative novel that captures the grittiness of the Windy City and spins a murder mystery with a satisfying and out-of-left-field ending. . . . Readers will find the clipped cadence of Harvey's dialogue and narrative wonderfully reminiscent of Raymond Chandler."
—USA Today

"[Harvey] composes punchy noir sentences that he stacks into punchy noir paragraphs that have all the rhythm, irony, and wit of the genre's manly classics of the 1920s and '30s."
—Entertainment Weekly

"This contemporary police procedural by the man responsible for TV's Cold Case Files smacks of Raymond Chandler filtered through Robert B. Parker."
—Go Magazine

"The Chicago Way by Michael Harvey is as entertaining as a night out on the town."
—The Missourian

or
Not Currently Available for Direct Purchase