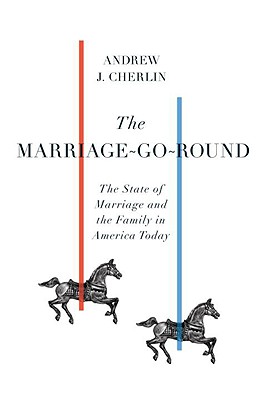 The Marriage-Go-Round (Hardcover)
The State of Marriage and the Family in America Today
Knopf, 9780307266897, 288pp.
Publication Date: April 14, 2009
Other Editions of This Title:
Paperback (4/6/2010)
* Individual store prices may vary.
Description
From one of the nation's leading experts on the American family, a book that explores the state of marriage in America today; its evolution culturally; and with regard to religion and the law, how and why the present state of marriage—a merry-go-round of partnerships—developed, and the implications for parents and children.

During Andrew J. Cherlin's three decades of study and analysis of family life, he came to see that marriage in the United States was different than in other Western countries—Western Europe, Canada, Australia, and New Zealand—in a way that no one was writing about. He realized that marriage in America, unlike in other countries in the world, was seen as a cultural idael, and the U.S. government was spending money to promote its continuation. The institution of marriage had become a social and political battlefield.

Cherlin writes that Americans marry more repeatedly and have more live-in partners; that marriage and remarriage, frequent divorce, and short-term cohabiting relationships have resulted in a core upheaval in American family life; and that American children have been left to cope with the frequent and disruptive comings and goings of parents.

He writes that Americans have come to embrace two contradictory models of personal and family life: marriage, a formal commitment to share one's life with another; and individualism, which emphasizes personal growth and development. The former promotes a lasting relationship; the latter encourages one to move on. Each model is culturally reinforced by two basic, powerful institutions: religion and law.

Cherlin writes about the inconsistency of American religion and law with regard to family life. He argues that contemporary religion, although supportive of marriage, embraces the quest for self-development. And he makes clear that family law, which used to be centered on marriage, is today focused on the individual and his or her obligations to children.

He discusses the movement and civil struggle for same-sex marriage in America as opposed to in many European countries, where marriage is seen by gay couples as an oppressive heterosexual institution.

A fascinating book that illuminates the shifting nature of America's oldest and most cherished social institution, the subject of intense and ever-increasing national debate.
About the Author
Andrew J. Cherlin is the Benjamin H. Griswold III Professor of Sociology and Public Policy at Johns Hopkins University and is the author of "Public and Private Families." His articles have appeared in "The New York Times Magazine, The Nation, " and on the op-ed pages of "The New York Times, The Washington Post, " and other publications. He has been a recipient of a John Simon Guggenheim Memorial Foundation Fellowship and the Distinguished Career Award from the Family Section of the American Sociological Association. He lives in Baltimore.
Praise For The Marriage-Go-Round: The State of Marriage and the Family in America Today…
"A landmark new book." —Time

"Intriguing. . . . Provocative. . . . Cherlin has come up with an original thesis [to explain] this peculiar paradox—we idealize marriage and yet we're so bad at it." —The New York Times
 
"A masterful comparative analysis. . . . Cherlin argues that Americans have a distinctive pattern . . . which stems from our simultaneous commitments to marriage and to self-expression and personal growth." —The American Prospect

"Cherlin is one of America's leading experts on the family. . . . His book delivers a stern warning to this fast-paced conjugal culture: 'Slow down—watch out for the children.'" —Commonweal
or
Not Currently Available for Direct Purchase