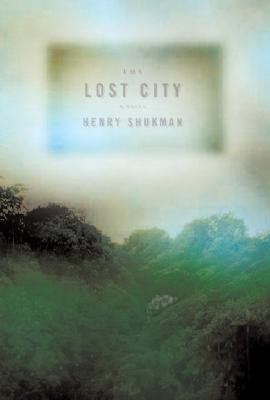 The Lost City (Hardcover)
Knopf, 9780307266941, 336pp.
Publication Date: February 19, 2008
* Individual store prices may vary.
or
Not Currently Available for Direct Purchase
Description
Henry Shukman's debut fiction collection, Mortimer of the Maghreb, was acclaimed as "fearless, brilliantly realized, [and] richly rewarding" (Los Angeles Times Book Review). Now, in his first novel, he tells the story of a British expat searching for treasure and, more important, for connection, amid the seductions and dangers of a rootless life.

Jackson Small has just been discharged from the British military after witnessing the violent battlefield death of his closest friend, Connolly. It was Connolly who introduced him to the fascinations of ancient civilizations, enticing him with stories of La Joya, the capital of a vanished Peruvian empire. Coping with his grief, Jackson sets off in search of La Joya, hidden in the cloud forest hanging between the Andes and Amazonia.

It's an arduous journey: through desert, arid mountains, inhospitable villages, and impenetrable jungle. And though he finds unexpected help—from a young boy as wily as he is innocent, from an irreverent village priest, and from a woman who both redefines and fulfills all of Jackson's expectations—he's also warned at every turn to abandon his search for a place that may not even exist. But he lets nothing stop him from entering the depths of the forest believed to protect the ruins of the lost city—where he will encounter other seekers whose methods are far more sinister than his own

With its starkly lyrical voice, its headlong pace, and the romanticism of the quest that fuels it, The Lost City is at once suspenseful, continually unexpected, and thoroughly mesmerizing.
Praise For The Lost City…
"[An] intense and admirable novel, which demonstrates that the romantic tradition still strives and thrives . . . Adventure in the old high-style, with modern characters as heroes who are as deeply flawed as we all are, set in exotic locations, depicted in clear, sharp prose that nevertheless often sings with a lyrical quality usually reserved for romantic poetry–a novel that offers all this is for many of us something devoutly to be wished for. But, since Conrad is dead and Robert Stone takes years to complete a novel, we don't often find such books easily at hand. But here it all is in The Lost City."
–Alan Cheuse, San Francisco Chronicle

"An unsettling tour de force . . . A golden streak of imaginative art makes this work so much more than an adventure yarn . . . Just as he is evoking for us a young man's emotional anxieties, suddenly Shukman leaves the metaphysical route and strides splendidly into sights and sounds and equatorial smells, evoked in startling and often beautiful detail. He reminds me sometimes of W.G. Sebald, and his imagery can be startlingly apt."
–New York Times Book Review

"Shukman puts his itinerant background and stellar writing gifts to use in a potent tale about a confused young man who isn't sure whether he's a murderer or not . . . The ecstasy of Shukman's writing has a special allure [and] the book's supporting characters all add to its vivid color."
–Seattle Times

"Seductive and stimulating, full of the wonders and horrors of distant lands."
–LA Weekly

"A powerful new novel [with] a tantalizing premise . . . Braiding power, commerce, archaeology, and tourism with threads of adventure and romance, Shukman weaves a compelling narrative. But his greatest triumph is rendering an almost impossibly remote region so present and palpable."
–National Geographic Traveler (Book of the Month)

"The writing is too good to miss . . . Shukman plays the Heart of Darkness—meets—Graham Greene card with brio, offering smart, lyrical prose and a breakneck plot."
–Men's Journal

"Shukman proves to be a thrilling novelist keenly sensitive to the power of place. Psychological acuity and ravishing descriptions infuse this nearly hallucinogenic and truly affecting tale of the rule of blood, repentance, and love with deep insights into humankind's struggle not only to survive but also to dwell in beauty."
–Booklist

"Shukman weaves together political intrigue, passionate romance and personal discovery in a visceral and lush debut . . . His forbidding landscapes and fearsome jungle labyrinths are as striking as his characters, cranking up the intensity of a cinematic page-turner that echoes Greene and Conrad."
–Publishers Weekly (starred)

Praise from the U.K.

"A gripping story of adventure, casual treachery and intrigue, and the redemption of an emotionally and morally ruined soul . . . The Lost City shares something of the same timelessness [as] Thomas Hardy's The Return of the Native, one of the great creations of terrain as a character in English fiction."
–Guardian

"An exquisite debut . . . The Lost City is a big, hearty work that is both gripping and intensely moving . . . Shukman's breathtaking, lyrical prose propels a pacy plot which, at its most visceral, becomes cinematic in its scope. On the strength of the writing alone, this is a contender for book of the year."
–Scotland on Sunday

"Haunting . . . Shukman has a phenomenally well-developed sense of place . . . But what's perhaps most impressive here is the way that he seems able to make everything symbolise something larger than itself."
–Independent on Sunday

"Shukman proves himself a master of driven narrative and psychological drama . . . At times the prose has the terse muscularity of a Hemingway adventure, at others an almost biblical thunder, underscored by touches of Graham Greene . . . This is Shukman pushing his talent to the edge."
–Scotsman

"A powerful debut . . . Shukman skillfully blends his genres: political intrigue, drug lords, and South American militia . . . while the poetic prose harks back to Conrad's original jungle quest, Heart of Darkness."
–Daily Mail
Advertisement