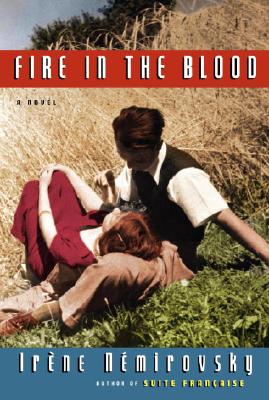 Fire in the Blood (Hardcover)
Knopf, 9780307267481, 160pp.
Publication Date: September 25, 2007
* Individual store prices may vary.
or
Not Currently Available for Direct Purchase
Description
Here is a missing piece of the remarkable posthumous legacy of Irène Némirovsky, author of the internationally acclaimed Suite Française.

Written in 1941, the manuscript of Fire in the Blood was entrusted in pieces to family and a friend when the author was sent to her death at Auschwitz. The novel—only now assembled in its entirety—teems with the intertwined lives of an insular French village in the years before the war, when "peace" was less important as a political state than as a coveted personal condition: the untroubled pinnacle of happiness.

At the center of the tale is Silvio: in his younger years he fled the boredom of the village and made a life of travel and adventure. Now he's returned, living in a farmer's hovel in the middle of the woods, and, much to his family's chagrin, perfectly content with his solitude.

But when he attends the wedding of his favorite young cousin—"she has the thing that, when I was young, I used to value most in women: she has fire"—Silvio begins to be drawn back into the complicated life of this small town. As his narration unfolds, we are given an intimate picture of the loves and infidelities, the scandals, the youthful ardor and regrets of age that tie Silvio to the long-guarded secrets of the past.

Némirovsky wrote with a crystalline understanding of the pretensions and protections of society, and of the varied workings of the human heart, in language as evocative of a vanished era as of the emotional and moral ambiguities in her characters' lives. All of which was evident in Suite Française—and abundantly evident again in this powerful, passionate novel.

A Note on the Text

Until recently, only a partial text of Fire in the Blood was thought to exist, typed up by Irène Némirovsky's husband, Michel Epstein, to whom she often passed her manuscripts for this purpose. However, Michel's typing breaks off at the words 'I felt so old' (see p. 37), leaving the novel unfinished.

Did Michel stop typing when Irène was arrested and deported to Auschwitz on 13 July 1942? Or perhaps even earlier in 1942, when she could no longer find a way to get her novels and short stories published? As readers will learn from the Preface to the French edition of this novel found at the back of the book, it is likely that Némirovsky was still working on Fire in the Blood in 1942. We know this thanks to the work of Olivier Philipponnat and Patrick Lienhardt, who were commissioned to write a biography of Némirovsky, and who began extensive research into her archive. Two pages of the original manuscript were found to have been in the suitcase that Némirovsky's daughter, Denise Epstein, carried with her from Issy-l'Évêque when she and her sister, Elisabeth, fled after their mother's arrest, and which contained Némirovsky's great lost novel Suite Française. And as Philipponnat and Lienhardt trawled the Némirovsky archive at the Institut Mémoires de l'édition contemporaine (IMEC), they discovered, amidst papers given by Némirovsky for safe-keeping to her editor and family friend in the spring of 1942, the rest of the missing manuscript: thirty tightly packed pages of handwriting, with very few crossings out, the beginning of which corresponded to Michel's typed version.

It is an extraordinary collection of papers, which adds to our understanding of Némirovsky's oeuvre. As well as the manuscript of Fire in the Blood, it contains Némirovsky's working notebooks dating back to 1933, successive versions of several of her novels including David Golder as well as outlines for Captivité, the projected third part of Suite Française.

Praise For Fire in the Blood…
"Courageous, uncompromising . . . An entire world, vividly rendered, emerges from [these] pages . . . Némirovsky sets the tragedies of the plot in motion so unobtrusively, yet so surely, that when they come together the book has the inevitability–and yet the shock–that characterizes the books that mark us . . . If Thomas Hardy were alive to read Fire in the Blood, I think he'd recognize Némirovsky as kin."
–Charles Taylor, Newsday

"With startling economy, Némirovsky telegraphs the prejudices, passions and taboos that govern life in this isolated community . . . Subdued on its surface, but with a tamped-down sensuality that gives it a near-vicious narrative drive, the book has a powerful sting in its tail. Translator Sandra Smith deftly renders its noirish bite into English, giving us a taste of what Némirovsky the writer was like before history handed her the subject matter that killed her."
–Michael Upchurch, Seattle Times

"Posthumous second acts are tough. But Fire in the Blood is an almost perfect miniature, a tale of divided loves and loyalties set in an insular rural French village."
–O: Oprah Magazine

"Exquisitely wrought . . . If you loved the author's Suite Française–and how could you not?–you'll likewise take to this recently discovered treasure . . . So great is Némirovsky's reading of the human heart that her tale has the power of myth. And so true does it ring to reality that one could call it not so much a love but a life story."
–Edward Cone, Library Journal (starred)

"Stripped of the backdrop of war, the natural surroundings of Fire In The Blood add a depth and resonance to each of the story's characters, whether young or old, male or female. Subtle in its intention, this novella takes humanity in all its guises and captures the deep-seated desire for belonging and understanding." - Anna Millar, Scotland on Sunday
"Fire in the Blood, on which it seems she was still working when she was taken away to her death, confirms Némirovsky's brilliance as a storyteller with a deep understanding of the hidden flaws and cruelties not just in French society but in the human heart." - Anne Chisholm, The Telegraph (UK)
"Passion and dispassion stare at each other with mutual lack of understanding. In a book fuelled with images of fire and embers, Némirovsky brilliantly depicts a closed-in, inward-looking community, then gives what happens in it universal resonance by exhibiting not only what people do to each other but what the passing of time does to us all." -Peter Kemp, Sunday Times (UK)
"Like the second half of Suite Française, Fire in the Blood is set in a small, isolated village in rural France and displays, once again, Némirovsky's unnerving ability to map out her characters' internal faults with a humanity reminiscent of Chekhov.... Némirovsky is superb at teasing out people's personal worlds, disillusionment, moral hypocrisy and the ways in which old age invariably shows happiness to be little more than a youthful dream." —Metro (UK)
Advertisement