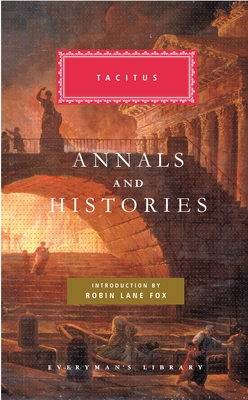 Annals and Histories (Hardcover)
Everyman's Library, 9780307267504, 888pp.
Publication Date: October 6, 2009
Description
The complete historical works of the greatest chronicler of the Roman Empire in a wholly revised and updated translation.
A brilliant narrator and a master stylist, Tacitus served as administrator and senator, a career that gave him an intimate view of the empire at its highest levels, and of the dramatic, violent, and often bloody events of the first century. In the Annals, he writes about Augustus Caesar's death and observes the inner workings of the courts of the emperors Tiberius and Nero. In the Histories, he describes an empire in tumult, four emperors reigning in one year, each overthrown by the next. The Agricola, a biography of Tacitus's father-in-law, Julius Agricola the most celebrated governor of Roman Britain is the first detailed account of the island that would eventually rule over a quarter of the earth. And in the Germania, the famed warrior-barbarians of ancient Germany come richly to life.
About the Author
Cornelius Tacitus was born c. 55 A.D. and died in 117 A.D. Eleanor Cowan is Lecturer in Ancient History at Leicester University. Robin Lane Fox is Fellow and Tutor in Ancient History at New College, Oxford.
Advertisement