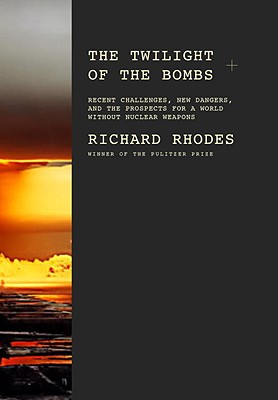 The Twilight of the Bombs (Hardcover)
Recent Challenges, New Dangers, and the Prospects for a World Without Nuclear Weapons
Knopf, 9780307267542, 384pp.
Publication Date: August 24, 2010
Other Editions of This Title:
Digital Audiobook (8/23/2010)
Paperback (9/6/2011)
* Individual store prices may vary.
Description
The culminating volume in Richard Rhodes's monumental and prizewinning history of nuclear weapons, offering the first comprehensive narrative of the challenges faced in a post–Cold War age.

The past twenty years have transformed our relationship with nuclear weapons drastically. With extraordinary depth of knowledge and understanding, Rhodes makes clear how the five original nuclear powers—Russia, Great Britain, France, China, and especially the United States—have struggled with new realities. He shows us how the stage was set for a second tragic war when Iraq secretly destroyed its nuclear infrastructure and reveals the real reasons George W. Bush chose to fight a second war in Iraq. We see how the efforts of U.S. weapons labs laid the groundwork for nuclear consolidation in the former Soviet Union, how and why South Africa secretly built and then destroyed a small nuclear arsenal, and how Jimmy Carter's private diplomacy prevented another Korean War.

We also see how the present day represents a nuclear turning point and what hope exists for our future. Rhodes assesses the emerging threat of nuclear terrorism and offers advice on how our complicated relationships with North Korea and South Asia should evolve. Finally, he imagines what a post-nuclear world might look like, suggesting what might make it possible.

Powerful and persuasive, The Twilight of the Bombs is an essential work of contemporary history.
About the Author
Richard Rhodes is the author or editor of twenty-three books, including "The Making of the Atomic Bomb, "which won a Pulitzer Prize in Nonfiction, a National Book Award, and a National Book Critics Circle Award, and "Dark Sun: The Making of the Hydrogen Bomb, " which was a finalist for a Pulitzer Prize in History. He is the recipient of fellowships from the Ford, Guggenheim, MacArthur, and Alfred P. Sloan foundations, among others. He has been a visiting scholar at Harvard, MIT, and Stanford, and a host and correspondent for the public television series "Frontline "and "American Experience." He lectures frequently in the United States and abroad. He lives near Half Moon Bay, California.
Praise For The Twilight of the Bombs: Recent Challenges, New Dangers, and the Prospects for a World Without Nuclear Weapons…
"No one writes better about nuclear history than Rhodes does, ably combining a scholar's attention to detail with a novelist's devotion to character and pacing . . . The ingenuity and progressive spirit he reveals inspire optimism."
            -George Perkovich, Best Books of 2010, The Washington Post
 
"Moving . . . Rhodes makes a good case for the optimistic interpretation of this history."
            -Michael D. Gordin, San Francisco Chronicle (Best Books of 2010)
 
"Remarkable . . . Subtle . . . The Twilight of the Bombs brims with intriguing anecdotes . . . In the end, Rhodes's conclusion is that the only safety in a nuclear age is an age without nuclear weapons. How that entirely unreasonable aim can be achieved in an unreasonable world is a difficult proposition. Rhodes speaks to it with great eloquence."
            -Timothy Rutten, Los Angeles Times
 
"Here is perhaps the most approachable look at Iraq's nuclear effort, a riveting account of the whereabouts of the Russian nuclear-weapons activization apparatus during the failed coup against Mikhail Gorbachev, and a detailed examination of Sam Nunn's crusade to account for the nearly 1,500 metric tons of nuclear materials and weapons of the former Soviet Union . . . In an unusual alchemy of physics and politics, Rhodes explains both the science and the culture of the nuclear age.  He does so with the wisdom of the historian and the morality of the ages."
            -David M. Shribman, Boston Sunday Globe
 
"Rhodes deserves considerable praise for his four books.  He writes with remarkable confidence and clarity about these terrible devices.  He tells stories well.  He loads his text with interesting facts.  His technical command is impressive.  He's a rare writer who can explain why the short half-life of tritium gas means that we no longer need to worry about suitcase bombs stolen from the old Soviet Union."
            -Nicholas Thompson, The New York Times Book Review
 
"Authoritative . . . Brilliant . . . Required reading for any debate about nuclear security policy."
            -Joseph Cirincione, Nature
 
"Exciting . . . Cool and evenhanded . . . Rhodes owns this territory, and there's a lot of it to cover."
            -Craig Seligman, Bloomberg
 
"Urgent advice from a sage commentator."
            -Baton Rouge Advocate
 
"Richard Rhodes is the most durable and experienced chronicler of the history of nuclear weaponry . . . [In The Twilight of the Bombs] one gets a clear summary of the conferences, initiatives and frustrations inherent in efforts to limit proliferation, peppered with informative and even colorful vignettes and personalities . . . Rhodes combines the scholar and the reporter impressively."
            -David C. Acheson, The Washington Times
 
"The Twilight of the Bombs is an apt conclusion to an epic undertaking . . . At each step Rhodes offers fresh perspective on the historical record."
            -Kevin Canfield, The Kansas City Star
 
"Fascinating and assiduously researched . . . Packed with revealing, documented information, scientific facts and acute insights, The Twilight of the Bombs is a thorough examination of the last twenty-five years of the world's nuclear conundrum.  It is compelling reading of the highest importance."
            -St. Petersburg Times [Tampa Bay]
 
"Rhodes's soaring and swooping eagle eye has noticed features in the political landscape of the last 20 years that most of us have overlooked.  Few judgments have the authority and clarity Rhodes can bring to bear as he sorts through the aftermath of the age of the superpowers."
            -Roger Snodgrass, The Santa Fe New Mexican
 
"Each [book in The Making of the Nuclear Age tetralogy] has been a triumph of information-gathering, narrative drive and philosophizing . . . For some readers, the entire book will seem fresh, will cram the brain with previously unknown information . . . Rhodes's reporting about averting calamity in the former Soviet Union will resonate months and probably years from now."
            -Steve Weinberg, The Denver Post
 
"Since the publication of The Making of the Atomic Bomb . . . Rhodes has owned the story of nuclear weapons . . . [The Twilight of the Bombs is] a skillful assessment of the transformation of nuclear weapons from the so-called guardians of our security during the Cold War to the burden and catastrophic threat they pose today . . . Informed and eloquent."
            -Kirkus
 
"Absorbing . . . Rhodes makes the technical issues lucid and accessible, and the tale also has intrigue and suspense, heroes (Jimmy Carter) and villains (the Bush administration). It's a story of deceit, corrupt politics, and diplomatic half-measures, but also of improbable outbreaks of common sense and far-sightedness . . . Rhodes shows us the heartening spectacle of humanity slowly turning away from the abyss."
            -Publishers Weekly
 
"Impassioned . . . Rhodes' formidable nuclear knowledge, readably presented, will convey his moral opposition to nuclear deterrence to a sizable audience."
            -Booklist
 
"Painstakingly researched . . . Rhodes's clear, thoughtful writing makes this title an essential read for those who want to stay informed about global nuclear politics."
            -Library Journal
or
Not Currently Available for Direct Purchase