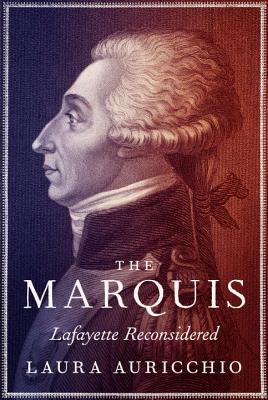 The Marquis
Lafayette Reconsidered
Hardcover

* Individual store prices may vary.
Other Editions of This Title:
Digital Audiobook (10/13/2014)
CD-Audio (10/14/2014)
Paperback (8/18/2015)
Compact Disc (10/14/2014)
MP3 CD (10/14/2014)
Description
A major biography of the Marquis de Lafayette, French hero of the American Revolution, who, at age nineteen, volunteered to fight under George Washington; a biography that looks past the storybook hero and selfless champion of righteous causes who cast aside family and fortune to advance the transcendent aims of liberty and justice commemorated in America's towns, streets, parks, and schools named after the French nobleman. Laura Auricchio gives us a rich portrait of the man, fully revealed, a man driven by dreams of glory and felled by tragic, human weaknesses.
In The Marquis, we come to understand the personal struggles, social quandaries, and idealistic visions that inspired an orphaned young man to cross an ocean and fight a war that was none of his concern; we see a guileless provincial whose unexpected inheritance allowed him to marry into the highest echelons of the French aristocracy, and become a self-consciously awkward presence at the palace of Versailles. Here is the young Lafayette, removed from the French army as a result of sweeping reforms, trapped in a gilded cage until American emissaries reached Paris seeking support for their revolution. In the American cause, Lafayette, whose only vision had been of martial glory, saw a way to reach his dreams, and seized it with gusto. Americans welcomed him with open arms, and he returned their affection fully. His American eclat was so brilliant and his enthusiasm so great that he quickly became the symbol of the Franco-American alliance that ultimately defeated Great Britain.
We see how Lafayette's reputation rose to great heights during the American Revolution but collapsed during the French; that when the Bastille fell on July 14, 1789, Parisians hailed Lafayette as the French Washington and appointed him commander of their National Guard, hoping that he would be able to restore order to a city wracked by starvation and violence. As revolutionaries hurtled in radical directions and staunch monarchists dug in their heels, Lafayette lost control, remaining steadfast in his belief that the French monarchy needed to be reformed but not abolished, and doing everything in his power to prevent an American-style republic from taking root in his native land. Formerly seen as France's heroic figure, Lafayette was now viewed as opportunistic, a dreamer, and a traitor to his nation--and today remains a murky figure in French memory.
In America, Lafayette's momentous departure from his homeland for the War of Independence has long been hailed as the start of an extraordinary career to be celebrated for generations. In France, it is often seen as just one of his many misbegotten undertakings. Yet no one has managed to offer a satisfactory answer to the crucial question of why: Why did Americans shower Lafayette with so much acclaim in his own time that he remains a hero today, being named an honorary U.S. citizen in 2002--becoming only the seventh person ever granted this distinction? And why, in contrast, does his memory continue to be denigrated in his own land?
Auricchio, drawing on substantial new research conducted in libraries, archives, museums, and private homes in France and the United States, gives us history on a grand scale as she answers these crucial questions, revealing the man and his complex life, and challenging and exploring the complicated myths that have surrounded his name for more than two centuries.
Praise For The Marquis: Lafayette Reconsidered…
Praise for Laura Auricchio's
THE MARQUIS
 
"Admirably well-written, fresh."
 
                                                          -Harvard Magazine
 
"Robust, hugely satisfying . . . spirited and entirely accurate . . . [Laura Auricchio's] book follows Lafayette's life and career with greater sympathy and in greater detail than any previous account in English that I know of, and the infectious zest of her character descriptions is by no means limited to her illustrious hero . . . [Lafayette has] always been far more deserving of a first-rate popular biography than either the General he worshipped or the Tyrants he opposed, and now at last he's got one."
 
                                                          -Steve Donoghue, Open Letters Monthly
 
"Absorbing."
 
                                                          -Henrik Bering, The Weekly Standard
 
"Engrossing . . . Laura Auricchio is as adept at recounting the Marquis's first, awkward moments negotiating the subtleties of Versailles as she is bringing to life his seemingly father-son relationship with George Washington. Impeccably researched and compelling."
 
-Andrew Curran, Dean of the Arts and Humanities, Wesleyan University
 
"In a sharp and moving biography, Auricchio captures the essence of the 'French hero of the American Revolution—the Hero of Two Worlds, the Apostle of Liberty.'"
                                                                  
-Kirkus (Starred Review)
 
"Absorbing . . . well-written, well-furnished . . . An excellent account."
                                                         
                                                          -Frederick Brown, Wall Street Journal
 
"Laura Auricchio has managed to bring the Marquis de Lafayette back to life, replacing the rather wooden figure of legend with the real man, a hero of two great revolutions, the American and the French, and man of great complexity and unfailing courage. An immensely rewarding book."
 
—Michael Korda, author of Clouds of Glory
 
"[A] fine biography. . .Lafayette still deserves more attention in France, but he's found just the right American biographer in Auricchio."
 
                                                                   -Publishers Weekly
 
Knopf Publishing Group, 9780307267559, 409pp.
Publication Date: October 14, 2014
About the Author
Laura Auricchio is a specialist in eighteenth-century French history and art who received her undergraduate degree from Harvard and her PhD from Columbia University. Auricchio has been the recipient of major fellowships from the Fulbright Foundation, the Whiting Foundation, and Columbia University. She is currently the Dean of the School of Undergraduate Studies at The New School for Public Engagement. She lives in New York with her husband.
or
Not Currently Available for Direct Purchase