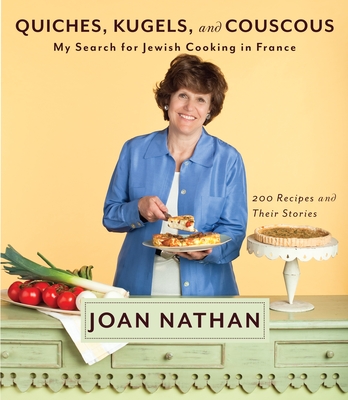 Quiches, Kugels, and Couscous
My Search for Jewish Cooking in France: A Cookbook
Hardcover

* Individual store prices may vary.
Description
What is Jewish cooking in France?

That is the question that has haunted Joan Nathan over the years and driven her to unearth the secrets of this hidden cuisine. Now she gives us the fruits of her quest in this extraordinary book, a treasure trove of delectable kosher recipes and the often moving stories behind them, interlaced with the tumultuous two-thousand-year history of the Jewish presence in France.

In her search, Nathan takes us into kitchens in Paris, Alsace, and the Loire Valley; she visits the bustling Belleville market in Little Tunis in Paris; she breaks bread around the observation of the Sabbath and the celebration of special holidays. All across France she finds that Jewish cooking is more alive than ever. Traditional dishes are honored, yet many have acquired a French finesse and reflect regional differences. The influx of Jewish immigrants from North Africa following Algerian independence has brought exciting new flavors and techniques that have infiltrated contemporary French cooking, and the Sephardic influence is more pronounced throughout France today.

Now, with Joan Nathan guiding us, carefully translating her discoveries to our own home kitchens, we can enjoy:

• appetizers such as the rich subtle delight of a Terrine de Poireaux from Alsace or a brik, that flaky little pastry from North Africa, folded over a filling of tuna and cilantro;
• soups such as cold sorrel or Moroccan Provençal Fish Soup with garlicky Rouille;
• salads include a Mediterranean Artichoke and Orange Salad with Saffron Mint and a Tunisian Winter Squash Salad with Coriander and Harissa;
• a variety of breads, quiches, and kugels—try a Brioche for Rosh Hashanah, a baconless quiche Lorraine, or a Sabbath kugel based on a centuries-old recipe;
• main courses of Choucroute de Poisson; a tagine with chicken and quince; Brisket with Ginger, Orange Peel, and Tomato; Southwestern Cassoulet with Duck and Lamb; Tongue with Capers and Cornichons; and Almondeguilles (Algerian meatballs);
• an inviting array of grains, pulses, couscous, rice, and unusual vegetable dishes, from an eggplant gratin to a mélange of Chestnuts, Onions, and Prunes;
• for a grand finale, there are Parisian flans and tarts, a Frozen Soufflé Rothschild, and a Hanukkah Apple Cake, as well as many other irresistible pastries and cookies.

These are but some of the treasures that Joan Nathan gives us in this unique collection of recipes and their stories. In weaving them together, she has created a book that is a testament to the Jewish people, who, despite waves of persecution, are an integral part of France today, contributing to the glory of its cuisine.
Praise For Quiches, Kugels, and Couscous: My Search for Jewish Cooking in France: A Cookbook…
"If the very act of cooking connotes love, then the combination of recipes with stories is an open
acknowledgment of the emotional bonds that food creates. As is her wont, TV host and award-winning cookbook author Nathan (Jewish Cooking in America, 1994, plus eight others) not only plunges into her collection of 200 recipes but also narrates, factually and with no small sentiment, the history of Jews in France. First, it's a highly personal mission, prompted by her stay as a teenager in France in the 1950s. It's also a motley narrative, filled with stories of persecution as well as joy, documented with personal accounts of the Holocaust and memories of kosher cooking (i.e., adhering to Jewish dietary laws). Food items represent the influence of Alsatian, Provençal, Moroccan-Tunisian, Algerian, and Eastern European cuisines—a well-functioning melting pot that yields brik (a North African turnover), borscht (the French equivalent of this Russian beet soup), Alsatian pear kugel (noodle casserole) with prunes, and cholent, a Sabbath beef stew. Just as compelling are the people who populate these pages: Ariel, a Jewish policeman in Auch, France, who craves a kosher version of lasagna; the Baroness de Rothschild; Daniel Rose, a young American chef in Paris whose 16-seat Spring restaurant is garnering raves. Historical and recipe photographs plus illustrations round out this very memorable collection. Appended are a sampling of French Jewish menus, a glossary of terms and ingredients, a source guide, and a bibliography."
—Barbara Jacobs, Booklist (starred review)

"An absorbing exploration of French Jewish food by one of America's foremost culinary historian-journalists, Quiches, Kugels, and Couscous presents a rich array of dishes, each of them supported by material which explains their place in local culture and the ways they have been influenced by French cuisine (and sometimes vice versa). From Parisian gefilte fish and Rosh Hashanah chicken with cinnamon and apples from Metz, to Alsatian pot-au-feu and Italian- and Tunisian-derived spaghetti with bottarga, preserved lemon, and harissa, this is French food and Jewish food from a wonderful perspective."
—Kitchen Arts & Letters
Knopf, 9780307267597, 400pp.
Publication Date: October 26, 2010
About the Author
Joan Nathan was born in Providence, Rhode Island. She graduated from the University of Michigan with a master's degree in French literature and earned a master's in public administration from Harvard University. For three years she lived in Israel, where she worked for Mayor Teddy Kollek of Jerusalem. In 1974, working for Mayor Abraham Beame in New York, she cofounded the Ninth Avenue Food Festival. Ms. Nathan is a frequent contributor to The New York Times and other publications. She is the author of numerous books including Jewish Cooking in America and The New American Cooking, both of which won the James Beard Award and the IACP Award. She was the host of the nationally syndicated PBS television series Jewish Cooking in America with Joan Nathan, based on the book. The mother of three grown children, Ms. Nathan lives in Washington, D.C., and on Martha's Vineyard with her husband, Allan Gerson.
Coverage from NPR
or
Not Currently Available for Direct Purchase