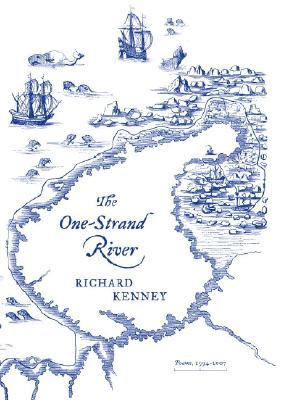 The One-Strand River
Hardcover

* Individual store prices may vary.
Description
Fourteen years after his last book of poems, we have a glorious new volume from Richard Kenney, who has been hailed by "The New York Review of Books "as "one of the most gifted and multifaceted and original of American poets."
In "The One-Strand River," Kenney has tales to tell--of loves, births, and confounding politics--in lively, quicksilver language that surprises at every turn. We meet the poet as a middle-aged husband walking the dog, confiding, "Churlish / thoughts bedevil me, often. Sunshine; girls / half my age; the future; unseen perishing / armies." He swings between surreal dawn vistas and the unsettling sight of seventh-grade girls circling his teenage son; between the pleasure of a New Year's celebration "with Nipperkin" and--striking a note that is rare in contemporary poetry--satirical attack, with an eye on the news of the day. A master of many tones, Kenney recalls a nursery rhyme in the title poem--"Gray goose and gander/ How long have we together?"--and ponders the "one-strand river" that is the sea, with its one encircling shore and its tidal pull on both the landscape and the human heart.
Kenney is never a confessional poet, yet we meet a powerful mind here--that of a man who is always responding to provocations seen and unseen, taking pleasure in the possibilities of words themselves, tossing them up into the daily storm of our vexations and our perilous happiness.
Knopf Publishing Group, 9780307267634, 177pp.
Publication Date: January 29, 2008
About the Author
Richard Kenney was born in Glens Falls, New York, in 1948 and is the author of three previous books of poetry: "The Evolution of""the Flightless Bird," "Orrery, " and "The Invention of the Zero." In 1987 he received a John D. and Catherine T. MacArthur Fellowship. He is currently professor of English at the University of Washington and lives with his family in Port Townsend, Washington.
or
Not Currently Available for Direct Purchase