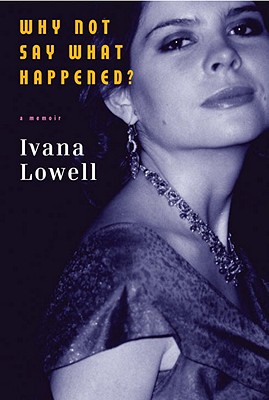 Why Not Say What Happened?
A Memoir
Hardcover

* Individual store prices may vary.
Other Editions of This Title:
Paperback (9/1/2011)
Hardcover (11/1/2010)
Paperback (11/1/2011)
Description
An astonishing and at times outright comic memoir that marks the brilliant debut of a writer raised in a creative, bohemian household characterized by extreme privilege tinged with neglect.

Born into one of the most celebrated Anglo-Irish families, the Guinnesses, Ivana Lowell tells a stunning story of coming to terms with her blue-blood heritage and her own childhood traumas. It is also the story of her intense relationship with her formidably intelligent and complicated mother, the writer Caroline Blackwood. A keen observer with an incisive eye, a wicked sense of humor, and no self-pity, Lowell sets a wide range of scenes with a truly unexpected, almost madcap cast of characters, introducing us to such eccentric figures as her maternal grandmother, Maureen, the Marchioness of Dufferin and Ava. She takes us from the marchioness's annual ball for her idol and old friend, the Queen Mother, to Maureen's stately Irish home, Clandeboye (where the marchioness hopes to die), to summers in Dufferin's villa in Sardinia; through moves to carelessly furnished, drafty, too-large English country houses with her mother and stepfather, the poet Robert Lowell; to working in Manhattan at Miramax Books for Harvey Weinstein and a trip with his brother, Bob, to the Academy Awards; to her wedding at New York's Rainbow Room and finally to a life with her daughter. Ivana also has darker stories to tell including her own stints in rehab, and discovering, after her mother's death, the secret Lady Caroline had successfully kept from her.

Why Not Say What Happened? introduces a dazzling new literary voice and the fascinating story of a tragic and remarkable family.
Praise For Why Not Say What Happened?: A Memoir…
"An exhilarating roller-coaster ride of a book, full of the sort of wonderfully terrible secrets writers seldom have the guts to tell, let alone with such an assured and beguiling candor—but then of course, Ivana's Irish and a born writer ."
—John Richardson, author of A Life of Picasso, volumes 1-3
 
"Ivana Lowell's memoir is a heart-breaking account of a gifted woman, her brilliant but destructive parents, and a glamorous, aristocratic life that was laced with arsenic. That she survived and now shines as literary force in her own right is apparent from the very first page. Why Not Say What Happened? is a tour de force."
—Amanda Foreman, author of Georgiana: Duchess of Devonshire
 
"Shocking and hilarious, this elegantly lucid memoir by Ivana Lowell is that lethal mix of British aristocracy, giant fortunes, huge freezing houses, beautiful women jagged with sophistication, pedophilia, mysterious paternity, cruelty and yes, cocktails. We are reminded of the plays of Oscar Wilde and novels from Ronald Firbank to Evelyn Waugh as we are introduced to a lively and unlikely mix that includes the Queen Mother and Harvey and Bob Weinstein. I am not making this up.
The startling thing is how recent all this is and how extreme. Lowell is impressive and touching in sparing us none of this tragicomedy, least of all herself."
—Mike Nichols

"Ivana Lowell's Why Not Say What happened? is a particularly lucid memoir of growing up in simultaneous extremes of privilege and neglect. The book is a riveting history of a family that folds in on itself, consuming generation after generation with money, power, alcoholism, and profound selfishness and emotional disconnection. Lowell's compact, finely tuned paragraphs render the saga with brave urgency and courage, and while the import and impact of events is horrifyingly clear, there's an absence of melodrama to the telling and a deep compassion—call it love—for those who failed the author so miserably."
—A. M. Homes, Elle
 
"Her recollections . . . could have made for grim reading, but Lowell's writing remains conversational and refreshingly free of self-pity."
—Leah Greenblatt, Entertainment Weekly

"The tales she recounts about her upbringing range from tender to funny to outright absurd . . . [She has] a wry, unblunted grip on her life story . . . Lowell has executed an impeccable memoir."    
—Claire Howorth, The Daily Beast
 
"[A] clear-eyed chronicle . . ."
—Town & Country
Knopf, 9780307267986, 304pp.
Publication Date: October 19, 2010
About the Author
Ivana Lowell grew up in London, Boston, and New York. She now lives in Sag Harbor with her daughter.
or
Not Currently Available for Direct Purchase