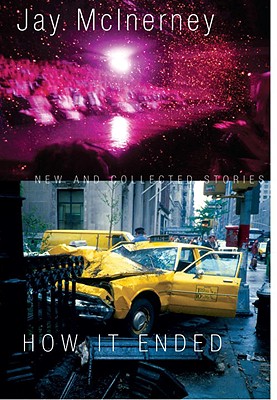 How It Ended
New and Collected Stories
Hardcover

* Individual store prices may vary.
Other Editions of This Title:
Digital Audiobook (4/6/2009)
Paperback (4/6/2010)
Audio Cassette (4/1/2009)
MP3 CD (4/7/2009)
Compact Disc (4/7/2009)
Compact Disc (4/7/2009)
Description
From the writer whose first novel, Bright Lights, Big City, defined a generation and whose seventh and most recent, The Good Life, was an acclaimed national best seller, a collection of stories new and old that trace the arc of his career over nearly three decades. In fact, the short story, as A. O. Scott wrote in The New York Times Book Review, shows "McInerney in full command of his gifts . . . These stories, with their bold, clean characterizations, their emphatic ironies and their disciplined adherence to sound storytelling principles, reminded me of, well, Fitzgerald and also of Hemingway—of classic stories like 'Babylon Revisited' and 'The Short Happy Life of Francis Macomber.' They are models of the form."

Only seven of these stories have ever been collected in a book, but all twenty-six unveil and re-create the manic flux of our society. Whether set in New England, Los Angeles, New York or the South, they capture various stages of adulthood, from early to budding to entrenched to resentful: a young man confronting the class system at a summer resort; a young woman holed up in a remote cabin while her (married) boyfriend campaigns for the highest office of all; a couple whose experiments in sexuality cross every line imaginable; an actor visiting his wife in rehab; a doctor contending with both convicts and his own criminal past; a youthful socialite returning home to nurse her mother; an older one scheming for her next husband; a family celebrating the holidays while mired in loss year after year; even Russell and Corrine Calloway, whom we first met in McInerney's novel Brightness Falls.

A manifold exploration of delusion, experience and transformation, these stories display a preeminent writer of our time at the very top of his form.
Praise For How It Ended: New and Collected Stories…
"How It Ended is more than a victory lap for McInerney.  This collection highlights a powerful contemporary American writer…His stories are so immediately enveloping and powerful that we don't notice how few words he uses to conjure his rich, complicated characters." – Michael Kroner, Cleveland Plain Dealer

"McInerney's characters get around: some go south to Faulkner country, some to California for the movie business, one to Japan to teach grammar and vocabulary to businessmen, a few even to the heroin fields of Pakistan.  But the real habitat of his fiction is New York.  As it did for Walt Whitman, Thomas Wolfe, Frank O'Hara and an army of others, the city becomes embedded as a symbol of longing with each new detail of grit and squalor…McInerney seems to have constructed a series of laments for lost or diminished civic values, personal fidelity, psychological wholeness, even holiness.  Nowhere in this book does he put a foot wrong.  He has certainly earned the frequently made comparisons of his skills in short fiction with those of Hemingway and Fitzgerald.  This is a first-rate book, not to be missed." –Richard Greene, The National Post [Toronto]

"A great capturer of all time periods and trends…sending up society in a wry but spot-on and smart manner [with] an intellectual wit that is imagery-filled." –Kara Nesvig, Minnesota Daily

"So consistently sharp and precisely observed that one is left thinking it's time to reconsider McInerney's career…What's impressive is just how good–sometimes extraordinarily so–McInerney has been…Precision is precisely what separates the short story from the novel. It's the art of letting the detail stand in for the whole, and this is where many of the stories in How It Ended make the cut as fine examples of their form." –Geoff Pevere, The Toronto Star

"A master of short fiction…The characters [McInerney] crafts are so strong, the reader continues to care about them after the last page is turned." –Dan Scheraga, The Miami Herald

"If you still care about top-drawer fiction you will want to own this book…Kurt Vonnegut said he was a member of 'the last recognizable generation of full-time, life-time American novelists,' but with all due respect to Mr. Vonnegut and his contemporaries, for my money Jay McInerney is the last of the full-time, life-time, American novelists." –Mark Lindquist, The Oregonian

"McInerney has been throughout [his career] a productive artist–this is his tenth book and his eighth work of fiction–and also a diligent one, who has steadily refined his craft and rigorously deepened his subjects and themes. How It Ended reminds us how impressively broad McInerney's scope has been and how confidently he has ranged across wide swaths of our national experience. It reminds us too that for all the many literary influences he has absorbed, McInerney's contribution–and it is a major one–is to have revitalized the Irish Catholic expiatory tradition of F. Scott Fitzgerald and John O'Hara…McInerney's gifts have never been in question. He possesses the literary naturalist's full tool kit: empathy and curiosity, a peeled eye and a well-tuned ear, a talent for building narratives at once intimate and expansive, plausible and inventive. His sentences, vivid but unshowy, exhibit the same strengths he once identified in Fitzgerald's; they are 'sophisticated without being superior, conspiratorial without the gossip's malice…' Both [Fitzgerald and Salinger] were 'voices of a generation.' So is McInerney. He was the first novelist born in the 1950s who throttled the demon of 'belatedness,' in Harold Bloom's term…the intimidating weight of literary forebears. McInerney and his contemporaries felt that, of course. They also felt the belatedness of having grown up in the Vietnam period but come of age just when its rebellions were being commodified by the unleashed market forces of the Regan years. Many novelists were struggling to make sense of this barometric change. But McInerney got there first. It is one reason his prose seems so free of self-consciousness and of mannerism, and at once postmodern and naturalistic." –Sam Tanenhaus, front page, The New York Times Book Review

"[McInerney's] stories have grown more elegant, subtle, shapely and reflective over time, to the point where some of the recent works are perfect specimens." –Janet Maslin, The New York Times

"Proof that McInerney's star burns as bright as ever." –Claire Howorth, Vanity Fair

"A splendid short-story writer, [McInerney's] stories are reminiscent of those of F. Scott Fitzgerald, John O'Hara, and Irwin Shaw…A very compelling collection." –Brad Hooper, Booklist (starred review)

"[McInerney's] best writing to date, combining a quiet household realism with his gift for pinpointing moments of awkward bafflement." –Alexis Kirschbaum, TheTimes Literary Supplement

"[McInerney] has the storyteller's gift of making the familiar seem strange, of casting new light on old ground. The results are funny, shocking, and moving." –Mark Sanderson, The Sunday Telegraph

"The short story is the perfect measure for [McInerney's] brand of beautifully distilled prose and dry sophistication." –Helen Brown, The Independent on Sunday

"Despite the sexual mayhem in McInerney's stories, a stubborn moral reckoning hovers over the writing...[His] openings hook and reel in the reader with a catchy first line [and] the narration moves speedily over familiar territory with the economy of Raymond Carver and the breathless pace of Stephen Dixon. With language this precise, McInerney possesses the skill to be invisible: he refuse to draw the reader's attention to himself but instead to the stories." –Gerard Donovan, Financial Times
Knopf, 9780307268051, 352pp.
Publication Date: April 7, 2009
About the Author
The author of seven novels and two collections of essays on wine, Jay McInerney is a regular contributor to "New York," "The New York Times Book Review," "The Independent" and "Corriere della Sera." His short fiction has appeared in "The New Yorker," "Esquire, Playboy" and "Granta." In 2006, "Time" cited his 1984 debut, "Bright Lights, Big City," as one of nine generation-defining novels of the twentieth century. He was the recipient of the 2006 James Beard Foundation's M.F.K. Fisher Award for Distinguished Writing and his novel "The Good Life" received the Prix Litteraire at the Deauville Film Festival in 2007. He lives in Manhattan and Bridgehampton, New York.
or
Not Currently Available for Direct Purchase