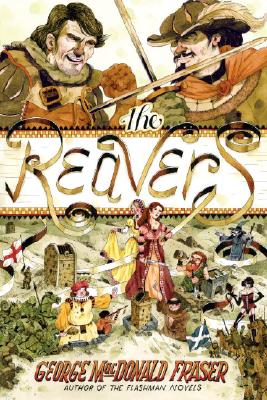 The Reavers (Hardcover)
Knopf, 9780307268105, 288pp.
Publication Date: April 22, 2008
Other Editions of This Title:
Paperback (4/7/2009)
* Individual store prices may vary.
Description
After twelve gloriously scandalous Flashman novels, the incomparable George MacDonald Fraser gives us a totally hilarious tale of derring-do from a different era.

It's the turn of the seventeenth century (sort of), we're in the wild Borders of Scotland, and a casket of jewels, an accidental murder, an estate at risk and a plot to overthrow the king are the order of the day. The irresistible and feisty Lady Godiva Dacre and her "chocolate-box pretty" companion Mistress Kylie Delishe find themselves stranded on a desolate road as highway robbers threaten their lives and possessions. Seemingly out of nowhere, the dashing Bonny Gilderoy (think Johnny Depp on a horse) single-handedly defeats the villains, but not before stealing Lady Godiva's treasured jewels—along with her heart.

After making it safely to their destination, Godiva and Kylie find themselves thrown back together with that charming scoundrel Gilderoy. A mysterious man named Archie Noble comes to their aid and also makes a play for Godiva's affections. Despite preposterous alliances and uproarious complications of the heart, they must rely on one another as secret identities are revealed and a perilous coup endangers the Scottish throne. It is through equally daring feats of courage and outlandish costumes that our heroes wade through salacious nightlife, confront wizards and witches and endure terrifying and ridiculous odds to preserve national pride and resolve the love triangles that threaten national security.
Praise For The Reavers…
"Fraser can easily juggle Conan Doyle and Holmes, Fleming and Bond, Wodehouse and Wooster, and Chandler and Marlowe."
—Vanity Fair

"Hilarious. . . . Rollicking fun."
—The Tennessean

"One of the masterly comic writers of the twentieth century."
—The Wall Street Journal

"A great storyteller. . . . We're not likely to see his equal again in our lifetimes."
—The Boston Globe
or
Not Currently Available for Direct Purchase