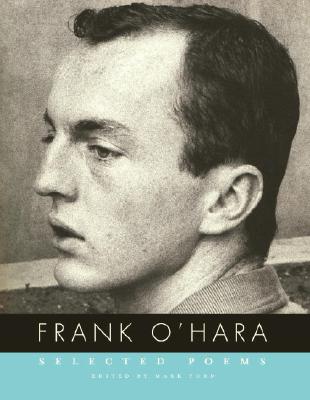 Selected Poems
Hardcover

* Individual store prices may vary.
Description
Frank O'Hara (1926–1966) was one of the most original and influential American poets of the twentieth century. Although he grew up in Grafton, Massachusetts, O'Hara developed into the quintessential poet of mid-century Manhattan; soon after his arrival in New York in 1951 he evolved a new kind of urban poetry that brilliantly captures the heady excitements of a golden period in the city's artistic life. O'Hara's style exudes an insistent, seductive glamour; his mercurial poems, at once open-ended and startlingly immediate, radiate an insouciant confidence that has lost none of its freshness over the decades. O'Hara was at the heart of a vibrant artistic circle that embraced fellow New York School poets John Ashbery, Barbara Guest, Kenneth Koch, and James Schuyler, as well as experimental painters such as Willem de Kooning, Larry Rivers, and Jasper Johns. Their achievements are movingly celebrated in many of his poems, while at the same time he paid loving tribute to popular idols such as James Dean and Lana Turner:

Lana Turner has collapsed!
I was trotting along and suddenly
it started raining and snowing
and you said it was hailing
but hailing hits you on the head
hard so it was really snowing and
raining and I was in such a hurry
to meet you but the traffic
was exactly like the sky
and suddenly I see a headline
LANA TURNER HAS COLLAPSED!
there is no snow in Hollywood
there is no rain in California
I have been to lots of parties
and acted perfectly disgraceful
but I never actually collapsed
oh Lana Turner we love you get up


This generous new selection by Mark Ford reflects all the phases and varied achievements of O'Hara's tragically foreshortened career, including his drama, and is followed by an appendix of key prose texts such as "Personism," in which O'Hara succinctly summed up his overall approach to poetry: "You just go on your nerve."
Praise For Selected Poems…
"Sensitively chosen and intelligently introduced . . . Ford's selection makes it possible to see more clearly how inward O'Hara's poetry was at its best . . . For O'Hara a poem was truthful when it was personal . . . [His] elegies succeed because long after he discarded any religious belief in immortality, he retained the aesthetic sensibility that took it seriously."
—Edward Mendelson, The New York Review of Books
Knopf, 9780307268150, 288pp.
Publication Date: February 26, 2008
About the Author
Mark Ford has published several volumes of poetry and is the author of the critical biography "Raymond Roussel and the Republic of Dreams." He is a regular contributor to "The""New York Review of Books" and "London Review of Books;" he teaches in the English department at University College London.
or
Not Currently Available for Direct Purchase