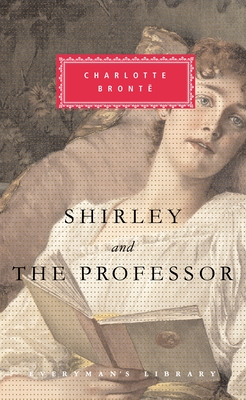 Shirley and the Professor (Hardcover)
Everyman's Library, 9780307268211, 922pp.
Publication Date: May 20, 2008
Description
These two classic novels, together with Bronte's well-known Jane Eyre and Villette, comprise a magnificent oeuvre, each one a singular achievement of characterization, human understanding, and narrative elegance and drama.

Shirley is the story of a complicated friendship between two very different women: shy and socially constrained Caroline, the poor niece of a tyrannical clergyman; and the independent heiress Shirley, who has both the resources and the spirit to defy convention. The romantic entanglements of the two women with a local mill owner and his penniless brother pit the claims of passion against the boundaries of class and society.

The Professor the first novel Bronte completed, the last to be published is both a disturbing love story and the coming-of-age tale of a self-made man. At its center is William Crimsworth, who has come to Brussels to work as an instructor in a school for girls. When he becomes entangled with Zoraide Reuter, a charismatic and brilliantly intellectual woman, the fervor of her feelings threatens both her own engagement and William's chance of finding true love.
(Book Jacket Status: Jacketed)
About the Author
Charlotte Bronte was born in 1816. The author of four novels, most famously Jane Eyre, she was also a poet and worked as a governess and a teacher. She died in 1855."
Praise For Shirley and the Professor…
"We read Charlotte Bronte not for exquisite observation of character, not for comedy, not for a philosophic view of life, but for her poetry. Probably that is so with all writers who have, as she has, an overpowering personality, so that . . . they only have to open the door to make themselves felt. There is in them some untamed ferocity perpetually at war with the accepted order of things." —Virginia Woolf
Advertisement