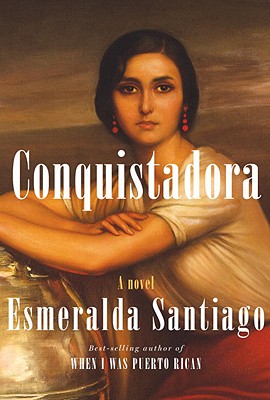 Conquistadora
Hardcover

* Individual store prices may vary.
Other Editions of This Title:
Digital Audiobook (7/11/2011)
Paperback (7/10/2012)
Hardcover, Large Print (1/4/2012)
Compact Disc (7/12/2011)
Description
An epic novel of love, discovery, and adventure by the author of the best-selling memoir When I Was Puerto Rican.

As a young girl growing up in Spain, Ana Larragoity Cubillas is powerfully drawn to Puerto Rico by the diaries of an ancestor who traveled there with Ponce de León. And in handsome twin brothers Ramón and Inocente—both in love with Ana—she finds a way to get there. She marries Ramón, and in 1844, just eighteen, she travels across the ocean to a remote sugar plantation the brothers have inherited on the island.

Ana faces unrelenting heat, disease and isolation, and the dangers of the untamed countryside even as she relishes the challenge of running Hacienda los Gemelos. But when the Civil War breaks out in the United States, Ana finds her livelihood, and perhaps even her life, threatened by the very people on whose backs her wealth has been built: the hacienda's slaves, whose richly drawn stories unfold alongside her own. And when at last Ana falls for a man who may be her destiny—a once-forbidden love—she will sacrifice nearly everything to keep hold of the land that has become her true home.

This is a sensual, riveting tale, set in a place where human passions and cruelties collide: thrilling history that has never before been brought so vividly and unforgettably to life.
Praise For Conquistadora…
"An enthralling family saga interlaced with meticulously researched details of how the Caribbean economy of the day sustained itself through slave labor. . . . Steely Ana—think Scarlett O'Hara with jet black hair—won't let hurricanes, cholera or even outright revolution keep her from turning a profit raising [sugar] cane. Santiago uses her larger-than-life character to illuminate a pivotal moment in the history of the Western hemisphere. . . . Four stars."
—Sue Corbett, People

"Gloriosa Ana María de los Ángeles Larragoity Cubillas Nieves de Donostia—Ana for short—is slight for a Spanish aristocrat, and unfashionably dark-skinned. In convent school in the 1830s, having eccentrically buried her not-so-pretty nose in the journal of a conquistador, she decides to become one, after a fashion, herself. . . . A decades-long story about marriage, slavery, and calculated choices—Ana makes an unspoken, unnatural pact with her young husband and his twin brother—Conquistadora is a splendid expedition into colonial history complete with enrapturing suspense to the very end."
—Celia McGee, O the Oprah Magazine 

"Remarkable . . . [An] unpredictable and soaring story [by] an author in full command . . . Santiago encapsules an island's history in the splendid tapestry of Ana's boldly imagined life [and] joins a stellar line-up of Latin American authors who have brought to literary life the maverick women of Spanish colonial times, most notably Isabel Allende and Laura Esquivel . . . Santiago has crafted this elegantly written story from a bountiful imagination that blossomed from conversations with her parents, who grew up in and near sugar plantations; and dogged research into the most intricate details of aristocracy in Seville and colonial life in Cuba, Puerto Rico and New York. . . . Historical lessons abound, but pathos and authenticity keep one glued to the tale. . . . The indomitable Ana has been compared by early reviewers to Scarlett O'Hara in Gone with the Wind. [She is] the flawed but ultimately admirable woman through which Santiago narrates the complex story of a nation's beginnings. In Santiago's hands, Ana is a woman to remember and Puerto Rico a country to cherish."
—Fabiola Santiago, The Miami Herald 
 
"An epic beach read . . . Santiago sets her new book in 19th-century Spain, where her young heroine, Ana Larragoity Cubillas, discovers the diaries of an ancestor who traveled with Ponce de Léon. Fascinated by tales of gold nuggets and caribe warriors, Ana makes her way to Puerto Rico with the help of handsome, devious twins—both of whom land up in her bed. Once there, Ana finds her passion running a sugar plantation where love, disease, and revolt threaten to destroy it all."
—Kimberly Cutter, Marie Claire

"Santiago has created a ferociously seductive character. By day, headstrong Ana Cubillas is a well-heeled 19th-century Spanish teenager . . . By night, she dreams of emulating her conquistador ancestor and turning her back on 'country, family and custom' to make her fortune. . . . Read this absorbing, impeccably researched novel for its lusty history and for the way Santiago's narrative constantly surprises—just as its protagonist does, confronting the gender limitations of her day."
—Meredith Maran, More

"In 1844, a bride sails to Puerto Rico to help run her in-laws' plantation. There, she battles heat, disease, and the cruelty of slavery—and comes out on top, defying convention at every turn."
—Good Housekeeping

"Santiago brings passion, color, and historical detail to this Puerto Rican Gone with the Wind, featuring a hard-as-nails heroine more devoted to her plantation than to any of the men in her life . . . Ana grows up the willful daughter of aristocratic parents during the waning years of Spain's colonial era. [She is] a not-so-innocent convent girl who marries her best friend's fiancé's twin brother, then heads to Puerto Rico without her friend, but with both twins in tow. The young men intend to make their fortunes, but it is Ana who has the savvy and determination to persevere through hurricanes, slave revolts, cholera and any other challenge the island has to offer. . . Santiago makes Caribbean history come alive through characters as human as they are iconic. The richness of her imagination and the lushness of her language will serve saga enthusiasts well, and she provides readers a massive panorama of plantation life—plus all you could ever want to know and more about growing sugar cane."
—Publishers Weekly (starred review)

"Extraordinary . . . a historical novel set in 19th Puerto Rico, featuring a high-handed, strong-willed woman determined to escape her boring upper-class future in Spain. When twin brothers inherit a sugar plantation in Puerto Rico, Ana marries them (who can tell them apart?), and they embark on what for the brothers is a lark, but for Ana is serious business. From the start, she takes to the land and the work of processing cane in the Caribbean, keeping the slaves inherited with the property and adding to their number over the years. She becomes the very image of a conquering hero: implacable, outspoken, demanding. Her husbands languish and fade while Ana runs Hacienda los Gemelos without their help. The issues of social caste, slavery, and sex roles make this a fascinating read. It's an outstanding story, full of pathos, tropical sensuality, and violence—but it also poses uncomfortable moral questions readers are forced to consider . . . Storytelling genius . . . Conquistadora is a book-group must."
—Jen Baker, Booklist (starred review)

"What do you get when you drop the author of When I Was Puerto Rican into a steamy, sultry stew of 19th century island intrigue? You get Conquistadora, an imaginative re-imagining of things from a strong-willed woman's point-of-view. You also get one helluva historical epic."
—John Hood, NBC Miami Niteside
 
"A grand romantic adventure tale, complete with plenty of sex and violence [and] satisfying richness . . . Santiago doesn't ignore the political and economic realities of Ana's life. . . . The novel is loaded with details of life on a sugar plantation."
—Margaret Quamme, The Columbus Dispatch

"The multitalented author of When I Was Puerto Rican offers a big, bold novel about life on a Caribbean sugar plantation in the mid-19th century. Ana Cubillas, the descendant of Latin American conquistadors, is unhappy with the confined life of a young woman in Spain. She marries Ramon Argoso and encourages him and his twin, Inocente, to take over their family's plantation in Puerto Rico. So begins the saga of Ana's determination to revive the plantation in the face of all obstacles, from hurricanes to cholera epidemics to slave revolts. Is Ana an admirable example of female endurance, or does her relentless ambition only bring tragedy to her family? Can we have any sympathy for someone whose success comes from the backbreaking slavery of others? These are the questions Santiago poses in this lively, well-researched historical novel. With drama, adventure, and even a bit of magical realism, Conquistadora may remind readers of Isabel Allende's novels of Latin America. Highly recommended."
—Leslie Patterson, Library Journal

"The American South had Scarlett O'Hara as its Civil War antiheroine . . . In fiction, plantation mistresses have tended to be either unbridled despots or demure creatures who stay in the Great House . . . Santiago plays with, then capsizes, these caricatures in Conquistadora, set in mid-19th-century Puerto Rico. . . . But Santiago's plantation mistress isn't a shrew who derives sadistic pleasure from flogging her slaves. Nor is she their ministering angel . . . Ana is something much more elusive and contradictory. She delegates the flogging, but flinches when the slaves screams. [And she] is a feminist before her time. . . . The book's strength is its Rubik's Cube portrait of Ana, an unconventional, ambitious woman whose attitudes toward children, slaves and lovers perplex and engross. . . . Ana is emotionally intelligent enough to imagine how slaves might feel, to understand their longing for freedom, yet ruthless enough to use and punish them in order to flourish herself. Neither white witch nor angel, she is convincing despite her contradictions—indeed, because of them. . . . Conquistadora [is] a guided tour of the history of sugar and empire. Santiago takes us through events of the past as if they were rooms, navigating the cholera epidemic that ravaged Puerto Rico in the 1850s here, depicting the secret abolitionist societies active in San Juan there, and over all, divertingly evoking a place that was one of the last holdouts for slavery in the Americas."
—Gaiutra Bahadur, The New York Times Book Review

"Conquistadora is an expertly researched novel that fuses Antillean/Puerto Rican history and a spellbinding and action-packed storyline that will surprise and dazzle its readers. . . . A Pandora's box of triumphs and tragedies unfolds and will keep you on the edge of your seat. . . . A crown jewel of Puerto Rican literature."
—Charlie Vázquez, Being Latino

"If, as the proverb goes, history is written by the hunters, then Esmeralda Santiago has imagined history as written from the point of view of the lions. A remarkable story for its detail, imagination, meticulous research, and wisdom, this is history written by a lion at the height of her powers."
—Sandra Cisneros, author of The House on Mango Street

"An enthralling epic that not only illuminates the life of one extraordinary woman, but of the great sweep of Puerto Rican history. Rich with period details, unforgettable drama, and a riveting cast of characters, Conquistadora will seduce readers heart and soul."
—Cristina García, author of Dreaming in Cuban

"Conquistadora is a wonderful and richly drawn novel, with an unforgettable story that will not only enlighten readers about the fascinating history of Puerto Rico in the 19th century, but delight them with a narrative that is always deeply felt and entertaining. A grand achievement from one of our finest writers."
—Oscar Hijuelos, Pulitzer Prize–winning author of The Mambo Kings Play Songs of Love and Beautiful Maria of My Soul

"Impressive . . . Conquistadora is a story of epic dimensions, one which demands to be taken seriously—and at the same time is just a tremendous amount of fun. Hats off to Esmeralda Santiago, for a delicious novel that instructs as easily as it pleases." 
—Madison Smartt Bell, author of All Souls' Rising

"A powerful new novel that is colorful, sexy, and shimmering with magical writing as lush as the tropical island on which it takes place. Alive with all their passions and flaws, here are characters so boldly imagined they feel real, and in a story so transporting you can almost smell the sugar cane . . . I fell in love with the grand adventure that is Conquistadora—so will you!"
 
—Terry McMillan, author of Getting to Happy and Waiting to Exhale

"Having launched her writing career with the well-regarded memoir When I Was Puerto Rican, Santiago goes for broke with this grand, sprawling novel, which starts out in 19th-century Spain. Ana Cubillas, enraptured by the diaries of an ancestor who explored Puerto Rico with Ponce de León, is now in love with the island and finds a way to get there. . . . She just wasn't prepared for the heat, the wildlife—and the slave labor. Engrossing and polished, without the let's-just-get-through-it writing than can mar sagas . . . Perfect for those who want fun but literate reading."
—Barbara Hoffert, Library Journal

"I loved this novel from the first sentence, and wept with emotion by the end. Lush, steamy and passionate, Conquistadora paints a rich landscape of life in colonial Puerto Rico, and in bold strokes defines characters so full of life they leap from the page and into your heart. Esmeralda Santiago has given voice to a history that has eluded me. Here is a haunting, visceral epic that satisfies on every level and yet leaves you hungry for more. Bravo, Conquistadora!"
—Daisy Martinez, host of Viva Daisy! and author of Daisy's Holiday Cooking
Knopf, 9780307268327, 432pp.
Publication Date: July 12, 2011
About the Author
Esmeralda Santiago is the author of the memoirs "When I Was Puerto Rican, Almost a Woman, "which she adapted into a Peabody Award-winning film for PBS's Masterpiece Theatre, and "The Turkish Lover; "the novel "America's Dream; "and a children's book, "A Doll for Navidades. "Her work has appeared in "The New York Times, The Boston Globe, "and "House & Garden, "among other publications, and on NPR's "All Things Considered "and "Morning Edition. "Born in San Juan, Puerto Rico, she lives in New York.

www.esmeraldasantiago.com
or
Not Currently Available for Direct Purchase