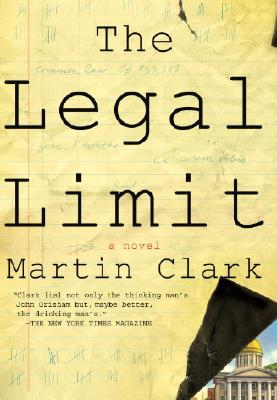 The Legal Limit (Hardcover)
Knopf, 9780307268358, 368pp.
Publication Date: July 8, 2008
* Individual store prices may vary.
or
Not Currently Available for Direct Purchase
Description
Martin Clark's most remarkable novel yet is the gripping, complex story of a murder cover-up that wreaks widespread havoc even as it redefines the concept of justice—a relentlessly entertaining saga that delves deeply into matters at once ambiguous and essential.

While Gates Hunt chose to fight his abusive father head-on, his younger brother, Mason, eventually escaped their bitter, impoverished circumstances by earning a free ride to college and law school. And while Gates became an intransigent, compulsive felon, Mason met and married the love of his life, had a spitfire daughter, and returned to his rural hometown as the commonwealth's attorney. But Mason's idyll is abruptly pierced by a wicked tragedy, and soon afterward his life further unravels when Gates, convinced that his brother's legal influence should spring him from prison, attempts to force his cooperation by means of a secret they'd both sworn to take with them to the grave. And with his closest friend and staunch ally suddenly threatened by secrets of his own, Mason ultimately finds himself facing complete ruin and desperately defending everything and everyone he holds dear.

Intricately plotted and shot through with authenticity, The Legal Limit is a roller coaster of moral relevance. What should govern our actions when family loyalty challenges personal integrity, when the letter of the law defies its spirit, and when fate plays dice with our best endeavors?
About the Author
Martin Clark's first novel, "The Many Aspects of Mobile Home Living, "was a New York Times Notable Book and a finalist for the Stephen Crane First Fiction Award. His second novel, "Plain Heathen Mischief," prompted "The Charlotte Observer" to call him "a rising star in American Letters." A circuit court judge, he lives in Stuart, Virginia, with his wife, Deana.
Praise For The Legal Limit…
"A deep yet playful story...Rather than bury the plot in violence, style and contrived momentum, Clark reaches for and achieves something grander...a novel of ample graces." –Allison Glock, The New York Times Book Review

"Funny, smart and Southern to the bone...[The Legal Limit] packs a wallop...it's so intoxicating that it doesn't just dazzle Clark's reviewers, it inspires them." –J. Peder Zane, The News & Observer

"[The Legal Limit] is filled to the brim with creamy, substantive, compelling prose...the manner in which the intricacies of the law, truth, justice and friendship [are] handled is masterful...This is writing at its best." –Barbara Rich, The Daily Progress

"An edge-of-your-seat legal thriller...[Clark's] ear for dialogue and attention to the details of his rural setting are superb...Take it to the beach and turn its pages breathlessly. Then mull over its deeper themes on that long ride home." –Doug Childers, Richmond Times-Dispatch

"In The Legal Limit, Clark...has struck a fine balance between down-home ambiance and high-octane plot...[But] as good as the atmospherics are, what's best about The Legal Limit is Clark's ability to delineate Mason's ethical and emotional quandary as he is forced to choose between blood and principle. Skillfully weaving a plot that includes lie detectors, wiretaps and arcane legal principles, the author creates a world in which family ties can easily turn into nooses." –Stephen Amidon, The Washington Post Book World

"Martin Clark...draws characters as well as Scott Turow and crafts plots as well as John Grisham. The Legal Limit...is a model for how to write a literary legal thriller with a wry sense of humor." –Mark Lindquist, The Oregonian

"With The Legal Limit, Clark has outdone himself again. His novels just keep getting better...He's got the right gifts to draw the raw materials from real life and spin them into well-plotted, beautifully phrased, imaginative works of fiction...Martin Clark is the new standard by which other works of legal fiction should be judged." –Linda Brinson, Winston-Salem Journal

"Perfect summer reading...engrossingly realized...A kind of corkscrew riff on Cain and Abel told with a gritty sort of specificity that reflects the spirit, as well as the practice of criminal law. This one, in other words, is sort of Elmore Leonard meets John Grisham, but very smart and procedurally realistic–think Scott Turow with lots of crackling Southern dialogue and a plot wound as tightly as a watch." –Tim Rutten, Los Angeles Times

"Clark conveys the joys of small-town life with an eye for detail and the beauty of worn, familiar things." –Salem Macknee, The Charlotte Observer

"The sharp dialogue and clockwork plotting that have become Clark's signature permeate every page [of The Legal Limit]. But this time, a gravitas accompanies his masterful telling of a story of life and death, crime and punishment, sin and redemption, and the chasm that sometimes opens up between the law and justice...Biblical in it's simplicity and profundity." –Michael Roden, Chicago Sun-Times

"Clark's wise, knowing novel [is] a superb thriller that ponders family, fraternal loyalty, marital love, child rearing, loss, integrity, tolerance, the fault line between law and justice, and even the economic well-being of a community." –Booklist, starred review

"A masterful mix of legal arcana and white-knuckle suspense." –Kirkus, starred review

"Profound and moving…[Clark's] most substantial and thought-provoking work to date." –Publishers Weekly, starred review
Advertisement