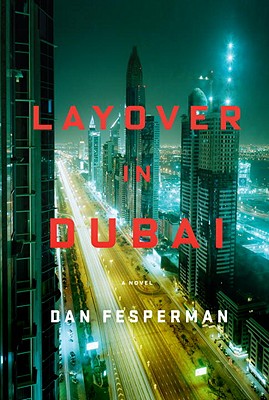 Layover in Dubai
Hardcover

* Individual store prices may vary.
Other Editions of This Title:
Digital Audiobook (7/12/2010)
Paperback (6/28/2011)
MP3 CD (8/11/2015)
Compact Disc (2/26/2016)
Description
The newest thriller from the author of The Amateur Spy and The Prisoner of Guantánamo ("Worthy of sharing shelf space with the novels of John le Carré and Ken Follett"—USA Today) is as dazzling as its setting.

Sam Keller has been enlisted by his V.P. for Corporate Security and Investigation to spy on another employee while they're traveling for the company. Ordinarily careful to a fault, Sam decides to live it up. What better spot for business-class hedonism than boomtown Dubai, where resort islands materialize from open ocean, fortunes are made overnight, and skiers crisscross the snowy slope of a shopping mall.

But when Sam's charge is murdered during a night on the town, it is only the first in a series of bewildering events that plunge him waist-deep into a lethal mix of mobsters, prostitutes, crooked cops, consuls, and corporate players.

Offering a chancy way out is Anwar Sharaf, the unlikeliest of detectives. A former pearl diver and gold smuggler with an undignified demeanor, Sharaf is sometimes as baffled as Sam by the changes to his homeland, especially as they are embodied in the behavior of his rebelliously independent—and hauntingly beautiful—daughter. But he knows where the levers of power reside. As the unlikely duo work their way toward the heart of the case, each man must confront the darkest forces threatening Dubai from within.

Here is Dan Fesperman's most suspenseful novel yet: a stunning portrait of a city whose mysterious rhythm ("like the precision throb of an artificial heart, clicking and insistent, yet cool to the touch") is underscored by the insistent clashing of old and new.
Praise For Layover in Dubai…
"Layover in Dubai is a frantic tale of cold murder, cunning double-crosses, and narrow escapes. Yet by setting his story in the mind-numbingly hot and soul-crushingly glitzy city of Dubai, Fesperman allows his novel to raise troubling questions about our globalized era . . . All the while, as if gobbling fistfuls of buttered popcorn, we plow our way through sharp scenes of brilliant resourcefulness in the face of a towering conspiracy . . . Fesperman has once again given us—to use Graham Greene's term for his own books of straight-up intrigue and violent doings—a solid 'entertainment.'"
—NPR.org
 
"Fesperman sharpens his storytelling acumen to cut through various global issues in his latest thriller . . . Dubai proves to be an ideal spot for excess, intrigue, and nefarious corporate shenanigans . . . Fesperman builds tension and contrast with various subplots that buttress the overall story, and he deftly weaves a looming countdown into the tale for added suspense . . . And Fesperman gets extra credit for not shying from the harsh conditions faced by Dubai's migrant labor force, an issue that usually gets lost, or conveniently forgotten, amidst the glitzy sprawl."
—Baltimore Magazine

"Sam, Anwar, and Laleh are pleasingly conflicted characters . . . but Fesperman makes Dubai his book's finest character. Fabulous wealth and opulence grind like tectonic plates against traditional Muslim culture, foreign workers outnumber 'emiratis' by nine to one, and rival clans still plot against each other. Layover in Dubai has plenty of action, but it's Fesperman's portrait of a truly bizarre place that will captivate readers."
—Booklist
 
"Dan Fesperman is a writer who delivers thrillers with a plus. His book are thrilling, so that's covered, but his careful research, his eye for historical detail and interesting social and cultural divisions, have always left his readers with a richer understanding of the settings of his books. All of Fesperman's strengths are on display in his latest novel, Layover in Dubai. Dubai is a fascinating setting . . . I found myself genuinely caring for the characters and pulling for them . . . And the reader's interest never flags . . . The exciting conclusion manages to be both believable and affecting. Anyone looking for more than just an a la carte thriller will find Layover in Dubai to be a soup to nuts reading experience indeed."
 —Daily Bulldog (Franklin County, Maine)
 
Knopf, 9780307268389, 304pp.
Publication Date: July 13, 2010
About the Author
Dan Fesperman's travels as a writer have taken him to thirty countries and three war zones. "Lie in the Dark "won the Crime Writers' Association of Britain's John Creasey Memorial Dagger Award for best first crime novel, "The Small Boat of Great Sorrows" won their Ian Fleming Steel Dagger Award for best thriller, and "The Prisoner of Guantanamo "won the Dashiell Hammett Award from the International Association of Crime Writers. He lives in Baltimore.
or
Not Currently Available for Direct Purchase