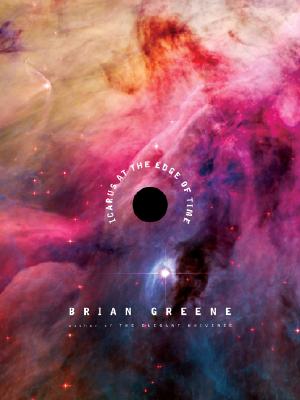 Icarus at the Edge of Time
Hardcover

* Individual store prices may vary.
Description
From one of America's leading physicists—a moving and visually stunning futuristic reimagining of the Icarus fable written for kids and those journeying with them toward a deeper appreciation of the cosmos. With a minimum of words set on 34 full color boardbook pages, Icarus travels not to the sun, but to a black hole, and in so doing poignantly dramatizes one of Einstein's greatest insights.

Unlike anything Brian Greene has previously written, Icarus at the Edge of Time uses the power of story, not pedagogy, to communicate viscerally one small part of the strange reality that has emerged from modern physics. Designed by Chip Kidd, with spectacular images from the Hubble Space Telescope, it's a short story that speaks to curiosity and wisdom in a universe we've only begun to fathom.
Praise For Icarus at the Edge of Time…
"Terrific . . . Page after page shows gorgeous, swirling color set in the blackness of infinity . . . Against these stunning visuals is a retelling of the classical myth of Icarus."
–Meghan Cox Gurdon, Wall Street Journal

"Do your part to get kids psyched about science with physicist Brian Greene's Icarus at the Edge of Time, a futuristic fable that will take you and your budding scientists to the ends of the universe and back. Full-color photos from the Hubble Space Telescope bring the beauty of the cosmos right to your fingertips."
–Parade Magazine

"A perfect book for smart parents to read to smart children. Plus, it will make all concerned even smarter."
–Tim Follos, Washington Post Express

"Moving and successful . . . Beautifully illustrated . . . The images frame the deep and complex thought at the heart of the tale . . . [Greene] weaves the wonder of modern physics through the fabric of his story–and thus enables his readers to confront its strangeness themselves."
–Thomas Levenson, Seed Magazine

Knopf, 9780307268884, 34pp.
Publication Date: September 2, 2008
About the Author
Brian Greene is the author of The Elegant Universe and The Fabric of the Cosmos. He was educated at Harvard University and at Oxford University, where he was a Rhodes Scholar. In 1996, he joined Columbia University as a professor of physics and mathematics. He has lectured at both a general and a technical level around the world and is internationally acknowledged for a number of groundbreaking discoveries in superstring theory. In May 2008 he'll be chairing the first annual World Science Festival, a gathering of the world's leading scientists in New York City. Brian Greene lives in Andes, New York, and New York City.
or
Not Currently Available for Direct Purchase