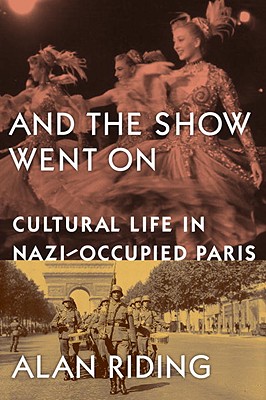 And the Show Went On
Cultural Life in Nazi-Occupied Paris
Hardcover

* Individual store prices may vary.
Other Editions of This Title:
Digital Audiobook (10/26/2010)
Compact Disc (10/27/2010)
Paperback (10/4/2011)
MP3 CD (10/27/2010)
Compact Disc (10/27/2010)
Hardcover (3/1/2011)
Compact Disc (10/27/2010)
MP3 CD (10/27/2010)
Description
On June 14, 1940, German tanks rolled into a silent and deserted Paris. Eight days later, a humbled France accepted defeat along with foreign occupation. The only consolation was that, while the swastika now flew over Paris, the City of Light was undamaged. Soon, a peculiar kind of normality returned as theaters, opera houses, movie theaters and nightclubs reopened for business. This suited both conquerors and vanquished: the Germans wanted Parisians to be distracted, while the French could show that, culturally at least, they had not been defeated. Over the next four years, the artistic life of Paris flourished with as much verve as in peacetime. Only a handful of writers and intellectuals asked if this was an appropriate response to the horrors of a world war.

Alan Riding introduces us to a panoply of writers, painters, composers, actors and dancers who kept working throughout the occupation. Maurice Chevalier and Édith Piaf sang before French and German audiences. Pablo Picasso, whose art was officially banned, continued to paint in his Left Bank apartment. More than two hundred new French films were made, including Marcel Carné's classic, Les Enfants du paradis. Thousands of books were published by authors as different as the virulent anti-Semite Céline and the anti-Nazis Albert Camus and Jean-Paul Sartre. Meanwhile, as Jewish performers and creators were being forced to flee or, as was Irène Némirovsky, deported to death camps, a small number of artists and intellectuals joined the resistance.

Throughout this penetrating and unsettling account, Riding keeps alive the quandaries facing many of these artists. Were they "saving" French culture by working? Were they betraying France if they performed before German soldiers or made movies with Nazi approval? Was it the intellectual's duty to take up arms against the occupier? Then, after Paris was liberated, what was deserving punishment for artists who had committed "intelligence with the enemy"?

By throwing light on this critical moment of twentieth-century European cultural history, And the Show Went On focuses anew on whether artists and writers have a special duty to show moral leadership in moments of national trauma.
Praise For And the Show Went On: Cultural Life in Nazi-Occupied Paris…
"Gripping . . . We'll always have Paris, but we may not feel quite the same about it after reading And the Show Went On."
—Geoffrey Wheatcroft, The New York Times Book Review
 
"An arresting and detailed account . . .  A big story and insidiously troubling."
—Richard Eder, The Los Angeles Times
 
"A carefully constructed and sympathetic account . . . Riding is very good at pointing to the complexities and ambiguities of the situation . . . An evocative book."
—Modris Eksteins, The Wall Street Journal
 
"Monumentally researched, vividly written and troubling account of how the cultured citizens of Paris behaved while the Nazi swastika fluttered above the Eiffel Tower."
—Tom Mackin, Newark Star-Ledger

"Meticulously researched . . . Riding's book is an impressively comprehensive survey of the occupation years."
—The Economist
 
"Only someone as deeply versed in French culture as is Alan Riding, and as completely in command of his subject, could have written this magisterial account of France's authors and artists and filmmakers and musicians during the Occupation. It is star-studded and makes fascinating reading."
—David Fromkin, author of A Peace to End All Peace
 
"[A] startling cultural history . . . A stark account of how we act when evil enters our door."
—Kirkus
 
"A splendidly informed study of Parisian cultural elite during the dark years. Riding places brilliant portraits of leading individuals in the context of clearly depicted French politics, alive to the moral drama of people facing extreme choices across fluid ideological lines. A study of ambiguities, including the varying conduct of German occupiers, of accommodation, betrayal, and human and patriotic decency. A book of transcendent relevance."
—Fritz Stern, author of Gold and Iron
 
"In this highly readable book, Alan Riding presents a thorough, balanced account of the ways French artists and writers responded to Nazi occupation, ranging from active resistance to enthusiastic collaboration.   Based on numerous interviews as well as published memoirs and diaries and the latest historical scholarship, this lively book will be of interest to specialists as well as to readers who wish to know more about that troubled period of French history.  Riding marshals details with the verve and care of a great reporter."
—Susan Suleiman, C. Douglas Dillon Professor of the Civilization of France and Professor of Comparative Literature, Harvard University
 
"Engrossing . . . rich in detail."
—Library Journal
 
"A superb account of intellectuals under pressure, how thought was married to action or, more frequently, inaction. A few heroes, a few villains, and many in between. It's the in-betweens who seize our attention, those occupying a no-man's land where resistance and collaboration dance a most delicate minuet. Alan Riding, deeply versed in French politics and culture, is the ideal guide to Parisian life under the Nazis. He has written a wonderful book."
—Ward Just, author of An Unfinished Season and Echo House
Knopf, 9780307268976, 416pp.
Publication Date: October 19, 2010
About the Author
For twelve years, Alan Riding was the European cultural correspondent for "The New York Times." He was previously bureau chief for the "Times" in Paris, Madrid, Rio de Janeiro and Mexico City. Riding is the author of "Distant Neighbors." He continues to live in Paris with his wife, Marlise Simons, a writer for the "Times."
or
Not Currently Available for Direct Purchase