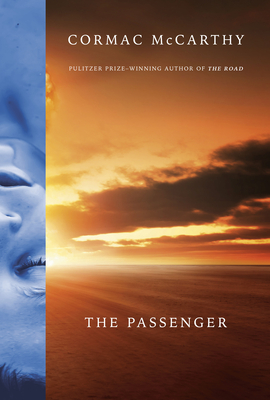 The Passenger
Hardcover

* Individual store prices may vary.
Other Editions of This Title:
Digital Audiobook (10/24/2022)
Paperback, Large Print (11/8/2022)
CD-Audio (10/25/2022)
Description
The best-selling, Pulitzer Prize–winning author of The Road returns with the first of a two-volume masterpiece: The Passenger is the story of a salvage diver, haunted by loss, afraid of the watery deep, pursued for a conspiracy beyond his understanding, and longing for a death he cannot reconcile with God.

Look for Stella Maris, the second volume in The Passenger series, on sale December 6th, 2022

1980, PASS CHRISTIAN, MISSISSIPPI: It is three in the morning when Bobby Western zips the jacket of his wet suit and plunges from the Coast Guard tender into darkness. His dive light illuminates the sunken jet, nine bodies still buckled in their seats, hair floating, eyes devoid of speculation. Missing from the crash site are the pilot's flight bag, the plane's black box, and the tenth passenger. But how? A collateral witness to machinations that can only bring him harm, Western is shadowed in body and spirit—by men with badges; by the ghost of his father, inventor of the bomb that melted glass and flesh in Hiroshima; and by his sister, the love and ruin of his soul.
 
Traversing the American South, from the garrulous barrooms of New Orleans to an abandoned oil rig off the Florida coast, The Passenger is a breathtaking novel of morality and science, the legacy of sin, and the madness that is human consciousness.
Praise For The Passenger…
"[McCarthy] reigns as a titan of American lit--an undisputed heir to Melville and Faulkner, the subject of infinite grad-school theses, and a hard-nosed dispenser of what Saul Bellow called 'life-giving and death-dealing' sentences... It's the humid, fevered, magniloquent, Bible-cadenced, comma-starved, word-drunk prose of what some fans consider his masterwork, Suttree... There's a lot here. It might make your head spin... What it all adds up to--perhaps surprisingly--is a doomed and unsettling love story, a Platonic tragedy.... Electric and thunderous… An astonishing pair of novels… Taken together, The Passenger and Stella Maris are an intellectually breathtaking achievement."
–Jonathan Miles, Garden & Gun

"After sixteen years of characteristic seclusion, McCarthy returns with a one-two punch...The Passenger is an elegiac meditation on guilt, grief, and spirituality. Packed with textbook McCarthy hallmarks, like transgressive behaviors and cascades of ecstatic language, it's a welcome return from a legend who's been gone too long."
—Adrienne Westenfeld, Esquire

"Chilling and masterly.... His prose frequently approaches the Shakespearean, ranging from droll humor to the rapid-fire spouting of quotable fecundity. Dialogues click into place like a finely tuned engine. McCarthy has somehow added a new register to his inimitable voice. Long ensconced in the literary firmament, McCarthy further bolsters his claim for the Mount Rushmore of the literary arts."
–Booklist, starred

"A beguiling, surpassingly strange novel by the renowned—and decidedly idiosyncratic—author of Blood Meridian (1982) and The Road (2006)… It's all vintage McCarthy, if less bloody than much of his work: Having logged time among scientists as a trustee at the Santa Fe Institute, he's now more interested in darting quarks than exploding heads…Plenty of his trademark themes and techniques are in evidence, from conspiracy theories…and shocking behavior…to flights of beautiful language…Enigmatic, elegant, extraordinary: a welcome return after a too-long absence."
—Kirkus Reviews, starred

"A rich story of an underachieving salvage diver in 1980 New Orleans... This thriller narrative is intertwined with the story of Western's sister, Alicia… He dazzles with his descriptions of a beautifully broken New Orleans… The book's many pleasures will leave readers aching for the final installment."
 —Publishers Weekly
Knopf, 9780307268990, 400pp.
Publication Date: October 25, 2022
About the Author
The novels of the American writer Cormac McCarthy have received a number of literary awards, including the Pulitzer Prize, the National Book Award, and the National Book Critics Circle Award. His works adapted to film include All the Pretty Horses, The Road, and No Country for Old Men—the latter film receiving four Academy Awards, including the award for Best Picture.