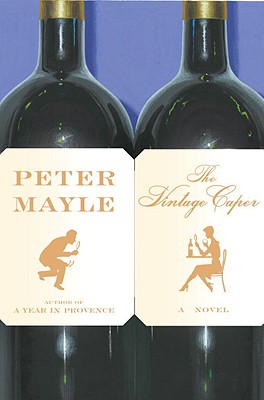 The Vintage Caper
Hardcover

* Individual store prices may vary.
Other Editions of This Title:
Digital Audiobook (10/19/2009)
Paperback (7/13/2010)
Hardcover, Large Print (1/6/2010)
Paperback (6/1/2011)
Compact Disc (10/20/2009)
Description
Set in Hollywood, Paris, Bordeaux, and Marseille, Peter Mayle's newest and most delightful novel is filled with culinary delights, sumptuous wines, and colorful characters. It's also a lot of fun.

The story begins high above Los Angeles, at the extravagant home and equally impressive wine cellar of entertainment lawyer Danny Roth. Unfortunately, after inviting the Los Angeles Times to write an extensive profile extolling the liquid treasures of his collection, Roth finds himself the victim of a world-class wine heist.

Enter Sam Levitt, former corporate lawyer, cultivated crime expert, and wine connoisseur. Called in by Roth's insurance company, which is now saddled with a multimillion-dollar claim, Sam follows his leads—to Bordeaux and its magnificent vineyards, and to Provence to meet an eccentric billionaire collector who might possibly have an interest in the stolen wines. Along the way, bien sûr, he is joined by a beautiful and erudite French colleague, and together they navigate many a château, pausing frequently to enjoy the countryside's abundant pleasures.

The unraveling of the ingenious crime is threaded through with Mayle's seductive rendering of France's sensory delights—from a fine Lynch-Bages and Léoville Barton to the bouillabaisse of Marseille and the young lamb of Bordeaux. Even the most sophisticated of oenophiles will learn a thing or two from this vintage work by a beloved author.
Praise For The Vintage Caper…
"Peter Mayle . . . has been celebrating the pleasures of Provence in seductive prose since the mega-bestselling A Year in Provence . . . This tradition flourishes anew in his latest Provençal picaresque, The Vintage Caper . . . The [novel's] trail leads—naturellement!—through a succession of excellent repasts and leisurely ambles, which Mayle depicts with painterly ease and signature savoir vivre . . . The wine case has enough twists and turns to propel the plot along, but the star of this caper is the vineyard-veined, lavender-scented, sun-showered, garlic-seasoned setting itself: pure Provence."
            -Don George, National Geographic Traveler (Book of the Month)
 
"Meals are lovingly described, scenery comes to life, paragraphs take long floral detours. And everyone is blessed with hypersensitive taste buds . . . By the time Levitt returns to America, readers will have learned much about the history of winemaking, the key wine regions, various auction houses, critics and books—and even how to lift fingerprints from bottles."
            -James Oliver Curry, The New York Times Book Review
 
"A lighthearted romp through Bordeaux and Marseille, in which picking the right restaurant, choosing the best dish on the menu and, of course, finding the perfect wine (and female companion) to accompany the feast is every bit as important as catching the thief . . . Bon appétit!"
            -Bernadette Murphy, Los Angeles Times
 
"Wine and food aficionados will find much to savor in The Vintage Caper . . . The Vintage Caper is light, funny, and packed with a menu's worth of scrumptious descriptions of exceptional dinners and drinks."
            -Carol Memmott, USA Today
 
"A trip to France for 25 dollars? No, it's not a super-discount on Air France, it's a book, another Peter Mayle flight of fancy . . . It's a smooth ride you'll enjoy from beginning to end . . . Peter Mayle's love of France is infectious."
            -John Greenya, The Washington Post
 
"This novel provides a delightful behind-the-scenes tour of France and its wines, a satisfyingly satirical view of materialistic excesses in America, a mystery that keeps the reader guessing, and a pleasing, robust finish."
            -Scotia W. MacRae, Philadelphia Inquirer
 
"Relentlessly entertaining . . . Peter Mayle has concocted a shameless guilty-pleasure bonbon in The Vintage Caper."
            -Raleigh News-Observer
 
"Mayle's prose bubbles with the pertness of champagne and teems with sumptuous delights . . . His story has as many unexpected twists as the wending streets of France that are featured throughout the novel, making this one countryside romp that will both thrill and transport oenophiles and armchair travelers alike."
            -Cathy Shouse, Bookpage
 
"Mayle uncorks a winning wine caper . . . The pleasures of this very French adventure—and there are many—aren't in the resolution . . . but in the pleasant stroll through the provinces and in the glasses of wine downed and decadent meals consumed."
            -Publishers Weekly
 
"Mayle delivers . . . good, clean writing; a sophisticated and mouthwatering use of good and wine as the story's upholstery; and a quick yet captivating plot, well sprinkled with humor.  This novel is a special invitation for newbies to begin appreciating Mayle's talent as a writer."
            -Booklist
Knopf, 9780307269010, 240pp.
Publication Date: October 20, 2009
About the Author
Peter Mayle is the author of eleven previous books, five of them fiction. He has received the Legion d'Honneur from the French government for his cultural contributions. Mayle has been living in Provence with his wife, Jennie, for twenty years.
or
Not Currently Available for Direct Purchase