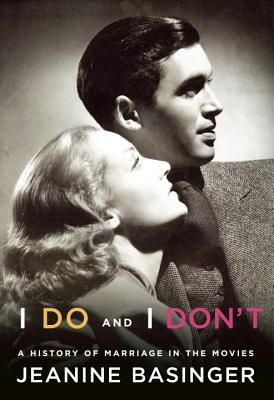 I Do and I Don't
A History of Marriage in the Movies
Hardcover

* Individual store prices may vary.
Other Editions of This Title:
Paperback (3/11/2014)
Description
From one of our leading film historians and interpreters: a brilliantly researched, irresistibly witty, delightfully illustrated examination of "the marriage movie"; what it is (or isn't) and what it has to tell us about the movies—and ourselves.

As long as there have been feature movies there have been marriage movies, and yet Hollywood has always been cautious about how to label them—perhaps because, unlike any other genre of film, the marriage movie resonates directly with the experience of almost every adult coming to see it. Here is "happily ever after"—except when things aren't happy, and when "ever after" is abruptly terminated by divorce, tragedy . . . or even murder. With her large-hearted understanding of how movies—and audiences—work, Jeanine Basinger traces the many ways Hollywood has tussled with this tricky subject, explicating the relationships of countless marriages from Blondie and Dagwood to the heartrending couple in the Iranian A Separation, from Tracy and Hepburn to Laurel and Hardy (a marriage if ever there was one) to Coach and his wife in Friday Night Lights.
A treasure trove of insight and sympathy, illustrated with scores of wonderfully telling movie stills, posters, and ads.

Praise For I Do and I Don't: A History of Marriage in the Movies…
"A witty look at how films portray marriage, and how these onscreen contradictions mirror the institution itself."
—O Magazine

"A breezy, fun excursion into Hollywood's presentation of matrimony . . . deeply personal."
—Los Angeles Times

"Fascinating . . . The real fun comes from the splendidly crafted, creative, compelling critiques that make you want to see many movies again or for the first time."
—The Boston Globe

"Written by the esteemed Wesleyan University academic and cinematic soothsayer Jeanine Basinger . . . an insightful account of how films have represented wedlock, both holy and unholy, through the years . . . Basinger has a gift for zeroing in on tantalizing details that bring a visual medium to readable life."
—USA Today

"Lively . . . knowing and illuminating . . . Hollywood movies of the studio era were not, as Basinger takes pains to point out, produced by naifs. Many of them convey sophisticated references to sexual intercourse, prostitution, even homosexuality—if you know how to interpret them. That some of us still do is often thanks to popular scholars like Basinger . . . hilarious, spot-on."
—Salon

"[Basinger's] writing is strong, the vision clear . . . the amount of titles discussed and revisited are staggering . . . informative and witty . . . deft."
—Slant Magazine

"A spikily opinionated voice congenial to a diverse readership: barbed observations for the casual fan and a hog heaven of footnotes for the tenure track cineaste."
—San Francisco Chronicle

"Thanks to her impeccable research and thoroughly entertaining prose, Basinger provides a take on matrimony that is never less than fascinating. Nimbly moving through history, she illustrates the lengths to which Hollywood has gone in order to make the institution of marriage exciting enough to attract audiences looking for escapism . . . A riveting lesson in history and pop psychology, one that will appeal to film buffs of just about every stripe, not only those interested in happily ever after."
—Entertainment Weekly

"[An] entertaining take on how the silver screen has portrayed wedded bliss and wedded misery . . . The main pleasure here is Basinger's explication of how the movies and stars of the studio system years made all this work . . . fascinating, fact-filled."
—Kirkus
Knopf Publishing Group, 9780307269164, 395pp.
Publication Date: January 29, 2013
About the Author
Jeanine Basinger is the chair of film studies at Wesleyan University and the curator of the cinema archives there. She has written nine other books on film, including "A Woman's View: How Hollywood Spoke to Women, 1930-1960"; "Silent Stars," winner of the William K. Everson Film History Award; "Anthony Mann"; "The""World War II Combat Film: Anatomy of a Genre"; and "American Cinema: One Hundred Years of Filmmaking," the companion book for a ten-part PBS series.
or
Not Currently Available for Direct Purchase