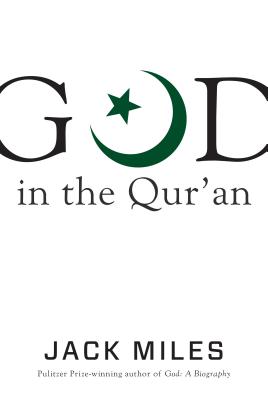 God in the Qur'an (God in Three Classic Scriptures)
Hardcover

* Individual store prices may vary.
Other Editions of This Title:
Digital Audiobook (11/12/2018)
Paperback (10/22/2019)
Description
Who is Allah? What does He ask of those who submit to His teachings? Pulitzer Prize-winner Jacke Miles gives us a deeply probing, revelatory portrait of the world's second largest, fastest-growing and perhaps most tragically misunderstood religion. In doing so, Miles illuminates what is unique about Allah, His teachings, and His resolutely merciful temperament, and he thereby reveals that which is false, distorted, or simply absent from the popular conception of the heart of Islam.

So, too, does Miles uncover the spiritual and scriptural continuity of the Islamic tradition with those of Judaism and Christianity, and the deep affinities among the three by setting passages from the Hebrew Bible, the New Testament, and the Qur'an side by side. In the spirit of his two previous books, God and Christ, and with his characteristic sensitivity, perspicacity and prodigious command of the subject, Miles calls for us all to read another's scriptures with the same understanding and accommodating eye that we turn upon our own.
Praise For God in the Qur'an (God in Three Classic Scriptures)…
"Mr. Miles's account stands alone, both in its generous openness of mind and in its scrupulous yet lively scholarship." —Eric Ormsby, The Wall Street Journal

"A highly readable, unbiasedly comparative and elegantly insightful study of the Quran . . . Miles gets to the core of the Abrahamic matrix." —Mustafa Akyol, The New York Times Book Review

"[Miles's] newest book represents the crowning achievement of his life's work." —Jonathan Kirsch, Jewish Journal

"[A] highly engaging and resourceful book." —Patrick Ryan, Commonweal 

"Keenly interesting, incisive . . . [An] illuminating critique." —Booklist (starred review)
 
"Miles . . . show[s] his non-Muslim readers that, in many ways, the Islamic God that emerges will be more recognizable to them than Yahweh . . . What Miles inaugurated, the method of theography, remains a brilliant way to try to meet an inimitable protagonist." —Anna Della Subin, Harper's

"Miles's unique talent for writing about religion won him a Pulitzer Prize for God: A Biography, and now the scholar has written a study of Allah . . . Miles's book is a roadmap toward interfaith understanding." —The National Book Review
 
"Miles is still an engrossing storyteller and a very capable teacher, with the author taking up specific moments or characters or stories and giving them a solid shaking." —Steve Donoghue, Christian Science Monitor

"Reading this book could be a crucial step out of ignorance at a time of rising Islamophobia." —Ron Charles, The Washington Post

"Literary and astute . . . Good reading and an excellent tool for interfaith dialogue." —Kirkus (starred review)

"A valuable and insightful perspective on Islam and the Qur'an." —Library Journal

"In its stunning scope, its forensic analysis, and its lofty message, God in the Qur'an has no predecessor and no competitor among books that scan the horizon of Abrahamic scriptures. At once accessible and challenging, the Biblical/Qur'anic narratives are recounted here with clarity and conviction. The reader—whether religious or non-religious, Jewish, Christian, Muslim or atheist—is offered a new vista into divine-human encounters evoked by one of their most skilled interpreters, Jack Miles. A milestone of literary and theological scholarship." —Bruce Bennett Lawrence, author of The Koran in English – A Biography

"Jack Miles' God in the Qur'an is the culmination of an extraordinary three-part biography—or theograpy, as he has termed it—of the central character in the sacred scriptures of Jews, the Christians, and now the Muslims. In this book, as in the previous books in the trilogy, Miles draws upon rich theological learning that he manages to wear lightly and gracefully. He draws too upon an extraordinary literary sensibility that enables him to illuminate brilliantly those scriptural places where the three monotheisms converge and where they strikingly differ. Above all, he draws upon unfailing moral intelligence, sympathetic imagination, and human decency, qualities that are sorely needed not only in this critically important interfaith project but also in the world whose shadows fall so darkly upon us all." —Stephen Greenblatt, Author of The Rise and Fall of Adam and Eve

"In this extraordinary, beautifully written book, Jack Miles continues his exploration of the nature of God in scripture by turning his trained eyes to the Qur'an. To put it simply, this is one of the finest books I have ever read on the Qur'an, and everyone who truly wants to understand Islam and Muslims should read it." —Amir Hussain, author, Muslims and the Making of America

"God in the Qur'an is not your typical 'feel-good-we-are-all-brothers-and-sisters' read but rather a careful, critical, loving and deeply perceptive examination of how God really appears in this sacred scripture. This is a remarkable contribution to a remarkable topic, and a book not to be missed." —Reuven Firestone, author, An Introduction to Islam for Jews

"Jack Miles has done it again! In a fascinating and creative way, his latest book helps Jews and Christians understand the Qur'an, not by paraphrasing or summarizing its teachings, but by having Allah speak directly about key persons—Adam and his wife, Abraham and his sons, Jesus and his mother—who appear in the Tanakh and the Christian Bible. His brilliant comparative reading of selected passages of the Qur'an sheds an appreciative light on all three religions, noting both similarities and differences, but all the while increasing our much-needed understanding of the Qur'an." —Father James L. Heft, author, Passing on the Faith

"With God in the Qur'an, Jack Miles completes the literary pilgrimage that gave us God: A Biography and Christ: A Crisis in the Life of God. This time Allah is the central character, and drawing on the Qur'an, but also the Hebrew Bible and the New Testament, Miles puts him in play with the cross-over figures of Adam, Noah, Abraham, Joseph, Moses and Jesus. As with his earlier books, Miles mines all three texts to strikingly original effect, generating new insights about the Qur'an but also about its sibling scriptures." —Jane McAuliffe, editor, The Encyclopaedia of the Qur'an
Knopf, 9780307269577, 256pp.
Publication Date: November 13, 2018
About the Author
JACK MILES pursued religious studies at Pontifical Gregorian University, Rome, and The Hebrew University of Jerusalem, and holds a doctorate in Near Eastern languages from Harvard University. In 2002, he was named a MacArthur Fellow, and he currently serves as Distinguished Professor Emeritus of English and Religious Studies at the University of California, Irvine, and Senior Fellow for Religion and International Affairs with the Pacific Council on International Policy. In the 2018-2019 academic year, he will serve as Corcoran Visiting Chair of Christian and Jewish Learning at Boston College. His book God: A Biography won a Pulitzer Prize. He served as editor for the Los Angeles Times Book Review and was a member of that newspaper's editorial board. His writing has appeared in The Atlantic, The New York Times, The Washington Post, and The Boston Globe, among many other publications.
or
Not Currently Available for Direct Purchase