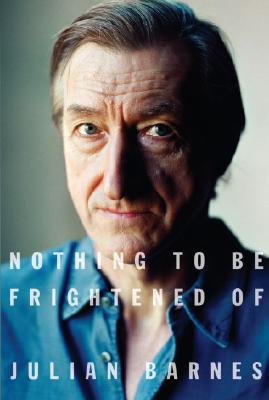 Nothing to Be Frightened Of (Hardcover)
Knopf, 9780307269638, 256pp.
Publication Date: September 2, 2008
Other Editions of This Title:
Paperback (10/6/2009)
Compact Disc (8/19/2014)
Paperback (3/1/2009)
MP3 CD (8/19/2014)
Compact Disc (5/17/2011)
* Individual store prices may vary.
Description
Two years after the best-selling Arthur & George, Julian Barnes gives us a memoir on mortality that touches on faith and science and family as well as a rich array of exemplary figures who over the centuries have confronted the same questions he now poses about the most basic fact of life: its inevitable extinction.

If the fear of death is "the most rational thing in the world," how does one contend with it? An atheist at twenty, an agnostic at sixty, Barnes looks into the various arguments for and against and with God, and at the bloodline whose archivist, following his parents' death, he has become—another realm of mystery, wherein a drawer of mementos and his own memories (not to mention those of his philosopher brother) often fail to connect. There are other ancestors, too: the writers—"most of them dead, and quite a few of them French"—who are his daily companions, supplemented by composers and theologians and scientists whose similar explorations are woven into this account with an exhilarating breadth of intellect and felicity of spirit.

Deadly serious, masterfully playful, and surprisingly hilarious, Nothing to Be Frightened Of is a riveting display of how this supremely gifted writer goes about his business and a highly personal tour of the human condition and what might follow the final diagnosis.
About the Author
Julian Barnes is the author of ten novels, two books of stories, two collections of essays, and a translation of Alphonse Daudet's "In the Land of Pain." His honors include the Somerset Maugham Award, the Geoffrey Faber Memorial Prize, and the E. M. Forster Award from the American Academy of Arts and Letters. In 2004 he was named Commandeur de l'Ordre des Arts et des Lettres by the French Ministry of Culture. He lives in London.
Praise For Nothing to Be Frightened Of…
"[Nothing to Be Frightened Of] call[s] to mind Woody Allen...Touching–and very funny." –Amy Finch, Providence Phoenix

"Just try to put this memoir down...A dazzling blend of wry humor, keen philosophy and perceptive observations as Barnes ruminates about the inevitability of death and what it all means." –Verna Noel Jones, Rocky Mountain News

"Brilliantly written and also funny...the book is cunningly composed, in fact held together in a rather Proustian fashion...Barnes has an extremely lively mind, and a distinctive voice, which gives a certain welcome jauntiness or gaiety to his darker musings." Frank Kermode, The New York Review of Books

"Barbarously intelligent [and] a rare thing in literature...marvelously engaging, even uplifting...Briskly, rigorously, this unusual book gives us something to think about until that nothingness comes knocking." –John Freeman, NPR

"A delicious mix of personal reminiscence, family history, literary criticism, and philosophical speculation." –Frank Wilson, The Philadelphia Inquirer

"Strange and marvelous...Despite[its] mordant wit, erudition, and typically British understatement, the fear and trembling at its heart are always palpable...It is so good–an item of high literary quality and, paradoxically, great good humor." –Dan Menaker, Barnes & Noble Review

"Surprisingly jocular–although also dead earnest...highly literary, thoughtful but playful." –Heller McAlpin, San Francisco Chronicle

"Barnes is a great conversationalist, and this is a humorous book in spite of its serious subject." –Vikram Johri, St. Petersburg Times
"An elegant memoir and meditation, a deep seismic tremor of a book that keeps rumbling and grumbling in the mind for weeks thereafter...What gives this book life and keeps the reader happily churning forward is [Barnes's] affection for the people who wander in and out...I will say a prayer for retail success. It is a beautiful and funny book, still booming in my head." –Garrison Keillor, The New York Times Book Review (front cover)
"Erudite and entertaining." –J. David Slocum, Playboy

"A brilliant bible of elegant despair...that most urgent kind of self-help manual: the one you must read before you die." –Tim Adams, Men's Vogue

"Barnes is a writer of impulsive insights, many of them remarkable...of humane irony, antic imagination, and unsettling perceptiveness. He constructs a many-leveled scaffolding of argument, memoir, literary reference, and musings all around the dark pit." –Richard Eder, The Boston Globe

"For those who think that facing death is life's most pressing test, Barnes is an amiable and articulate companion [who] sees humor in the impossibility of finding lasting comfort...His contemplation of death invariably becomes a treatise on living." –Sean Kinch, The Tennessean

"Beautifully done...an extended meditation on human mortality, but one that is neither clinical nor falsely consoling. Instead, the witty and melancholic author simply converses with us about our most universal fear. –Michael Dirda, The Washington Post

"Very entertaining and, best of all, wholesomely provocative." –Vince Passaro, O, The Oprah Magazine

"[A] satisfyingly riverine blend of inquiry and apologia...Barnes–reflective and erudite, a stellar stylist and a piquant wit–confronts the paradoxes, fantasies, horrors, mystery, and inevitability of death in this bracing, mordantly funny, and expansive mix of musings, literary criticism, and memoir." –Donna Seaman, Booklist

"In this virtuosic memoir, readers will find themselves granted access to an unexpectedly large world...[Barnes's] vivid description delights." –Publishers Weekly, starred review

"Elegant and eloquent...gentle and lucid–a welcome change from the polemical tone of so many books on the matter." –Kirkus

"Death has a habit of bringing the best out in writers…Given its subject matter the whole book has an unexpectedly jaunty air. On virtually every page there is a good joke, even when–or perhaps especially when–Barnes is writing about the grimmest events. Julian Barnes is wonderful at keeping awe and flippancy in perfect balance…One of the joys of this book is that it contains so many playful asides, so many exhilaration diversions from its gloomy central theme.' —Craig Brown, Mail on Sunday
 
"It is not, Barnes tells us, an autobiography. It is rather an essay in the best sense: speculative and precise, intimate and metaphysical, capacious and democratic in the variety of voices, alive and dead, that are invited to counsel the author as he edges his way towards the void" —Brian Dillon, Times Literary Supplement
 
"Julian Barnes is a delightful companion and much of the book (its informal tone included) is like an extended and very interesting conversation." —Cressida Connolly, Literary Review

"Compelling…witty and erudite…consistently interesting and entertaining." —Val Hennessy, Daily Mail

"This book is both fun and funny. It is sharp, too, in the sense of painful as well as witty…You are in the presence of a nimble mind in complete mastery of, and engagement with, his chosen subject." —Lucy Beresford, New Statesman

"Intensely fascinating." —Jane Shilling, The Times

"Entertaining, intriguing, absorbing and so expansive that I was startled, on finishing, to note its brevity…Irresistible reading." —Penelope Lively, Financial Times

"Superb…[Barnes's] funniest and frankest work yet." —Kate Summerscale, Daily Telegraph

or
Not Currently Available for Direct Purchase