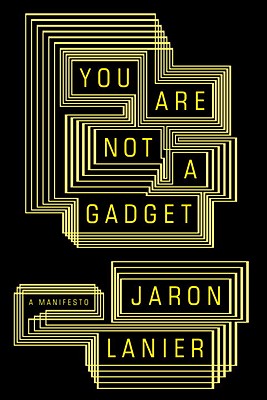 You Are Not a Gadget
A Manifesto
Hardcover

* Individual store prices may vary.
Other Editions of This Title:
Digital Audiobook (1/11/2010)
Paperback (2/8/2011)
Paperback (2/1/2011)
Hardcover, Large Print, Large Print (8/1/2010)
Description
Jaron Lanier, a Silicon Valley visionary since the 1980s, was among the first to predict the revolutionary changes the World Wide Web would bring to commerce and culture. Now, in his first book, written more than two decades after the web was created, Lanier offers this provocative and cautionary look at the way it is transforming our lives for better and for worse.

The current design and function of the web have become so familiar that it is easy to forget that they grew out of programming decisions made decades ago. The web's first designers made crucial choices (such as making one's presence anonymous) that have had enormous—and often unintended—consequences. What's more, these designs quickly became "locked in," a permanent part of the web's very structure.

Lanier discusses the technical and cultural problems that can grow out of poorly considered digital design and warns that our financial markets and sites like Wikipedia, Facebook, and Twitter are elevating the "wisdom" of mobs and computer algorithms over the intelligence and judgment of individuals.

Lanier also shows:
How 1960s antigovernment paranoia influenced the design of the online world and enabled trolling and trivialization in online discourse
How file sharing is killing the artistic middle class;
How a belief in a technological "rapture" motivates some of the most influential technologists
Why a new humanistic technology is necessary.

Controversial and fascinating, You Are Not a Gadget is a deeply felt defense of the individual from an author uniquely qualified to comment on the way technology interacts with our culture.
Praise For You Are Not a Gadget: A Manifesto…
"A provocative and sure-to-be-controversial book . . . Lucid, powerful and persuasive. It is necessary reading for anyone interested in how the Web and the software we use every day are reshaping culture and the marketplace."
—Michiko Kakutani, The New York Times
 
"Important . . . At the bottom of Lanier's cyber-tinkering is a fundamentally humanist faith in technology, a belief that wisely designed machines can bring us closer together by expanding the possibilities of creative self-expression . . . His mind is a fascinating place to hang out."
—Ben Ehrenreich, Los Angeles Times
 
"Persuasive . . . [Lanier] is the first great apostate of the Internet era."
—David Wallace-Wells, Newsweek
 
"Thrilling and thought-provoking . . . A necessary corrective in the echo chamber of technology debates. You Are Not a Gadget challenges many dominant ideologies and poses theoretical questions, the answers to which might start with one bright bulb, but depend on the friction of engaged parties. In other words, Lanier is acting like a computer scientist. Let's hope he is not alone."
—John Freeman, San Francisco Chronicle
 
"A call for a more humanistic—to say nothing of humane—alternative future in which the individual is celebrated more than the crowd and the unique more than the homogenized . . . You Are Not a Gadget  may be its own best argument for exalting the creativity of the individual over the collective efforts of the 'hive mind.' It's the work of a singular visionary, and offers a hopeful message: Resistance may not be futile after all."
—Rich Jaroslovsky, Bloomberg.com
 
"Provocative . . . [Lanier] confronts the big issues with bracing directness . . . The reader sits up. One of the insider's insiders of the computing world seems to have gone rogue."
—Sven Birkerts, The Boston Globe
 
"Sparky, thought-provoking . . . This is good knockabout stuff, and Lanier clearly enjoys rethinking received tech wisdom: his book is a refreshing change from Silicon Valley's usual hype."
—Paul Marks, New Scientist
 
"Lanier's detractors have accused him of Ludditism, but his argument will make intuitive sense to anyone concerned with questions of propriety, responsibility, and authenticity."
—The New Yorker
 
"Poetic and prophetic, this could be the most important book of the year. The knee-jerk notion that the net as it is being developed sets us free is turned on its head . . . Read this book and rise up against net regimentation!"
—Iain Finlayson, The Times (London)
 
"From crowd-sourcing to social networking and mash-ups, Lanier dismantles the tropes of the current online culture."
—Bloomberg.com, "Five Top Business Books of 2010"
 
"Lanier asks some important questions . . . He offers thoughtful solutions . . . Gadget is an essential first step at harnessing a post-Google world."
—Eli Sanders, The Stranger (Seattle)
 
"Lanier turns a philosopher's eye to our everyday online tools . . . The reader is compelled to engage with his work, to assent, contradict, and contemplate. In this, Lanier's manifesto is not just a success, but a meta-success . . . Lovers of the Internet and all its possibilities owe it to themselves to plunge into Lanier's [You Are Not a Gadget] and look hard in the mirror. He's not telling us what to think; he's challenging us to take a hard look at our cyberculture, and emerge with new creative inspiration."
—Carolyn Kellogg, Flavorwire
 
"Inspired, infuriating and utterly necessary . . . Lanier tells of the loss of a hi-tech Eden, of the fall from play into labour, obedience and faith. Welcome to the century's first great plea for a 'new digital humanism' against the networked conformity of cyber-space. This eloquent, eccentric riposte comes from a sage of the virtual world who assures us that, in spite of its crimes and follies, 'I love the internet.' That provenance will only deepen its impact, and broaden its appeal."
—Boyd Tonkin, The Independent (London)
 
"A must read for 2010."
—Library Journal
 
"Lanier's fascinating and provocative full-length exploration of the Internet's problems and potential is destined to become a must-read for both critics and advocates of online-based technology and culture . . . He brilliantly shows how large Web 2.0–based information aggregators such as Amazon.com—as well as proponents of free music file sharing—have created a 'hive mind' mentality emphasizing quantity over quality."
—Publishers Weekly
 
"Jaron Lanier's long awaited book is fabulous—I couldn't put it down. His is a rare voice of sanity in the debate about the relationship between computers and human beings. This is a landmark book that will have people talking and arguing for years into the future."
—Lee Smolin, The Trouble with Physics
 
"This is the single most important book yet written about our increasingly digital world. It will be remembered either as the manifesto that rescued humanity from the brink of extinction, or as the last cogent missive from an obsolete species."
—Douglas Rushkoff, author of Life Inc., Media Virus, and Cyberia
 
"In this sane and spirited critique of Internet dogma, Jaron Lanier also delivers a timely defense of the value of the individual human being."
—Nicholas Carr, author of Does IT Matter? and The Big Switch
 
"Important . . . Highly relevant . . . An impassioned and original critique of what the digital world has become . . . A much-needed defence of the humanist values that are being trampled underfoot . . . If ever there was an answer to the question, 'Who needs thinkers when you have Wikipedia?', this book is surely it."
—John Stones, Design Week (UK)
Knopf, 9780307269645, 224pp.
Publication Date: January 12, 2010
About the Author
Jaron Lanier is known as the father of virtual reality technology and has worked on the interface between computer science and medicine, physics, and neuroscience. He lives in Berkeley, California.
or
Not Currently Available for Direct Purchase