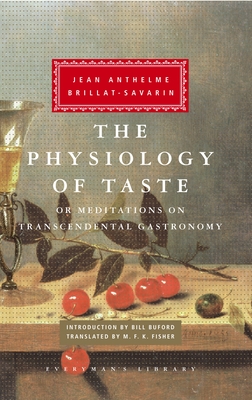 The Physiology of Taste: Or Meditations on Transcendental Gastronomy (Hardcover)
Or Meditations on Transcendental Gastronomy
Everyman's Library, 9780307269720, 504pp.
Publication Date: October 6, 2009
Description
A culinary classic on the joys of the table--written by the gourmand who so famously stated, "Tell me what you eat, and I will tell you what you are"--in a handsome new edition of M. F. K. Fisher's distinguished translation and with a new introduction by Bill Buford. First published in France in 1825 and continuously in print ever since, The Physiology of Taste is a historical, philosophical, and ultimately Epicurean collection of recipes, reflections, and anecdotes on everything and anything gastronomical. Brillat-Savarin, who spent his days eating through the famed food capital of Dijon, lent a shrewd, exuberant, and comically witty voice to culinary matters that still resonate today: the rise of the destination restaurant, diet and weight, digestion, and taste and sensibility.
About the Author
Jean Anthelme Brillat-Savarin was born in France in 1755 and died in 1826. Mary Frances Kennedy Fisher, author of The Art of Eating, was born in 1908 and died in 1992. Bill Buford, author of Heat, lives in New York City.
Praise For The Physiology of Taste: Or Meditations on Transcendental Gastronomy…
"Still the most civilized cookbook ever written."
—The New Yorker
Advertisement