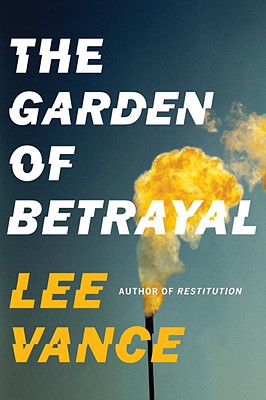 The Garden of Betrayal (Hardcover)
Knopf, 9780307269775, 320pp.
Publication Date: August 3, 2010
* Individual store prices may vary.
or
Not Currently Available for Direct Purchase
Description
Manhattan, 2002: Mark Wallace has it all—he's married to Claire, the love of his life; they have two bright, beautiful children, and his is a high-powered Wall Street job. Until one night while on a neighborhood errand by himself, his twelve-year-old son, Kyle, vanishes, brutally snatched off the streets of New York.
Seven years later, Kyle has never been found. The loss, guilt, and mystery surrounding their son's disappearance have almost destroyed the Wallaces' marriage, leaving their daughter alienated and distant. Mark has thrown himself into his work—he is now an energy markets consultant for a private hedge fund run by the father of a friend—and, though successful, is living on emotional autopilot.

Now, on the same day that a natural gas pipeline in remote western Russia is blown up by suspected terrorists, a new lead opens in Kyle's case. When the very next day a colleague slips Mark classified information on Saudi oil production and then suddenly turns up dead, apparently a suicide, it remains for Mark, with the help of his technophile daughter and still-grieving wife, to find the sinister connections among everything that's going on. Their personal struggle is equally compelling—three people who must once again learn how to be a family.
Politically savvy, emotionally complex, and frighteningly believable, The Garden of Betrayal is a tense and timely imagining of the casualties of recession-era Wall Street gaming and the backroom global oil wars, a riveting, compulsive read that will grip you from first page to last. It also places Lee Vance on the level of today's best and best-selling thriller writers—Richard North Patterson, Christopher Reich—who not only thrill us but make us think.
About the Author
Lee Vance is a graduate of Harvard Business School and a retired general partner of Goldman Sachs Group. He lives in New York City with his wife and three children.
Praise For The Garden of Betrayal…
"...engrossing... thought-provoking entertainment."
-The Economist

"... A pure thriller, with enough personal, political, and financial intrigue to make the stoutest heart race... a timely and engrossing read."
-The Daily Beast

"... a dazzler... Almost every chapter adds a new layer of complexity and seductive characters."
-Laura Speyer, Bloomberg

"Vance follows the success of his first book... with another engrossing financial thriller... [He] is adept at inserting complex information without slowing the pace of the action or disrupting ongoing suspense."
-Publishers Weekly

"The action scenes are brief but compelling, and the financial conspiracy is believable... But the real strength is his sympathetic portrayal of a grieving family, and that takes this novel a step beyond ordinary financial thrillers."
-Andrew Smith, Library Journal Review

"... a skillfully crafted, highly intelligent, page-turning thriller, even better than Vance's fine debut... filled with arresting characters... the tension mounts relentlessly."
-Booklist (starred)

"The cast of supporting characters is complex and well-drawn, and the tension is palpable throughout. Vance's debut thriller... was a tour-de-force, and The Garden of Betrayal will certainly cement his fast-growing reputation."
-BookPage, Bruce Tierney
 
"In The Garden of Betrayal, [Vance] delivers a fast-paced, punchy story told in short chapters like bursts from an AK-47... Start this book when you have time to spare; you will not want to stop reading."
-Shelf Awareness, Valerie Ryan

Advertisement