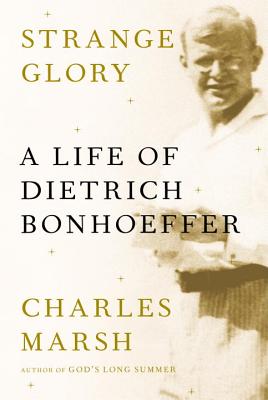 Strange Glory
A Life of Dietrich Bonhoeffer
Hardcover

* Individual store prices may vary.
Other Editions of This Title:
Digital Audiobook (6/12/2014)
Paperback (4/28/2015)
Description
In the decades since his execution by the Nazis in 1945, Dietrich Bonhoeffer, the German pastor, theologian, and anti-Hitler conspirator, has become one of the most widely read and inspiring Christian thinkers of our time. Now, drawing on extensive new research, "Strange Glory" offers adefinitive account, by turns majestic and intimate, of this modern icon.
The scion of a grand family that rarely went to church, Dietrich decided as a thirteen-year-old to become a theologian. By twenty-one, the rather snobbish and awkward young man had already written a dissertation hailed by Karl Barth as a theological miracle. But it was only the first step in a lifelong effort to recover an authentic and orthodox Christianity from the dilutions of liberal Protestantism and the modern idolatries of blood and nation which forces had left the German church completely helpless against the onslaught of Nazism.
From the start, Bonhoeffer insisted that the essence of Christianity was not its abstract precepts but the concrete reality of the shared life in Christ. In 1930, his search for that true fellowship led Bonhoeffer to America for ten fateful months in the company of social reformers, Harlem churchmen, and public intellectuals. Energized by the lived faith he had seen, he would now begin to make what he later saw as his definitive turn from the phraseological to the real. He went home with renewed vocation and took up ministry among Berlin's downtrodden while trying to find his place in the hoary academic establishment increasingly captive to nationalist fervor.
With the rise of Hitler, however, Bonhoeffer's journey took yet another turn. The German church was Nazified, along with every other state-sponsored institution. But it was the Nuremberg laws that set Bonhoeffer's earthly life on an ineluctable path toward destruction. His denunciation of the race statutes as heresy and his insistence on the church's moral obligation to defend all victims of state violence, regardless of race or religion, alienated him from what would become the Reich church and even some fellow resistors. Soon the twenty-seven-year-old pastor was one of the most conspicuous dissidents in Germany. He would carry on subverting the regime and bearing Christian witness, whether in the pastorate he assumed in London, the Pomeranian monastery he established to train dissenting ministers, or in the worldwide ecumenical movement. Increasingly, though, Bonhoeffer would find himself a voice crying in the wilderness, until, finally, he understood that true moral responsibility obliged him to commit treason, for which he would pay with his life.
Charles Marsh brings Bonhoeffer to life in his full complexity for the first time. With a keen understanding of the multifaceted writings, often misunderstood, as well as the imperfect man behind the saintly image, here is a nuanced, exhilarating, and often heartrending portrait that lays bare Bonhoeffer's flaws and inner torment, as well as the friendships and the faith that sustained and finally redeemed him. "Strange Glory"is a momentous achievement.
Praise For Strange Glory: A Life of Dietrich Bonhoeffer…
"A definitive study of Bonhoeffer's life . . . erudite and humanizing. . . Marsh sagely counters all of today's polemical heat with more historical context . . . It is this Bonhoeffer, and not the culture-war stick-figure . . . who embodies an example of spiritual witness that we desperately need today . . . Thank God for Charles Marsh's Strange Glory." 
—Ann Neumann, Bookforum

"Attempts to provide a more closely examined view of Bonhoeffer's personality than past biographers . . . using rarely glimpsed correspondence to paint a warts-and-all portrait of this German martyr…. No doubt Marsh's portrayal will infuse new controversy into discussions about Bonhoeffer for years to come."
—Kirkus Review
 
"A hero never more vividly human; a founder of critical belief, never more faithful; Dietrich Bonhoeffer, in Charles Marsh's elegant biography, comes powerfully to life for a new era. Just in time."
—James Carroll, Author of Christ Actually: The Son of God for the Secular Age.
 
"A marvelous biography, a page-turner, beautifully written. Strange Glory not only makes Dietrich Bonhoeffer come alive, but also offers us an intimate and very perceptive look into his mind and spirit. Charles Marsh confronts the complexities of Bonhoeffer's resistance to the Third Reich with an unsentimental eye, allowing us to see why this martyred pastor and theologian has so much to offer to our increasingly godless world."
—Carlos Eire, T. Lawrason Riggs Professor of History and Religious Studies, Yale University; author of Waiting for Snow in Havana, winner of the National Book Award
 

"An extraordinary account of an extraordinary life, Charles Marsh's Strange Glory is profoundly researched and vividly imagined. Marsh has unearthed enough archival material to keep generations of Bonhoeffer scholars occupied, but, more important, has used his knowledge to weave a mesmerizing tale about one of the giants of the twentieth century. I can't remember when I have read a more compelling biography."
—Alan Jacobs, professor of the humanities at Baylor University and author of The Book of Common Prayer
 

"As Bonhoeffer's doomed quest unfolds, the experience of reading Strange Glory is by turns terrifying and exhilarating. A story of profound thought and heroic action told in crystalline prose, this is a marvelous biography."
—James Tobin, author of Ernie Pyle's War and The Man He Became: How FDR Defied Polio to Win the Presidency (winner of the National Book Critics' Circle Award)
 
 
"The life, thoughts and deeds of Dietrich Bonhoeffer inspire people all over the world. All those people will be drawn to this biography by the prominent theologian and acclaimed writer Charles Marsh, whose meticulous knowledge of the Bonhoeffer story and its sources infuses such a vivid narrative." 
—Wolfgang Huber, former Chairman of the Council of the Evangelical Church in Germany
Alfred A. Knopf, 9780307269812, 515pp.
Publication Date: April 29, 2014
About the Author
Charles Marsh is a professor of religious studies at the University of Virginia and director of the Project on Lived Theology. He is the author of seven previous books, including "God's Long Summer: Stories of Faith and Civil Rights," which won the 1998 Grawemeyer Award in Religion. Of Marsh s earlier volumes "Reclaiming Bonhoeffer, " the late Eberhand Bethge, Bonhoeffer s closest friend and first biographer, wrote: This book is a theological sensation an exciting event. Nobody who attempts to define Bonhoeffer s legacy today will able to ignore Marsh s book. Marsh was a recipient of a Guggenheim fellowship in 2009 and the 2010 Ellen Maria Gorrissen Berlin Prize fellowship at the American Academy in Berlin. He lives in Charlottesville, Virginia."
or
Not Currently Available for Direct Purchase