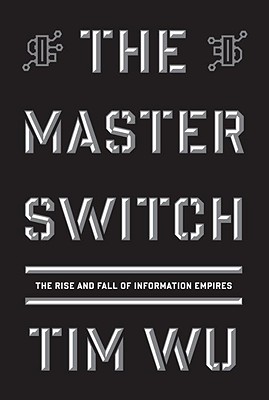 The Master Switch
The Rise and Fall of Information Empires
Hardcover

* Individual store prices may vary.
Other Editions of This Title:
Paperback (11/29/2011)
MP3 CD (6/30/2015)
Hardcover (3/1/2011)
Paperback (1/1/2012)
MP3 CD (6/19/2012)
MP3 CD (6/19/2012)
Compact Disc (6/19/2012)
Compact Disc (6/19/2012)
Description
In this age of an open Internet, it is easy to forget that every American information industry, beginning with the telephone, has eventually been taken captive by some ruthless monopoly or cartel. With all our media now traveling a single network, an unprecedented potential is building for centralized control over what Americans see and hear. Could history repeat itself with the next industrial consolidation? Could the Internet the entire flow of American information come to be ruled by one corporate leviathan in possession of the master switch ? That is the big question of Tim Wu's pathbreaking book.
As Wu's sweeping history shows, each of the new media of the twentieth century radio, telephone, television, and film was born free and open. Each invited unrestricted use and enterprising experiment until some would-be mogul battled his way to total domination. Here are stories of an uncommon will to power, the power over information: Adolph Zukor, who took a technology once used as commonly as YouTube is today and made it the exclusive prerogative of a kingdom called Hollywood . . . NBC's founder, David Sarnoff, who, to save his broadcast empire from disruptive visionaries, bullied one inventor (of electronic television) into alcoholic despair and another (this one of FM radio, and his boyhood friend) into suicide . . . And foremost, Theodore Vail, founder of the Bell System, the greatest information empire of all time, and a capitalist whose faith in Soviet-style central planning set the course of every information industry thereafter.
Explaining how invention begets industry and industry begets empire a progress often blessed by government, typically with stifling consequences for free expression and technical innovation alike Wu identifies a time-honored pattern in the maneuvers of today's great information powers: Apple, Google, and an eerily resurgent AT&T. A battle royal looms for the Internet's future, and with almost every aspect of our lives now dependent on that network, this is one war we dare not tune out.
Part industrial expose, part meditation on what freedom requires in the information age, "The Master Switch" is a stirring illumination of a drama that has played out over decades in the shadows of our national life and now culminates with terrifying implications for our future.
Praise For The Master Switch: The Rise and Fall of Information Empires…
Praise for Tim Wu's THE MASTER SWITCH
 
 
"An explosive history that makes it clear how the information business became what it is today. Important reading."
            —Chris Anderson, author of The Long Tail: Why the Future of Business is Selling Less of More and Free: How
            Today's Smartest Businesses Profit by Giving Something for Nothing; editor of Wired Magazine
 
"Wu's book is both a masterful media history and an outline for the future of the digital age. The Master Switch brilliantly describes the never-ending tension between open and closed media, as it has effected everything from the printing press to the web, and details ways society might be able to prevent the disastrous closing down of digital freedoms currently threatening the open internet."
            —Clay Shirky, author of Here Comes Everybody: The Power of Organizing Without Organization and Cognitive
            Surplus: Creativity and Generosity in a Connected Age
 
"Every now and then a book changes the way we understand the world. The Master Switch is such an achievement; it is a rigorous, imaginative and enthralling history of the Twentieth Century struggle among utopian innovators, profit-maximizing monopolists, and their often-hapless regulators. Wu has convincingly reinterpreted our media past, and by doing so, he has illuminated the risks to open media and Internet-enabled innovation that confront us in the present."
            —Steve Coll, President, New American Foundation and Pulitzer Prize winning author of Ghost Wars: The Secret
            History of the CIA, Afghanistan, and Bin Laden, from the Soviet Invasion to September 10, 2001
 
"A masterpiece."
            —Lawrence Lessig, Director of the Edmond J. Safra Foundation Center for Ethics and Professor of Law, Harvard
            University
 
"Ranging from the early days of Theodore Vail's AT&T to the current battle between Google and Apple, Tim Wu's work is a must read for those who want to know about the future of the Internet. The Master Switch is brilliant, with a distinctive voice that comes through on every page."
            —Josh Silverman, CEO, Skype
 
"A free and open Internet is not a given. Indeed, corporate interests are working feverishly to seize control of it. Drawing on history, The Master Switch shows how this could easily happen and why we are at risk of losing the freedom we now take for granted. A must-read for all Americans who want to remain the ones deciding what they can read, watch, and listen to."
            —Arianna Huffington

"The Master Switch [is] my pick for economics book of the year."
            —Ezra Klein, The Washington Post
  
"[A]n intellectually ambitious history of modern communications.... Wu makes a good case [and] his most thought-provoking argument about the future may actually be the past."
            —David Leonhardt, New York Times Book Review
 
"[T]here's sharp insight and a surprising fact on nearly every page of Wu's masterful survey.... entertaining."
           —Hiawatha Bray, Boston Globe
 
"[A] brilliant exploration of the oscillations of communications technologies between 'open' and 'closed' from the early days of telephone up through Hollywood and broadcast television up to the Internet era."
            —Michael Noer, Forbes

"[O]riginal, insightful...Wu skillfully evocates the early years of telephony.... he provides a compelling reminder of the monopolist instincts of communications and media companies."
           —Steven Pearlstein, Washington Monthly 
 
"[M]asterful.... fascinating.... a superstar in the telecommunications world.... Wu has a way of presenting complex and important concepts in a clear and understandable way....eminently readable....a wealth of....fabulous anecdotes....a warning that we ignore at our peril."
            —Art Brodsky, Huffington Post
 
"[G]roundbreaking.... The Master Switch offers powerful lessons from the past for the future of the Internet."
            —Li Gong, Nature 
 
"[T]imely.... a PW Best Book of 2010.... The Master Switch is a fascinating look at the cycle of technology and media development over the past century, and implications for the future."
            —Andrew Richard Albanese, Publisher's Weekly

"Wu…artfully charts a single story in which economic power consistently trumps public good, with the Google of today being the latest 'master switch' that channels communication….Eye-opening reading, with implications for just about anyone who uses that utility, which means just about everyone."
            —Kirkus (starred review)

"Wu's engaging narrative and remarkable historical detail make this a compelling and galvanizing cry for sanity...in the information age."
            —Publisher's Weekly (starred review and 'pick of the week')
 
"Eye-opening business history.... Wu is an exemplary writer...able to draw readers into his stories with engaging details."
            —Library Journal
 
"[A]n essential look at the directions that personal computing could be headed depending on which policies and worldviews come to dominate control over the Internet."
            —David Siegfried, Booklist (starred review)

"The Master Switch....a brilliant explanation and history....is as fascinating, wide-ranging, and, ultimately, inspiring book about communications policy and the information industries as you could hope to find.... Wu's great strength is in the breadth of his scholarship an din his ability to use humor, clear language, and innovative arguments to connect diverse ideas.... Wu is that rare animal, an accomplished scholar who can write about complex ideas in ways that are accessible to all. And the ideas he's covering are as important as any in our ideological marketplace today."
            —Cory Doctorow, Boing Boing
Knopf Publishing Group, 9780307269935, 366pp.
Publication Date: November 2, 2010
About the Author
Tim Wu is an author, a policy advocate, and a professor at Columbia University. In 2006, he was recognized as one of fifty leaders in science and technology by "Scientific American "magazine, and in the following year, "01238" magazine listed him as one of Harvard s one hundred most influential graduates. He writes for "Slate, "where he won the Lowell Thomas gold medal for travel journalism, and he has contributed to "The New Yorker, " "Time, The New York Times, The Washington Post, "and "Forbes."" "He is a fellow of the New America Foundation and the chairman of the media reform organization Free Press. He lives in New York."
Coverage from NPR
or
Not Currently Available for Direct Purchase