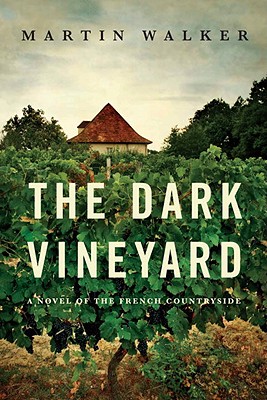 The Dark Vineyard: A mystery of the French countryside (Hardcover)
A mystery of the French countryside
Knopf, 9780307270184, 320pp.
Publication Date: July 27, 2010
* Individual store prices may vary.
or
Not Currently Available for Direct Purchase
Description
In this riveting sequel to Martin Walker's internationally acclaimed novel Bruno, Chief of Police, some of France's great pleasures—wine, passion and intrigue—converge in a dark chain of events that threaten the peaceful village of Saint-Denis.

Benoît (Bruno) Courrèges—devoted friend, cuisinier extraordinaire and the town's only municipal policeman—rushes to the scene when a research station for genetically modified crops is burned down outside Saint-Denis. Bruno immediately suspects a group of fervent environmentalists who live nearby, but the fire is only the first in a string of mysteries centering on the region's fertile soil.

Then a bevy of winemakers descends on Saint-Denis, competing for its land and spurring resentment among the villagers. Romances blossom. Hearts are broken. Some of the sensual pleasures of the town—a dinner of a truffle omelette and grilled bécasses, a community grape-crushing—provide an opportunity for both warm friendship and bitter hostilities to form. The town's rivals—Max, an environmentalist who hopes to make organic wine; Jacqueline, a flirtatious, newly arrived Québécoise; and Fernando, the heir to an American wine fortune—act increasingly erratically. Events grow ever darker, culminating in two suspicious deaths, and Bruno finds that the problems of the present are never far from those of the past.

A splendid mystery—and a delectable serving of the pleasures of France.
About the Author
Martin Walkeris the senior director of the Global Business Policy Council in Washington, D.C. He is also editor emeritus and writes the syndicated column Walker's World at United Press International. His books include "The Cold War: A History, " short-listed for the Whitbread Book of the Year Award and for Canada's Governor General's Literary Award, and a "New York Times" Notable Book of the Year in 1993;""and "Martin Walker's Russia, " which became a BBC Radio series. This is his third novel. He lives in Washington, D.C., and the southwest of France.
Praise For The Dark Vineyard: A mystery of the French countryside…
"Captivating . . . The Dark Vineyard is sure to appeal to readers with a palate for mysteries with social nuance and understated charm."
            -Tom Nolan, The Wall Street Journal
 
"Martin Walker's bucolic mysteries offer a gentle reminder to slow down and smell the grapes . . . Walker beguiles the reader with extended scenes of village market days, old-fashioned wine harvests and some exceptionally congenial dinner parties."
            -Marilyn Stasio, The New York Times Book Review
 
"Affectionate . . . Engrossing . . . Gripping . . . Walker's mystery is written with a polished prose and an authority that's shoulders above most crime fiction . . . The best mystery thriller we've read this year."
            -George Christy, Beverly Hills Courier
 
"The real pleasure of the book is the place itself, its landscapes and villages richly described. As readers are drawn into wine-stomping parties, truffle omelet dinners, and the aged dignity of a French hunting hound, the narrative tension gathers around the fate of villages like Saint Denis, now dependent on tourism, its small merchants closing shop as changes encroach ever further."
            -P. G. Koch, Houston Chronicle
 
"Romance, intrigue, and many a fine glass of wine await in Walker's charming second mystery set in idyllic Saint-Denis . . . Walker serves up wry wit, suspense, and a host of captivating characters . . . Oenophiles and armchair travelers alike will enjoy spending time in this lovely, lively part of France."
            -Starred review, Booklist
 
"Lyrical . . . Walker evokes his French community's celebrations of wine, food, love, and friendship with obvious affection but without sentimentality. His villagers are no more immune from modern times than the rest of us—they just drink better wine."
            -Publishers Weekly
 
"Walker blends food, wine, community, history, tradition, and general love of the Perigord . . . A poem to the region."
            -Kirkus
Advertisement