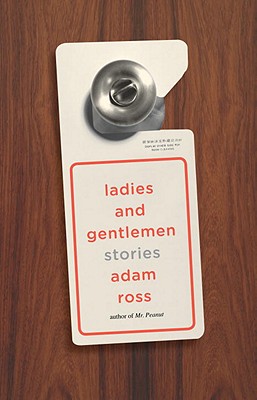 Ladies and Gentlemen
Hardcover

* Individual store prices may vary.
Other Editions of This Title:
Paperback (8/7/2012)
Paperback (1/1/2012)
Description
After his widely celebrated debut, Mr. Peanut, Adam Ross now presents a darkly compelling collection of stories about brothers, loners, lovers, and lives full of good intentions, misunderstandings, and obscured motives.

A hotshot lawyer, burdened by years of guilt and resentment, comes to the rescue of his irresponsible, irresistible younger brother. An unsettling story resonates between the dysfunctional couple telling it and their listening friends as well. A lonely professor, frequently regaled with unbelievably entertaining tales by the office handyman, suddenly fears he's being asked to abet a murderous fugitive. An awkward but nervy adolescent uses his brief career as a child actor to further his designs on a WASPy friend's seemingly untouchable sister. A man down on his luck closes in on a mysterious, much-needed job offer while doing a good turn for his fragile neighbor, with results at once surreal and hilarious. And when two college kids goad each other on in an escalating series of breathtaking dares, the outcome is as tragic as it is ambiguous.

Laced with glimmers of redemption, youthful energy, and hard-won wisdom, these noirish stories unspool purposefully and fluidly; together they confirm the arrival of—as Michiko Kakutani put it in The New York Times—"an enormously talented writer."
Praise For Ladies and Gentlemen…
"Ross studies families and couples in volatile combinations . . . Punches are thrown between brothers, wild dogs go on the attack, and someone gets pistol-whipped. Conversations lead out of the polite shallows into confrontation . . . For both the married and the divorced in [these] seven stories, full of reversals and surprise endings, potential catastrophe is always closer than you think." —Brian Miller, Seattle Weekly
 
"Riveting and affecting—the work of an author who has the rare ability to mesmerize and move us . . . Suspenseful, humorous and, at times, noirish, [Ross] crafts smooth sentences and can make you laugh out loud without ever undermining or selling out the poignancy of his stories . . . Irresistible." —Skip Horack, San Francisco Chronicle
 
"Masterfully constructed . . . Skillful but never showy, [Ross's] highly polished, somewhat spare prose . . . gives these stories a beauty and clarity that are strangely at odds with [their] grim vision . . . Ladies and Gentlemen is a book that bears, even demands, rereading." —Maria Browning, Chapter 16

"Traditional stories, written in precise and plainspoken prose . . . What makes them electrifying is the author's knack for luring his characters into emotional danger . . . Ross may yet rehabilitate the term 'literary thriller.'" —Steve Almond, The Boston Globe
 
"Irresistible . . . Ross' stories, entertaining and even slick on the surface, have troubling undercurrents that drag the reader out into uncharted waters . . . [they] take hold early and don't let go: it's almost impossible to start reading them and not need to finish." —Margaret Quamme, The Columbus Dispatch
 
"Dazzling and brutal . . . a joy-ride through [Ross's] dark but sparkling imagination . . . .[He is] as skilled at telling as he is at showing [the] frightening but relatable machinations of jealousy, laugh-out-loud bouts of gore, and the emotional elasticity that comes from isolation or the absence of love . . . He is a ruminative writer with an arsenal of explosives always at the ready." —Liz Colville, The Daily
 
"Old-fashioned, almost O. Henryesque tales that point up Mr. Ross's extraordinary gifts as a writer . . . Not only does [he] possess glittering powers of description and a heat-seeking eye for emotional and physical detail, but he's also able to capture the way people talk today with fluency and panache [and] is adept at showing the day-to-day stresses and consolations of marriage and mapping the mutations of love over time." —Michiko Kakutani, The New York Times
 
"Truly funny, original, acerbic [and] surprising . . . Ross deftly dissects how our best efforts to establish intimacy or better ourselves in the economy can result in excruciating, if hilarious, humiliations.  Amusing morality at its compulsive, can't-wait-to-pick-it-up-again best." —Sheila Anne Feeney, AM New York
 
"Bitingly funny . . . Ross limns the ills of contemporary Americans, so vividly rendering their problems and anxieties that the effect is unnerving and heartbreaking . . . It is the precision of [his] dark and dazzling prose, often laced with a touch of the surreal, that generates the stories' intensity and makes them so disquieting." —Joanne Wilkinson, Booklist
 
"Following his dazzling debut, Ross drops seven more doses of disquieting fears and misleading hopes [in] this fierce collection . . . One of Ross' great strengths is walking that eternally fine line between showing the reader things and the heartbeat monitoring of a character's internal life . . . These characters are either untethered by their own vividness or weighed down with all the trouble in the world. In either case, it's impossible to look away." —Kirkus Reviews, starred
 
"A superb book. These stories are packed with exquisite characters, their lives swollen with the past and bursting in the present. Tales about neighbors and desire, about college hijinx and brotherly rivalry, about old flames and new ones— this collection is masterfully written, gripping, unforgettable." —Tom Rachman
Knopf, 9780307270719, 256pp.
Publication Date: June 28, 2011
About the Author
Adam Ross lives in Nashville, Tennessee, with his wife and their two daughters.

www.adam-ross.com
or
Not Currently Available for Direct Purchase