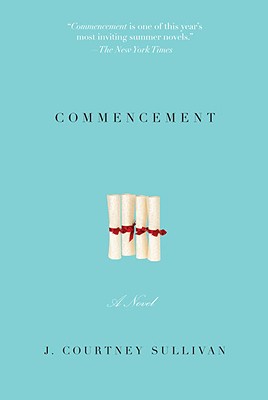 Commencement (Hardcover)
Knopf Publishing Group, 9780307270740, 324pp.
Publication Date: June 16, 2009
Other Editions of This Title:
Paperback (5/11/2010)
* Individual store prices may vary.
Description
A sparkling debut novel: a tender story of friendship, a witty take on liberal arts colleges, and a fascinating portrait of the first generation of women who have all the opportunities in the world, but no clear idea about what to choose.
Assigned to the same dorm their first year at Smith College, Celia, Bree, Sally, and April couldn t have less in common. Celia, a lapsed Catholic, arrives with her grandmother's rosary beads in hand and a bottle of vodka in her suitcase; beautiful Bree pines for the fiance she left behind in Savannah; Sally, pristinely dressed in Lilly Pulitzer, is reeling from the loss of her mother; and April, a radical, redheaded feminist wearing a Riot: Don t Diet T-shirt, wants a room transfer immediately.
Together they experience the ecstatic highs and painful lows of early adulthood: Celia's trust in men is demolished in one terrible evening, Bree falls in love with someone she could never bring home to her traditional family, Sally seeks solace in her English professor, and April realizes that, for the first time in her life, she has friends she can actually confide in.
When they reunite for Sally's wedding four years after graduation, their friendships have changed, but they remain fiercely devoted to one another. Schooled in the ideals of feminism, they have to figure out how it applies to their real lives in matters of love, work, family, and sex. For Celia, Bree, and Sally, this means grappling with one-night stands, maiden names, and parental disapproval along with occasional loneliness and heartbreak. But for April, whose activism has become her life's work, it means something far more dangerous.
Written with radiant style and a wicked sense of humor, Commencement not only captures the intensity of college friendships and first loves, but also explores with great candor the complicated and contradictory landscape facing young women today.
About the Author
J. Courtney Sullivan s work has appeared in The New York Times, New York, Elle, Cosmopolitan, Allure, Men s Vogue, the New York Observer, Tango, and in the essay anthology The Secret Currency of Love. She is a graduate of Smith College, lives in Brooklyn, and works in the editorial department of The New York Times. Commencement is her first novel."
Praise For Commencement…
"Commencement is one of this year's most inviting summer novels…. Entertaining… smart, discerning…. Ms. Sullivan introduces strong, warmly believable three-dimensional characters who have fun, have fights and fall into intense love affairs." —The New York Times

"The author manages to find that sweet spot between Serious Literature and chick lit. Commencement is a beach book for smart women–and the girls they once were." —Entertainment Weekly

"Brave…. Sullivan… excels at close-up portraits…. Commencement also fulfills its ambition to offer a witty take on the stereotypes of women's colleges, much as Curtis Sittenfeld's Prep did with elite boarding schools…. Sullivan's gifts are substantial." –The New York Times Book Review

"Wickedly sharp.... Ms. Sullivan's voice is funny and smart.... A fun, fresh ... insightful read." —The New York Observer

Refreshingly naturalistic. . . . Commencement is much more than a novel about academia or young women. It's a thoughtful, engrossing study in lives transformed and relationships realigned, full of details and dilemmas that speak to a broad audience." –The Onion's A.V. Club

"Four friends bond at Smith College and stumble toward adulthood in Sullivan's intelligent, diverting debut." –People

"This story about four Smith College students and the paths they follow post-graduation celebrates friendship and explores modern-day feminism. At the same time, it's just a really devourable read–think a 2009 version of Mary McCarthy's The Group." –Cookie magazine

"Sullivan tells an involving story of four students from different backgrounds who share quarters at Smith College. It sounds trite, but it isn't. The women change the course of their lives of the years in dramatic ways. . . . Chick lit with depth and engagement." –New York Daily News

"Convincing and unique."–Elle (Winner of the Elle Readers Prize)

"Sullivan writes fiction you might expect from a journalist: Her clean, precise prose stays carefully neutral and balanced, even as she shifts points of view from chapter to chapter… skillfully blending their stories…. Their struggles, reactions and decisions feel real. How they pull through–and pull together–proves inspiring." —Philadelphia City Paper

"As [Commencement] takes the women from their first shaky steps toward independence through the ups and downs of their 20s, you'll relive–and celebrate–the stomach-dropping moments of the best friend-relationship roller-coaster." —Redbook

"I was deeply engaged by the characters and their complexity.... One of the differences between fiction and literature is that the latter thrives on layers of ambiguity and ambivalence, and in Commencement I see the launch of a literary career." —Nicholas Kristof, nytimes.com

"Take Mary McCarthy's The Group, add a new feminist generation striving to understand everything from themselves and their mothers to the notion of masculinity that fuels sex trafficking, and you get this generous-hearted, brave first novel. Commencement makes clear that the feminist revolution is just beginning." –Gloria Steinem

"Commencement is an accomplished, compulsively readable novel about the intricate bonds of female friendship. A literary page-turner at once entertaining and moving." –Dani Shapiro, author of Black & White

"Sullivan's debut novel, Commencement, works like a backstage pass to a world I barely knew existed–the elite contemporary women's college, the world of Smithies–with their rampant anagrams (including my favorite, S.L.U.G., Smith Lesbian Until Graduation), fluid and complex sexuality, eccentric traditions, arch politics, and, most of all, incredibly deep and enduring friendships. As a foreigner in this foreign land, I felt supremely lucky to have Sullivan as my trustworthy guide. Her portrait of these four Smithies is honest, urgent, and heartfelt." –Bridget Asher, author of My Husband's Sweethearts

"Sullivan writes with a verve and ambition that makes the novel's four friends into real women, besieged–as real women are–by confusion, joy, and compromise. I enjoyed every page of Commencement." –Martha Moody, author of Best Friends and The Office of Desire

"In the spirit of Curtis Sittenfeld's Prep and Mary McCarthy's The Group, J. Courtney Sullivan delivers an engrossing, multi-layered tale of women, friendship, and the fascinating institution of higher education that shapes and influences them. Commencement is the can't-put-it-down novel that you will recommend to your best friends this summer." –Elin Hilderbrand, author of Barefoot
or
Not Currently Available for Direct Purchase