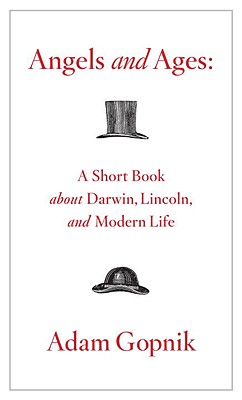 Angels and Ages
A Short Book About Darwin, Lincoln, and Modern Life
Hardcover

* Individual store prices may vary.
Other Editions of This Title:
Paperback (2/9/2010)
Description
On a memorable day in human history, February 12, 1809, two babies were born an ocean apart: Abraham Lincoln in a one-room Kentucky log cabin; Charles Darwin on an English country estate. It was a time of backward-seeming notions, when almost everyone still accepted the biblical account of creation as the literal truth and authoritarianism as the most natural and viable social order. But by the time both men died, the world had changed: ordinary people understood that life on earth was a story of continuous evolution, and the Civil War had proved that a democracy could fight for principles and endure. And with these signal insights much else had changed besides. Together, Darwin and Lincoln had become midwives to the spirit of a new world, a new kind of hope and faith.

Searching for the men behind the icons of emancipation and evolution, Adam Gopnik shows us, in this captivating double life, Lincoln and Darwin as they really were: family men and social climbers; ambitious manipulators and courageous adventurers; the living husband, father, son, and student behind each myth. How do we reconcile Lincoln, the supremely good man we know, with the hardened commander who wittingly sent tens of thousands of young soldiers to certain death? Why did the relentlessly rational Darwin delay publishing his "Great Idea" for almost twenty years? How did inconsolable grief at the loss of a beloved child change each man? And what comfort could either find—for himself or for a society now possessed of a sadder, if wiser, understanding of our existence? Such human questions and their answers are the stuff of this book.

Above all, we see Lincoln and Darwin as thinkers and writers—as makers and witnesses of the great change in thought that marks truly modern times: a hundred years after the Enlightenment, the old rule of faith and fear finally yielding to one of reason, argument, and observation not merely as intellectual ideals but as a way of life; the judgment of divinity at last submitting to the verdicts of history and time. Lincoln considering human history, Darwin reflecting on deep time—both reshaped our understanding of what life is and how it attains meaning. And they invented a new language to express that understanding. Angels and Ages is an original and personal account of the creation of the liberal voice—of the way we live now and the way we talk at home and in public. Showing that literary eloquence is essential to liberal civilization, Adam Gopnik reveals why our heroes should be possessed by the urgency of utterance, obsessed by the need to see for themselves, and endowed with the gift to speak for us all.
Praise For Angels and Ages: A Short Book About Darwin, Lincoln, and Modern Life…
"[A]rresting….lively and wide-ranging….[Gopnik's] astute analysis…shows us why these thinkers and writers, who maintained 'a tragic consciousness without robbing it of a hopeful view,' have so robustly survived to our own time."
- Christopher Benfey, The New York Times Book Review

"entertaining….an introduction that brilliantly encapsulates ….Gopnik draws vividly characterized personal and intellectual portraits of each man….[he] has selected [the material] with a novelist's skill….Gopnik's writing is pungent, inventive and rich."
- Richard Eder, Los Angeles Times Book Review

"[A] learned treatise that worships learning….Gopnik offers a meditation on each man's most literary qualities: Lincoln's deceptively simple legalistic language and Darwin's crystalline powers of observation….a succinct, convincing, and moving account of how two men ripped mankind out of its past unreason and thrust it into a more enlightened age."
-Gilbert Cruz, Time

"Gopnik casts fresh and honest light on two figures distorted by years of excessive comment, quotation, and ideological appropriation….[His] thesis is…an ambitious one, and he defends it well….[an] elegant book."
- Josh Burek, Christian Science Monitor

"Adam Gopnik celebrates….the beauty of a perfectly calibrated argument….Gopnik revels in the revolutionary ideas that helped create our 'moral modernity' as he reveals the complex characters who unearthed startling truths about nature, human and otherwise."
- Cathleen Medwick, O: The Oprah Magazine

"elegant, intelligent meditation on skepticism and the making of the liberal mind….intriguing hypothesis–that [Lincoln and Darwin] weren't ever, actually, in natural conflict: The real enemy of religion isn't science, [Gopnik] says, it's history."
- David Wallace-Wells, The New York Observer

"thoughtful meditation on the contemporary meaning of the lives of Charles Darwin and Abraham Lincoln….[Gopnik] offers an eloquent and elegant comparison of two great men, expounding on how they achieved their stature and what their accomplishments mean for us today….a profound discussion of the relationship between faith and science….Gopnik's examination of these two men leads to nothing less than the exploration of what it means to live a meaningful life….Gopnik…distilled knowledge of an enormous set of biographical facts to come to some far-reaching conclusions about what it means to be human….amazing work of scholarship and philosophical thought."
- John C. Ensslin, Rocky Mountain News

"[From] one of our best essayists….[with] overwhelming truths….Angels and Ages makes a persuasive case that our liberal, bourgeois lives, resting on reason, law, and the primacy of science, rest also on Darwin and Lincoln….it is...powerful [and] emotional…covering breathtaking acreage with trenchant flair."
- John Timpane, Philadelphia Inquirer

"perceptive, very articulate author….intriguing treatise, appealing to a popular audience as the nation and world celebrate the bicentennial of this duo's birth."
- Brad Hooper, Booklist (starred review)
Knopf, 9780307270788, 224pp.
Publication Date: January 27, 2009
About the Author
Adam Gopnik has been writing for "The New Yorker" since 1986. He is a three-time winner of the National Magazine Award for Essays and for Criticism and the George Polk Award for Magazine Reporting. From 1995 to 2000, he lived in Paris; he now lives in New York City with his wife and their two children.
or
Not Currently Available for Direct Purchase