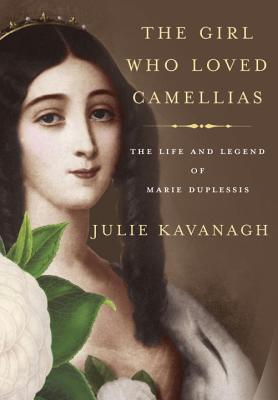 The Girl Who Loved Camellias (Hardcover)
The Life and Legend of Marie Duplessis
Knopf Publishing Group, 9780307270795, 304pp.
Publication Date: June 11, 2013
* Individual store prices may vary.
Description
From the author of "Nureyev, " the definitive biography of the celebrated Russian dancer, now comes the astonishing and unknown story of Marie Duplessis, the courtesan who inspired Alexandre Dumas fils's novel and play "La dame aux camElias, " Giuseppe Verdi's opera "La Traviata, " George Cukor's film "Camille, " and Frederick Ashton's ballet "Marguerite and Armand." Sarah Bernhardt, Eleonora Duse, Greta Garbo, Isabelle Huppert, Maria Callas, Anna Netrebko, and Margot Fonteyn are just a few of the celebrated actors, singers, and dancers who have portrayed her.
Drawing on new research, Julie Kavanagh brilliantly re-creates the short, intense, and passionate life of the tall, pale, slender girl who at thirteen fled her brute of a father and Normandy to go to Paris, where she would become one of the grand courtesans of the 1840s. France's national treasure, Alexandre Dumas pEre, ""was intrigued by her, his son became her lover, and Franz Liszt, too, fell under her spell. Quick to adapt an aristocratic mien, with elegant clothes, a coach, and a grand apartment, she entertained a salon of dandies, writers, and artists. Fascinating to both men and women, Marie, with her stylish outfits and signature camellias, was always a subject of great interest at the opera or at the CafE de Paris, where she sat at the table of the director of the Paris OpEra, along with the director of the ThEAtre VariEtEs, the infamous dancer Lola Montez, and others. Her early death at age twenty-three from tuberculosis created an outpouring of sympathy, noted by Charles Dickens, who wrote in February 1847: "For several days all questions political, artistic, commercial have been abandoned by the papers. Everything is erased in the face of an incident which is far more important, the romantic death of one of the glories of the demi-monde, the beautiful, the famous Marie Duplessis."
With "The Girl Who Loved Camellias, " Kavanagh has written a compelling and poignant life of a nineteenth-century muse whose independent and modern spirit has timeless appeal.

About the Author
Julie Kavanagh is the author of "Secret Muses: The Life of Frederick Ashton" and "Nureyev." She was trained as a dancer at the Royal Ballet Junior School, graduated from Oxford, and has been the arts editor of "Harpers & Queen, " a dance critic at "The Spectator, " and London editor of both "Vanity Fair" and "The New Yorker." She is currently a writer and contributing editor for "The Economist"'s cultural magazine, "Intelligent Life."
Praise For The Girl Who Loved Camellias: The Life and Legend of Marie Duplessis…
The New York Times Editor's Choice

"With her colorful new biography, Julie Kavanagh exposes the tawdry reality behind her heroine's legend."
            —Caroline Weber, The New York Times

"Kavanagh succeeds brilliantly in coming as close to her subject as it is possible...A Compelling and moving account of a short, forgotten life which is far more interesting than fiction."
   —The Spectator (UK)

'"It is," said Proust, "a work which goes straight to the heart." He was talking about La Traviata, which was first performed in Venice in 1853 and is still performed around the world 160 years on. The plot is as unlikely as the plots of most operas and as full of mad, melodramatic twists. But its story, it is clear from this extraordinary book, isn't half as melodramatic as the life that inspired it. […] An absorbing, thoughtful, endlessly fascinating portrayal of a remarkable world.'
   —The Sunday Times (UK)

"Kavanagh underscores what made Duplessis such an object of fascination…she is La Traviata's Violetta and Marguerite in the younger Dumas' The Lady of the Camellias…an enigmatic woman who both deeply embod[ied] and brazenly def[ied] the conventions of her time." 
 —Mythili Rao, The Daily Beast

"The Lady Who Loved Camellias has it all. Ms. Kavanagh is a well-established biographer and achieved international fame with her previous, definitive biography on the great dancer, Nureyev. This new book cements her well-deserved reputation. We are in [her] debt for shining a light on this woman almost forgotten in the dust of history, allowing her legend to endure." 
—Janet Levine, New York Journal of Books

"Equipped with the treasures gleaned from persistent research and guided by empathy...Kavanagh is a warm, nimble portraitist, wryly chronicling the glittering if doomed realm of the courtesan...Now Duplessis is a muse once again, this time for an adept biographer who elegantly preserves her indelible true story."
—Booklist, Starred Review

"In taking on Duplessis, Kavanagh pieces together the details of a glamorous and tragic life of a woman whose influence as a muse has outlived her own fame."
—The New Yorker
 

"Julie Kavanagh ships us into 19th-century Paris and into the boudouir of Parisian courtesan Marie Duplessis."
—Vanity Fair
 
"Thanks to a talented author, this tragedy is a pleasure to read. Already praised as a biographer, Kavanagh intertwines the adventures of a famous courtesan with a fascinating period in Parisian history, with each scene spotlighting yet another titillating aspect of 1840s bohemia…A thoroughly researched and fascinating account of Duplessis's short life and lengthy legacy."
—Publishers Weekly

"Marie Duplessis—the tragic inspiration for La Dame aux Camélias and La Traviata—crammed more drama into her short life than either of her fictionalised personas. Her true story has been crying out to be told. Now, at last, the enigmatic Duplessis has found a brilliant biographer in Kavanagh. The Girl Who Loved Camellias is not only a wonderful read: vivid and moving, but full of fascinating discoveries."        
—Amanda Foreman, author of A World on Fire: Britain's Crucial Role in the American Civil War
 
"I was enthralled by the wholly unexpected life of Mare Duplessis, and entirely captivated by the cinematic realism of this wonderful book's evocation of her world.  Julie Kavanagh plunges you right into the Parisian demi-monde and redefines what it means to be a genuine star."
—Nicholas Hytner, Director of the National Theater and The Madness of King George, The History Boys, and One Man, Two Guvnors
 
 
"Hugely enjoyable—this book is for anyone with an interest in opera, celebrity, sex and money."
—Richard Eyre, Director of the National Theater, 1987-1997, of Richard III, King Lear, Guys and Dolls and the film, Notes on a Scandal
or
Not Currently Available for Direct Purchase