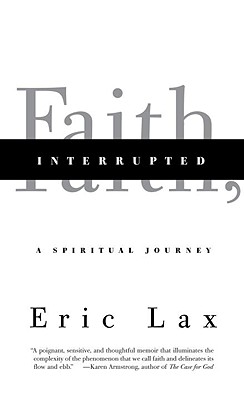 Faith, Interrupted (Hardcover)
A Spiritual Journey
Knopf, 9780307270917, 288pp.
Publication Date: April 6, 2010
* Individual store prices may vary.
Description
A profoundly personal, deeply felt exploration of the mystery of faith—having it, losing it, hoping for its return.

The son of an Episcopal priest whose faith is balanced by an understanding of human nature, Eric Lax develops in his youth a deep religious attachment and acute moral compass. An acolyte from age six and as comfortable in church as he is at home, he often considers becoming a priest himself. Eventually his faith guides him to resist military service in Vietnam. His principles will not allow him to kill, and he is willing to go to jail for them. His faith abides until, in his mid-thirties, he begins to question the unquestionable: the role of God in his life.

Whatever his doubts, Lax engages with his father, who shaped his faith and was its anchor, and his college roommate and close friend George "Skip" Packard, whose youthful faith mirrored his own, and who chooses military service and mortal combat. Their ongoing and illuminating dialogues—full of wisdom and insight, probing all the avenues and aspects of religious conviction—reveal much about three men who approach God, duty, and war in vastly different ways.

A compelling, powerful, and thought-provoking examination of faith.
About the Author
Eric Lax is the author of "Conversations with Woody Allen;""On Being Funny: Woody Allen and Comedy; Life and Death on 10 West; "and "The Mold in Dr. Florey's Coat;" and coauthor (with A. M. Sperber) of "Bogart." His biography "Woody Allen" was a "New York Times" best seller. His writing has appeared in "The Atlantic, The New York Times, Vanity Fair, Esquire, " and the "Los Angeles Times. "An officer of International PEN, he lives with his wife in Los Angeles.
Praise For Faith, Interrupted: A Spiritual Journey…
"Jesus said that he who would save his life must lose it. Does that go for faith, too? Do you have to lose it to save it? If there is any single question that Eric Lax's luminously honest loss-of-faith memoir most clearly raises, this would be it. We live in two faith cultures. One culture only wants to hear how you lost your faith, the other only how you found it. But some of us have a foot in both cultures: dubious as plain believers, equally dubious as plain unbelievers. Eric Lax's unfinished, interrupted story is a good one for us, and for better or worse our name is Legion."
           -Jack Miles, author, God: A Biography
 
"Eric Lax's moving and riveting memoir reflects a Christian boy's struggle with faith and doubt, tradition and discovery.  His encounters with other beliefs reflect as well his sense of empathy for, and solidity with, victims of destiny."
            -Elie Wiesel
 
"In an age when it's so fashionable to mock religious belief, Eric Lax gives us a quiet, very moving meditation on his own spiritual trials and turns."
            -Paul Hendrickson, author, The Living and the Dead
 
"A poignant, sensitive, and thoughtful memoir that illuminates the complexity of the phenomenon that we call faith and delineates its flow and ebb."
            -Karen Armstrong, author, The Case for God
 
"Devotees of Richard Gilman's Faith, Sex, and Mystery can place Eric Lax's new book right next to it on their bookshelves . . . A steady, quiet love letter to a faith he has lost . . . Memoirs that succeed do so in part because the writer's question is also, somehow, the reader's. I am a reader who has—amid many doubts—clung with tenacity to faith, and I found that my questions hovered around this sympathetic and engrossing book, too."
            -Lauren F. Winner, The New York Times Book Review
 
"Heartfelt . . . Faith, Interrupted is such an honest and affecting memoir that one can imagine Lax wrote much of it in the same frame of mind in which he contemplated the night sky as a boy."
            -Judy Bolton-Fasman, Boston Globe
 
"[Eric Lax] is a writer of gentle precision and clarity . . . [Faith, Interrupted], as its title suggests, is a memoir of growing up as the son of an Episcopal priest—a remarkable personality who is convincingly rendered in this unsentimental account—as well as of an education that, for many years, conferred on Lax a reflexive religious affiliation . . .  Lax's story is emblematic of a significant but heretofore unexplored phenomenon. He's too fine a writer, though, to undertake that exploration on other than his own terms—which may strike many readers as being rather like one of those Episcopal services in which he was once an acolyte: unpretentiously traditional, unfailingly tasteful and understated . . . Faith, Interrupted is a valuable, even instructive book . . . [A] soberly intelligent, elegantly composed and open-hearted memoir."
            -Tim Rutten, Los Angeles Times
 
"Candid and heartfelt . . . Well-crafted . . . Faith, Interrupted resonates because Lax confronts questions common to believers everywhere, and he does it without pomposity, self-righteousness or condescension."
            -Bill Williams, America
 
"[Eric Lax's] Vietnam experience was at the core of the experience he recounts as part of his spiritual journey . . . This book brings back with warmth, compassion and riveting detail what those days were like . . . [A] deeply touching and personal meditation."
            -Adrienne Clarkson, The Globe and Mail
 
"Insightful . . . Engaging . . . Although this book is as much about a fascinating life as it is about religion, it will appeal to a wide audience both for its engaging subject matter and first-rate writing."
            -Robert Lax, National Catholic Reporter
 
"A gentle, rueful book . . . Lax's polished writing style and lack of assurance that he has all the answers are . . .  definite pluses."
            -Yvonne Zipp, The Christian Science Monitor
 
"Spiritual memoirs rarely command the same interest to others as they do for their authors, but Lax's ability as a writer . . . makes his memoir an exception . . . Lax's journey, told with a fine sense of narrative shape, is a kind of paradigm of the spiritual struggles of the first wave of the Baby Boom and will speak eloquently to that generation."
            -Library Journal
 
"Intriguing . . . Fascinating . . . A well-written autobiography, artfully folding in another's story."
            -Kirkus
 
"A deeply moving account of one man's spiritual journey."
            -Booklist
or
Not Currently Available for Direct Purchase