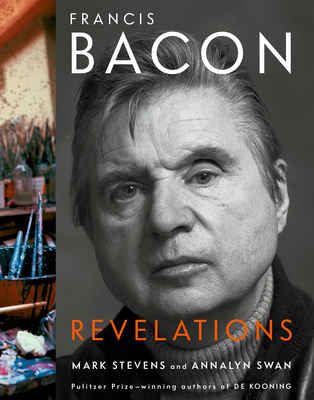 Francis Bacon
Revelations
Hardcover

* Individual store prices may vary.
Description
THE TIMES BEST ART BOOK OF THE YEAR • FINALIST FOR THE PLUTARCH AWARD AND THE APOLLO AWARD • "There are not many biographical masterpieces, but…Mark Stevens and Annalyn Swan have produced one," wrote the novelist John Banville of Francis Bacon: Revelations. By the Pulitzer prize-winning authors of de Kooning: An American Master, this acclaimed biography contains a wealth of never before known details about one of the iconic artists of the 20th century—a singularly private, darkly funny, eruptive man and his extraordinary art, whose iconoclastic charm "keeps the pages turning" (The Washington Post).

Francis Bacon created an indelible image of mankind in modern times, and played an outsized role in both twentieth century art and life—from his public emergence with his legendary Triptych 1944 (its images "so unrelievedly awful" that people fled the gallery), to his death in Madrid in 1992.

Bacon was a witty free spirit and unabashed homosexual at a time when many others remained closeted, and his exploits were as unforgettable as his images. He moved among the worlds of London's Soho and East End, the literary salons of London and Paris, and the homosexual life of Tangier. Through hundreds of interviews, and extensive new research, the authors probe Bacon's childhood in Ireland (he earned his father's lasting disdain because his asthma prevented him from hunting); his increasingly open homosexuality; his early design career—never before explored in detail; the formation of his vision; his early failure as an artist; his uneasy relationship with American abstract art; and his improbable late emergence onto the international stage as one of the great visionaries of the twentieth century.

In all, Francis Bacon: Revelations gives us a more complete and nuanced--and more international--portrait than ever before of this singularly private, darkly funny, eruptive man and his equally eruptive, extraordinary art. Bacon was not just an influential artist, he helped remake the twentieth-century figure.
Praise For Francis Bacon: Revelations…
The Times Best Art Book of the Year •Finalist for the Plutarch Award and the Apollo Award • One of The Irish Times' Books of the Year • One of Waterstone's Best Biographies the Year • One of Air Mail's Best Books of the Year • The East Hampton Star's Best Books of the Year

"There are not many biographical masterpieces, but in Revelations, the life of the Irish-born painter Francis Bacon, Mark Stevens and Annalyn Swan have produced one…an utterly thrilling read." --Irish Times, John Banville

"Francis Bacon: Revelations is a monumental book…it's hard not to be impressed by a work that is without a doubt an example of the art of biography. A second Pulitzer for Stevens and Swan would not be amiss." --David Starkey, California Review of Books

"With Revelations...Annalyn Swan and Mark Stevens... enter the fray, offering the most comprehensive study of one of the leading figures of modernism, someone whose "paradoxical pop gravitas" places him with the likes of Beckett, Camus, and Sartre. In some 800 pages of text and footnotes, the authors—aided by the artist's estate—detail the trajectory of Bacon's career with archaeological precision, excavating public and private records to unearth how the openly homosexual painter, "preternaturally attuned to the social stage," crafted a rebellious public persona characterized by excesses of sex and violence, drink and drugs...The authors are adept at contextualizing Bacon's artistic development within the story of his romances and exploits and go to great lengths to correct the record, dispelling errant mythologies (often propagated by Bacon himself). " --Tausif Noor, The Nation

"[Stevens and Swan] won a Pulitzer for their 2004 biography of Willem de Kooning, and the new book is a comparable achievement. . . . It is enormously detailed; we get the details, and the details' details. . . . Swan and Stevens are very good storytellers. Also, the book is warmed by the writers' clear affection for Bacon. They enjoy his boozy nights with him, they laugh at his jokes, and they admire his bloody-mindedness. They do not believe everything he said, and they let us know this, but they are always in his corner, and they stress virtues of his that we wouldn't have known to look for: his gregariousness, his love of fun, his erudition, his extreme generosity. However many people were at the table, he always picked up the tab." --Joan Acocella, The New Yorker

"Stevens and Swan are excellent investigators, presenting novel details of Bacon's early affairs, his short-lived interior-design career and the two years he spent in Hampshire during World War II, when asthma forced his retreat from London. The book is bejeweled with sensuous detail. . . . Stevens and Swan are strong on the Aeschylean patterning of Bacon's life. . . . [and] the iconoclastic charm of the artist keeps the pages turning. . . . Bacon once said that telling his life story "would take a Proust." A tall order — though Stevens and Swan do share a Proustian eye for the social whirl and the encroachments of "time and the wrecking ball." As an old man, Bacon might even be said to resemble Proust's sadomasochistic Baron de Charlus, counting off the dead in a society completely transformed in his lifetime. One of the achievements of "Revelations" is to capture this social change alongside the life of its subject. It's a portrait of vanished worlds, of a 20th-century style of darkness now past. Our fresh horrors await new geniuses." --Charles Arrowsmith, The Washington Post

"A definitive life of Bacon. . . . Painting by painting, exhibition by exhibition, [this is an account] of how Bacon's wild innovations in figurative art countered the mid-20th-century fashions for both abstract expressionism and pop art. Swan and Stevens have great fun, too, as they chronicle Bacon's wit, charm, extravagance, and cruelty, including some shocking abuses of friends, family, and art-world colleagues. . . . Stevens and Swan are vivid scene setters. They're also shrewd evaluators of the people in Bacon's life, including painter Lucian Freud and Bacon's doomed lovers Peter Lacy and George Dyer. They supply good context for Bacon's career, noting how unusual Bacon's commitment to the figure was at a time when abstract art was all the rage, especially in the US. . . . Francis Bacon does justice to the contradictions of both the man and the art." --Michael Upchurch, The Boston Globe

"Francis Bacon gives readers a uniquely detailed, fully-fleshed-out vision of Bacon that will show just how and why he was so influential during and after his time." --Holly Scudero, The Seattle Book Review

"Mark Stevens and Annalyn Swan have produced a biography that no Bacon fan—or indeed foe—can afford to overlook. . . . Ten years of work have gone into this thunking great volume. It shows, but thankfully more in the profusion of endnotes than in the prose, which flows swiftly and elegantly. A mountain of research, including great chunks of description (of places and people and paintings and periods), piles of anecdotes, and dense scatterings of detail diffuse effortlessly into the narrative stream. . . . What might to many emerge as surprising [. . .] is the powerful role played by women in Bacon's life. . . . This biography presents a mesmerizing portrait of a performer commanding the stage of the 20th century, delivering his lines to a public at times wildly applauding, at times gawping, appalled. . . . Where this biography soars above rivals is where its authors, even while acknowledging the crafted performance, probe beneath the façade. . . . This book's true "revelation" is Bacon in all his mysterious complexity. . . . This is not a portrait of a myth. It is the story of a man. And when it comes to the figure of Francis Bacon, a biography that can make manifest this intrinsic paradox must surely count as definitive." --Rachel Campbell-Johnston, The Times (UK)

"Mark Stevens and Annalyn Swan tell the full story of a man fearless in his art and in his life, who gloried in transgression, and refused to be anyone other than himself, whether it was out in London's East End demimonde or sequestered in the chaos of his studio. If there was any doubt, Revelations shows us one of the great artists of the 20th century." --Jonny Diamond, LitHub
 
"A captivating triumph. . . . This magnificent biography gets to the heart of Bacon as an artist and a man . . . Until now, the best books about Bacon have been the work of his friends: volumes that, however interesting, are muddied with affection (or its reverse), vested interests and, perhaps, a certain complacency. This volume, though, is the opposite. It rings as clearly as a bell. I cannot remember the last time I was so aware of the sheer hard labour involved in biography, even as I was captivated by every line. . . . The authors are diligent about the shows, the critics, the mentors. . . . But where they really triumph is in their sympathetic, psychologically convincing accounts of his love life. . . . This book's great achievement is that it does not confuse flexibility in the matter of relationships with insincerity, nor ravenous desire with decadence. Bacon, you come to understand, was fundamentally serious, and fundamentally loving. If his heart was often on the hustle, it was also ardent: as twisted and as fervent as his art." --Rachel Cooke, The Observer

"Francis Bacon is the most comprehensive and detailed account of [the artist's] life, and one that topples central pillars of the Bacon myth. . . . The book makes use of one splendid improvisation of its own. At the end of each chapter, there is a close reading of one painting. . . .  Instead of embedding such sections into the life [. . .] the work is cordoned off by a little white space. The space is just a line or two, but it makes an argument against automatically using the art to read the life or the other way around. In a book of such ambition and scope, it is finally—and fittingly, for an artist so private about his work—the modesty of this claim, of what can be known, that is its most moving achievement." --Parul Sehgal, The New York Times

"Bacon's life has long been a kind of myth, structured around signposts. . . . Now, over 700 lucid and engrossing pages, Mark Stevens and Annalyn Swan retrace and distil this myth, adding facets to a figure whose celebrity became, in his lifetime, a carapace and remained as a death mask. . . . The authors give the tale a fresh momentum, a feeling of life as it happened, rather than the chiaroscuro Life that became the foundation of Bacon's persona and the mirror image of his art. . . . Bacon's intelligence, charm, acerbity, nihilism and restlessness resonate throughout these pages. . . . Much of the book's power is inducing us to see again, from a new angle, what has previously appeared familiar. . . .  Like the Aeschylean tragedy that Bacon loved, the biography deals in two kinds of revelation – lightning flashes of information, and a more gradual realization that the facts as they exist are more complex than they perhaps seemed. . . . Numerous paintings receive eloquent analyses. . . . Whether dealing with "masterpieces" or more marginal creations, the authors' display an eye for what might easily be overlooked – the small yet potent detail, such as the reaper's scythe of the bull's horn in Bacon's final painting. . . . Revelations is not an art historian's encomium, however, any more than it is a hagiography. The authors are candid about the second-rate quality of some of Bacon's work, particularly in later years when he ceased to edit his output so voraciously. . . One of the many marvels of Revelations in is just how present and immediate Bacon is made to seem. Even as he ebbs away, we see and hear him vividly. . . . What Revelations leaves us with powerfully is Bacon's mercurial, electric character and a palpable sense of his body: his fluid gait, his "flutey" voice, and a face ever more asymmetrical as time progressed." --James Cahill, The Times Literary Supplement

"The artist's little known prewar years have been illuminated by the authors. . . . Stevens and Swan have succeeded in creating an incomparable resource for art historians, dealers, curators and collectors." --The Financial Times

"An intellectual history of an unschooled painter, a family history that goes back several gilded generations, a cultural history of the 20th century, a financial accounting of a highborn gambler, a guide to midcentury Soho drinking clubs, a description of an evolving artistic oeuvre, and a re-created diary of lowbrow fun with art luminaries, socialites, and thugs. . . . Such a life lent itself to mythmaking. Stevens and Swan document how his public persona was made, by the media and by Bacon himself. . . . One of the pleasures of comprehensive biographies like this one is seeing familiar set pieces nestled in rich context." --Sierra Bellows, The American Scholar

"[A] comprehensive account, one that is based on wide-ranging sources including substantial new materials, hundreds of interviews and a dedicated probing of the archives. . . . Stevens and Swan [provide] a definitive and compelling account of Bacon's life, one which goes a long way towards explaining why his art is so explosive and controversial." --Josephine Fenton, The Irish Examiner

"In their authoritative and fascinating biography, [Stevens and Swan] offer us a chronological and in-depth account of [Francis Bacon's] background, life and times. Like all great biographies, the figure centre stage is seen in the context of the zeitgeist. In this instance, family wealth, social mores, politics and sexuality colour, inform and determine Bacon's Irish upbringing, his time in Berlin, Paris and London and how he, with little or no formal education or training, turned from designer to artist. . . . This book is engaging in so many ways. . . . Stevens and Swan's seamlessly-written double act is a magnificent, monumental achievement." --The Irish Independent

"In this monumental work, Pulitzer Prize–winning art critics Stevens and Swan make a convincing case that "the twentieth century does not know itself without" the work of English painter Francis Bacon. . . . Throughout, Swan and Stevens provide penetrating insights into his complex psyche, his sexuality (Bacon was gay), his friendships, and how such a "handsome, witty, and amiable" person could have created paintings that many see as grotesque and even nightmarish. . . . Full of illuminating details and written in exquisite prose, this a fascinating look at the dichotomy between an artist's inner life and their work." —Publishers Weekly (Starred Review)

"A landmark biography. . . . Francis Bacon didn't just create some of the most unforgettable images of the human figure in 20th-century painting. He created "Francis Bacon", a legendary persona. . . . Bacon takes pleasure in exposing the truths we usually like to ignore: the perishability of the gorgeously dressed body, the emptiness of secular and religious authority, all the bogus certainties of civilised life. His popes, tarted up, tortured and surrounded by heavy gold frames, are, Stevens and Swann note with a twinkle, "the old masters in drag". . . . [Bacon] always insisted that he was simply portraying the reality of the conditions that had shaped him. . . . The power of this meticulously researched and utterly compelling biography lies not just in the confidence with which it demonstrates the truth of that statement, but in its quieter revelations." --Elizabeth Lowry, The Guardian

"An engrossing portrait of the artist, his art, and his incorrigible personality. . . . [Stevens and Swan] are in top form with this biography. Their detailed analysis of Bacon's artwork is vigorous and accessible and [. . .] as interesting as their chronicles of Bacon's sex life, gambling, professional feuds, and glamorous art gallery fetes." —Lew Whittington, The New York Journal of Books
 
"Forensic in their research, Stevens and Swan tap their countless interviews and draw a portrait of the volatile artist as a boy growing up amid Irish fox-hunting society with a tyrannical father as the Troubles emerged. They vividly convey Bacon's fear living as a gay man in Europe as well as his debauchery, drinking, and gambling as he gallivanted through London's Soho. The authors wonderfully capture Bacon's charismatic personality, but as especially gifted art critics they also convey the power of his piercing portraits and the bleakness of his paintings, especially the triptychs and diptychs for which he is justly celebrated." --The National Book Review

"Francis Bacon was a renowned fabulist as well as a great painter, and Mark Stevens and Annalyn Swan painstakingly sort fact from fiction in their latest biography. . . . One of the achievements of this biography is to have filled in a great deal of detail, especially about Bacon's childhood and life before his surprisingly late emergence. . . . [Francis Bacon] adds a great deal of detail and corrects numerous misconceptions. The writing is always elegant and the works are sensitively described." --Martin Gayford, The Spectator
 
"The authors bring out Bacon's winning character, wit and mischief. . . . It would be hard to imagine a more sensitive portrayal. . . . This is a book of real scholarship and seriousness." --Andrew Maar, The New Statesman
 
"A magnificent new biography . . . wide-ranging and thoughtful." --Ysenda Maxtone Graham, The Daily Mail

"A new biography sheds new light on the enigma that is Francis Bacon. . . . Possessed of a lively dry wit, the authors describe Bacon's childhood in Ireland, and the inevitable traumas of growing up homosexual and asthmatic at the hands of his English father, who believed in the therapeutic powers of beatings and horses. . . . The book is threaded with subtle yet vital insights into how the art world itself operates, and how the artists, writers, makers, moneyed movers and shakers of a particular time in history come together, influence or ignore one another, argue, befriend and fall out, and in the course of it all, change art and cultural history." --The Irish Times Culture Magazine
 
"A widely praised portrayal of a man who was both serious and loving, but as warped as his art. It has set a new benchmark for his biographers." --Christie's Online Magazine ("Best Art Books 2021")

"In this exhaustively researched, well-rounded profile, which took a decade to complete, Stevens and Swan make one of the few attempts to give a holistic account of the iconic Bacon . . . this is a forensic, sweeping text from two acclaimed art critics, based on hundreds of interviews. The authors skimp neither on context nor on details regarding Bacon's friends and lovers, and they are unafraid to dig into the more volatile elements of his character. . . . Presented in a linear fashion, the narrative lends a picaresque feel to Bacon's sometimes tragic, often dandyish life. While his habit of wandering among the pubs of London's Soho is well known, many readers will be particularly enlightened by the chapters about his childhood among the Anglo-Irish gentry, born an outsider in a house dominated by a chauvinistic father during the eruption of the Troubles. The book, featuring photos throughout, also functions as a dynamic depiction of life as a gay man in Europe during the 20th century, constantly reminding readers of the specter of violence that haunted the LGBTQ+ community for decades. Furthermore, the authors' analyses of individual paintings, mostly free of unnecessarily technical language, are insightful. . . . Stevens and Swan are up to the task of demonstrating the many complexities of an intense, significant artistic life. An unflinching portrayal of an often unwieldy character—further proof of Bacon's enduring influence." --Kirkus (Starred Review)
Knopf, 9780307271624, 880pp.
Publication Date: March 23, 2021
About the Author
MARK STEVENS is the former art critic of New York magazine. He has been the art critic for The New Republic and Newsweek and has also written for The New Yorker, Vanity Fair, and The New York Times.
ANNALYN SWAN is the former arts editor of Newsweek and an award-winning music critic. She teaches biography at the Graduate Center of CUNY as well as at the Middlebury Bread Loaf School of English. Stevens and Swan won the 2005 Pulitzer Prize for their biography, de Kooning: An American Master. They live in New York.