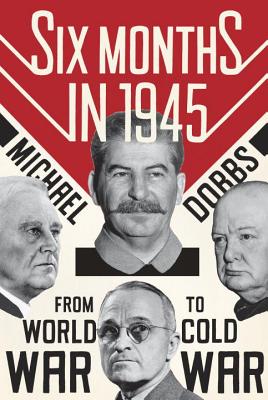 Six Months in 1945 (Hardcover)
FDR, Stalin, Churchill, and Truman--From World War to Cold War
Knopf Publishing Group, 9780307271655, 448pp.
Publication Date: October 16, 2012
Other Editions of This Title:
Digital Audiobook (10/15/2012)
Paperback (7/2/2013)
* Individual store prices may vary.
Description
From the author of the best-selling One Minute to Midnight, a riveting account of the pivotal six-month period spanning the end of World War II, the dawn of the nuclear age, and the beginning of the Cold War.

When Roosevelt, Stalin, and Churchill met in Yalta in February 1945, Hitler's armies were on the run and victory was imminent.  The Big Three wanted to draft a blueprint for a lasting peace—but instead set the stage for a forty-four-year division of Europe into Soviet and western spheres of influence. After fighting side by side for nearly four years, their political alliance was rapidly fracturing. By the time the leaders met again in Potsdam in July 1945, Russians and Americans were squabbling over the future of Germany and Churchill was warning about an "iron curtain" being drawn down over the Continent.

These six months witnessed some of the most dramatic moments of the twentieth century: the cataclysmic battle for Berlin, the death of Franklin Roosevelt, the discovery of the Nazi concentration camps, Churchill's electoral defeat, and the dropping of atomic bombs on Japan. While their armies linked up in the heart of Europe, the political leaders maneuvered for leverage: Stalin using his nation's wartime sacrifices to claim spoils, Churchill doing his best to halt Britain's waning influence, FDR trying to charm Stalin, Truman determined to stand up to an increasingly assertive Soviet superpower.

Six Months in 1945 brilliantly captures this momentous historical turning point, chronicling the geopolitical twists behind the descent of the iron curtain, while illuminating the aims and personalities of larger-than-life political giants. It is a vividly rendered story of individual and national interests in fierce competition at a seminal moment in history.
About the Author
Michael Dobbs was born and educated in Britain, with fellowships at Princeton and Harvard universities. Now a U.S. citizen, he spent much of his career as a reporter for "The Washington Post," for which he covered the collapse of communism. "Six Months in 1945" completes a Cold War trilogy that also includes "One Minute to Midnight," on the Cuban missile crisis, and "Down with Big Brother," on the final collapse of the Soviet Empire. Dobbs lives in Bethesda, Maryland.
Praise For Six Months in 1945: FDR, Stalin, Churchill, and Truman--From World War to Cold War…
"[S]uperbly evocative . . . So vivid is the writing that you can practically feel the shuddering vibration and turbulence in what was then the state-of-the-art aircraft carrying Roosevelt on the first visit by an American president to the Soviet Union."
—Martin Rubin, San Francisco Chronicle

"Favoring a journalistic style that embeds the issues, such as Poland and German reparations, in atmospheric descriptions of the Yalta and Potsdam conferences' interior decor and meal menus, Dobbs lends the subject an immediacy that will engage history readers, who will be within earshot of leaders and their aides as they meet, adjourn, dine, and wrangle over the affairs of defeated Germany and its former empire ... Dobbs delivers a readily accessible presentation of the onset of the Cold War."
—Gilbert Taylor, Booklist

"A confident and rewarding survey of a hinge point in 20th-century history."
—Kirkus Reviews

"This extraordinary and well-documented account of a short period in history illustrates how just a few men in a closed room can influence history in a monumental and sometimes devastating way. Six Months in 1945 is an important book to read to better understand how such negotiations influence us for decades. It illustrates that events and decisions made on the world stage affect us all, without most of us being aware of the decisions."
—Free Lance-Star

"An astute narrative of the six months that changed the world."
—Publishers Weekly

"Superb . . . Dobbs tells the story with the precision of a fine historian and the verve of a first-rate journalist."
—Philip Seib, Dallas News

"Dobbs is a gifted writer. His characterizations of powerful men are well judged and rounded, as are his evaluations of the fateful choices they faced."
—Lawrence D. Freedman, Foreign Affairs

"A gifted storyteller and thorough researcher with an eye for detail . . . tension and suspense aplenty."
—Seth Mandel, Washington Times
 
"Dobbs brings these 'six months in 1945' to life better than anyone before him. In brisk, engrossing chapters, he weaves between the Big Three decision-makers . . . and sketches their stratagems, illusions, strengths and weaknesses."
—Geoffrey Wawro, Military Book Club
 
"Dobbs delivers a propulsive read, replete with the sort of telling details that bring his subjects into high resolution.  There are stretches of Six Months in 1945 that read like a taut World War II thriller."
—Meredith Hindley, Barnes and Noble Reviews
 
 "Elegant."
—Keith Lowe, Washington Post

"Had we been seated at the Yalta conference ourselves, we might not have come away with the layer of detail and personal observation that Dobbs imbues in a mesmerizing sequence of events . . . [Dobbs] is the only writer who could have simultaneously provided the narrative drive and historical accuracy to such a  monumental era in world history.  . . . [K]inetic.  Simple conversations that would sink in lesser hands are shot through with immediacy and candor . . . Dobbs has written much more than an intensely researched, riveting account of six crucial months in history; he's brought our world closer by examining the remote details of our past."
—Scott Elingburg, Pop Matters

"[R]iveting . . . [I]ntelligent, dramatic and insightful . . . [Dobbs] has the uncanny ability to include the perfect amount of detail, just the right measure of vivid color, into these momentous international events."
—Edward Cuddihy, Buffalo News

"Well-written and filled with interesting stories and excellent character sketches, Six Months in 1945 is a great read . . . It graphically shows that no matter how much good will Roosevelt and the United States put forth, Stalin was determined to take control of Eastern Europe and Roosevelt's belief that he could work with Stalin was based on a false hope."
—J.W. Thacker, Bowling Green Daily News

"An exciting history . . . [Dobbs] provides fascinating insights and new interpretations that hold the reader's interest . . . This is popular history that sparkles."
—D.J. Dunn, CHOICE
 
"[R]iveting . . . [I]ntelligent, dramatic and insightful . . . [Dobbs] has the uncanny ability to include the perfect amount of detail, just the right measure of vivid color, into these momentous international events."
—Edward Cuddihy, Buffalo News



or
Not Currently Available for Direct Purchase