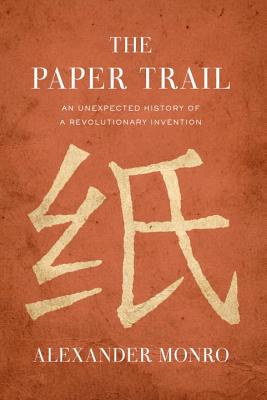 The Paper Trail
An Unexpected History of a Revolutionary Invention
Hardcover

* Individual store prices may vary.
Other Editions of This Title:
Paperback (2/21/2017)
Description
A sweeping, richly detailed history that tells the fascinating story of how paper—the simple Chinese invention of two thousand years ago—wrapped itself around our world, humankind's most momentous ideas imprinted on its surface.
           
The emergence of paper in the imperial court of Han China brought about a revolution in the transmission of knowledge and ideas, allowing religions, philosophies and propaganda to spread with ever greater ease. The first writing surface sufficiently cheap, portable and printable for books, pamphlets and journals to be mass-produced and distributed widely, paper opened the way for an unprecedented, ongoing dialogue between individuals and between communities across continents, oceans and time.
           
The Paper Trail explores how the new substance was used to solidify social and political systems that influenced China even into our own time. We see how paper made possible the spread of the then new religions of Buddhism and Manichaeism into Japan, Korea and Vietnam . . . how it enabled theologians, scientists and artists to build the vast and signally intellectual empire of the Abbasid Caliphate and embed the Koran in popular culture . . . how paper was carried along the Silk Road by merchants and missionaries, finally reaching Europe in the late thirteenth century . . . and how, once established in Europe, along with the printing press, paper played an essential role in the three great foundations of Western modernity: the Renaissance, the Reformation and the Scientific Revolution.
           
Here is a dramatic, comprehensively researched, vividly written story populated by holy men and scholars, warriors and poets, rulers and ordinary men and women—an essential story brilliantly told in this luminous work of history.
Praise For The Paper Trail: An Unexpected History of a Revolutionary Invention…
"Fascinating." —The Wall Street Journal

"Monro dives deep into the Asian and Middle Eastern cultures to examine how the discovery and spread of paper permitted civilizations to blossom and also how paper broke down isolation." —Chicago Tribune

"Elegantly presented. . . . Monro's focus is China, which he knows well. When the Greeks and the Romans were carving on stone and writing on papyrus scrolls, Chinese scholars were using paper." —The Economist
 
"Page-turningly readable. . . . The chronological narrative, beginning with prehistoric charcoal scribbling on cave walls and ending with e-paper, is laden with research carried admirably lightly. . . . A terrific read." —Literary Review

"Timely. . . . Monro's expertise as a European historian and scholar of Chinese gives this book a uniquely broad perspective, which would mean less if he were not also a picturesque writer with an eye for a good story." —The Times (London)
Knopf, 9780307271662, 384pp.
Publication Date: March 22, 2016
About the Author
ALEXANDER MONRO has worked as a Parliamentary researcher, on The Times (London) foreign desk and as a general news and features reporter for Reuters Shanghai. He was previously a China analyst at Trusted Sources, where he wrote reports on political risk in China. Monro has edited a classical poetry collection, Laments of Four Cities of China, and has coedited an anthology of poetry about the East called Desert Air. In 2002 he was sponsored by the Captain Scott Society to trace the route of Genghis Khan through Mongolia on horseback. His articles have been published by The Times (London), The Sunday Telegraph, The Guardian Arts blog, The Washington Post, The Times Literary Supplement, New Statesman, New Scientist, Agence France-Presse and Reuters. He speaks French and Mandarin Chinese, having studied the latter at the universities of Cambridge and Peking, and continues to write on contemporary China.
or
Not Currently Available for Direct Purchase