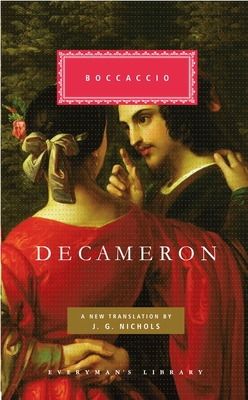 Decameron (Everyman's Library Classics Series) (Hardcover)
Everyman's Library, 9780307271716, 696pp.
Publication Date: September 1, 2009
Other Editions of This Title:
Digital Audiobook (3/4/2009)
Paperback (9/2/2018)
Paperback (9/2/2018)
Paperback (1/8/2016)
Paperback (1/9/2016)
Paperback, Italian (5/22/2015)
Paperback (9/25/2015)
Paperback (11/6/2011)
Paperback, German (3/7/2013)
Paperback (9/25/2015)
Paperback (3/22/2012)
Paperback, German (10/10/2012)
Paperback (9/28/2014)
Paperback (2/27/2014)
* Individual store prices may vary.
Description
In the summer of 1348, with the plague ravaging Florence, ten young men and women take refuge in the countryside, where they entertain themselves with tales of love, death, and corruption, featuring a host of characters, from lascivious clergymen and mad kings to devious lovers and false miracle-makers. Named after the Greek for "ten days," Boccaccio's book of stories draws on ancient mythology, contemporary history, and everyday life, and has influenced the work of myriad writers who came after him.

J. G. Nichols's new translation, faithful to the original but rendered in eminently readable modern English, captures the timeless humor of one of the great classics of European literature.

A brilliant new translation of the work that Herman Hesse called "the first great masterpiece of European storytelling."
About the Author
Giovanni Boccaccio, Italian author and poet, was born in 1313 and died in 1375.

Born in Liverpool, England, J. G. Nichols is a poet, literary critic, and translator. He was awarded the John Florio Prize for his translation of the poems of Guido Gozzano. His translation of Petrarch's Canzoniere won the Premio Internazionale Diego Valeri in 2000.