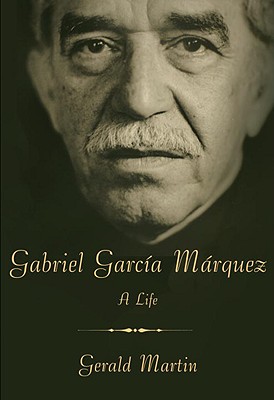 Gabriel García Márquez (Hardcover)
A Life
Knopf, 9780307271778, 672pp.
Publication Date: May 5, 2009
* Individual store prices may vary.
Description
The first full and authorized biography of the 1982 winner of the Nobel Prize in Literature—the most popular international novelist of the last fifty years.

Over the course of the nearly two decades Gerald Martin gave to the research and writing of this masterly biography, he not only spent many hours in conversation with Gabriel García Márquez himself but also interviewed more than three hundred others, including García Márquez's wife and sons, mother and siblings, literary agent and translators; Carlos Fuentes, Mario Vargas Llosa, and Alvaro Mutis, among other writers; Fidel Castro and Felipe González, among other political figures; his closest friends as well as those who consider themselves his detractors. The result is a revelation of both the writer and the man.

García Márquez's story is a remarkable one. Born in 1927, raised by grandparents and a clutch of aunts in a small backwater town in Colombia, the shy, intelligent boy matured into a reserved young man, first working as a provincial journalist and later as a foreign correspondent, whose years of obscurity came to an end when, at the age of forty, he published the novel entitled Cien años de soledad—One Hundred Years of Solitude. Within months, the book had garnered spectacular international acclaim, the author hailed as the standard-bearer of a new literature: magical realism. Eight years later, in 1975, he published The Autumn of the Patriarch, and, in 1981, Chronicle of a Death Foretold, each novel rapturously received by critics and readers alike. With his books read by millions around the world, he had become a man of wealth and influence. Yet, for all his fame, he never lost touch with his roots: though he had lived outside of Colombia since 1955—in Barcelona, Mexico City, Paris—his Nobel Prize was celebrated by Colombians from all walks of life who thought, and still think, of "Gabo" as their own. More books followed, both fiction (Love in the Time of Cholera, The General in his Labyrinth, Memories of My Melancholy Whores) and nonfiction (The Story of a Shipwrecked Sailor, News of a Kidnapping, Living to Tell the Tale). But García Márquez's renown and passion have continued to combine, as well, in a fervent, unflagging, and often controversial political and social activism.

While chronicling the particulars of the life, Martin also considers the overarching issues: the tension between García Márquez's celebrity and his quest for literary quality, and between his politics and his writing; the seductions of power, solitude, and love. He explores the contrast between the exuberance of the writer's Caribbean background and the authoritarianism of highland Bogotá, showing us how these differences are manifest in his writing and in the very shape his life has taken. He explores the melding of experience and imagination in García Márquez's fiction, and he examines the writer's reasons for—and the public's reaction to—his turning away in the 1980s from the magical realism that had brought him international renown, toward the greater simplicity that would mark his work beginning with Love in the Time of Cholera.

Gerald Martin has written a superb biography: richly illuminating, as gripping as any of Gabriel García Márquez's powerful journalism, as enthralling as any of his acclaimed and beloved fiction.
About the Author
Gerald Martin is Andrew W. Mellon Professor Emeritus of Modern Languages at the University of Pittsburgh and Senior Research Professor in Caribbean Studies at London Metropolitan University. For twenty-five years he was the only English-speaking member of the "Archives" Association of Twentieth-Century Latin American Literature in Paris, and he is a recent president of the International Institute of Ibero-American Literature in the United States. Among his publications are "Journeys Through the Labyrinth: Latin American Fiction""in the Twentieth Century," a translation and critical edition of Miguel Angel Asturia's "Men of Maize," and several contributions to the "Cambridge History of Latin America." He lives in England.
Praise For Gabriel García Márquez: A Life…
Praise in the US:

"Engrossing . . . Nothing short of a revelation . . . On almost every page, Martin's account is studded with acute observations . . . [It] does a masterful job of tracing the continuing evolution of a man, his work and the world that surrounds him. Martin has understood, as far as it is possible for a biographer to understand, the motivations and experiences that have guided Gabo, and all of us who love the maestro's work are grateful for it . . . Extraordinary."
–Los Angeles Times Book Review

"Richly detailed . . . A judicious and occasionally juicy examination of Gabo's life, his politics and work."
–Pittsburgh Post-Gazette

"This superbly researched biography is nothing short of a tour de force. Martin has for decades been a pioneering scholar of Latin American literature in the English-speaking world. Based on detailed research as well as personal acquaintance with the subject, this is the most substantial English-language biography written of García Márquez . . . Seventeen years in the making, this work not only details the life of a great writer but also provides considerable insight into life in Latin America . . . Highly recommended."
–Library Journal (starred)

"Martin's control of his prodigious material in this first authorized biography of the great Colombian novelist García Márquez is astonishing. Martin writes with a novelist's momentum. His descriptions of García Márquez's hometown, Aracataca, are atmospheric without being cloying; he conducts literary exegesis deftly, like a detective hunting for clues . . . García Márquez seems to be many different men, but his biographer handles the contradictions with finesse."
–Publishers Weekly (starred)

"A probing biography . . . Martin begins by noting that he has been working on this life of Gabriel García Márquez for two decades. The effort shows . . . Martin offers lucid literary commentary alongside the facts of his subject's life . . . Essential for García Márquez fans, and an exemplary literary biography."
–Kirkus Reviews (starred)

Praise from abroad:

"A masterful and sensitive account–balanced, judicious, yet clearly also a stirringly enthusiastic labour of love . . . It is and will be the authoritative work on the 'new Cervantes,' Latin America's perhaps only truly global writer." –The Times Literary Supplement

"As a piece of investigation alone Martin's book is an outstanding achievement unlikely ever to be bettered . . . It is a rags-to-riches tale as absorbing and at times bizarre as anything in Márquez's fiction . . . Martin's passionate enthusiasm for Márquez gives the book much of its power and impetus . . . Unfailingly perceptive." –Literary Review

"A monumental work . . . Márquez could have asked for [no biographer] more accomplished than Gerald Martin." –Financial Times

"Masterful . . . Martin's book, the product of seventeen years of research, is an astonishing feat: a subtle tribute to a very complex man and an indispensable key to his life's work." –The Sunday Telegraph

"Márquez's life story is just as magical as anything in his fiction . . . Both a fine tribute to a remarkable artist and a fascinating cultural history of the region he helped to find its voice." –New Statesman

"Undoubtedly, Márquez is a difficult subject for a biographer . . . Yet, Martin has succeeded triumphantly. The book is distinguished by its pages of hard-won clarity, its imaginative sympathy and a welcome absence of any psychoanalytic theorizing . . . Gerald Martin is to be congratulated on this polished (I almost said 'magical') biography, which radiates an infectious charm and humanity." –The Irish Times

"Superbly well-researched . . . The narrative [is] consistently engaging and sympathetic." –The Sunday Times

"Martin is lucid with his political-historical framing . . . He blends the stories and novels superbly into his narrative . . . He is acute on Márquez's solid marriage and on his protective friends . . . [This book] helps readers to ground his exceptional fiction in history." –The Independent



or
Not Currently Available for Direct Purchase