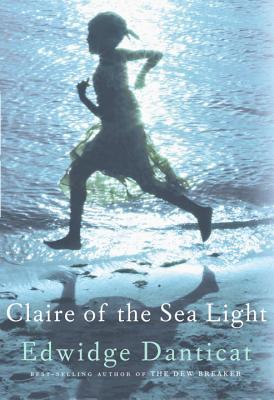 Claire of the Sea Light
Hardcover

* Individual store prices may vary.
Description
From the best-selling author of "Brother, I'm Dying" and "The Dew Breaker: " a stunning new work of fiction that brings us deep into the intertwined lives of a small seaside town where a little girl, the daughter of a fisherman, has gone missing.
Claire LimyE LanmE--Claire of the Sea Light--is an enchanting child born into love and tragedy in Ville Rose, Haiti. Claire's mother died in childbirth, and on each of her birthdays Claire is taken by her father, Nozias, to visit her mother's grave. Nozias wonders if he should give away his young daughter to a local shopkeeper, who lost a child of her own, so that Claire can have a better life.
But on the night of Claire's seventh birthday, when at last he makes the wrenching decision to do so, she disappears. As Nozias and others look for her, painful secrets, haunting memories, and startling truths are unearthed among the community of men and women whose individual stories connect to Claire, to her parents, and to the town itself. Told with piercing lyricism and the economy of a fable, "Claire of the Sea Light" is a tightly woven, breathtaking tapestry that explores what it means to be a parent, child, neighbor, lover, and friend, while revealing the mysterious bonds we share with the natural world and with one another. Embracing the magic and heartbreak of ordinary life, it is Edwidge Danticat's most spellbinding, astonishing book yet.

Praise For Claire of the Sea Light…
"Claire of the Sea Light doesn't have a dull moment. Danticat's captivating visual descriptions of Ville Rose, a seaside town in Haiti, engulf the reader's psyche. But it's the core human struggles that make it impossible to put the novel down . . . She brilliantly sheds light on an array of human issues with sexuality, identity, politics, class . . . A heartfelt journey." —Zayda Rivera, New York Daily News
 
"[An] extraordinary talent in full flower . . . . There's a Faulknerian quality to Claire of the Sea Light, in the way it examines and presents the lives, plural, and life, singular collective, of a specifically imagined local community from multiple points of view, showing how human stories and lives ramify through and across each other in ways both touching and tragic . . . Astonishing . . . True and beautiful." —Ethan Casey, The Huffington Post
 
"Intoxicating . . . Compelling . . . Illuminating . . . Danticat's substantive work of fiction powerfully explores a vast array of human emotions . . . With great sensitivity and compassion, Danticat evokes the complexity of these giant emotions in women, men and children . . . A book of many triumphs, poignant and vivid, [that] reminds us just how powerful certain moments can be, and that whether these moments are precious, tragic, wishful, or frightening, they may mysteriously lead to a life both beautiful and uncorrupted." —Suzanne Reeder, BookBrowse
 
"Not just a novel about a missing girl—a look at the intersections of loss, longing and place . . . The novel bubbles over with secrets. The concluding image is one of resuscitation. . . Claire of the Sea Light is a stylistic achievement; the beautiful prose, captivating story and intricate narrative structure are to be savored." —Julie Hakim Azzam, Pittsburgh Post-Gazette

"There is no such thing as Haiti. Or, as Danticat makes clear in Claire of the Sea Light, there is no such thing as one Haiti, no single truth. Danticat has been fixing and unfixing her native country since the appearance of her first book, Breath, Eyes, Memory. She is a writer inhabited, a writer dedicated to opening her reader's eyes to something she keeps trying to see for herself.  The characters of this novel are vivid and intensely personal. If you hope for a glimmer of Haiti; if you understand that to care about Haiti is also to lose it, to mourn it; or, to care about Haiti is to breathe and taste it and to sigh and delight; if you can bear to face the deep uneasiness of the impossible, then you will know you are blessed by Edwidge Danticat." —Susanna Sonnenberg, San Francisco Chronicle

"Claire of the Sea Light is Danticat's first novel since the 2010 earthquake, which destroyed so much of the country . . . The stories are set in a near, undefined past, but there's a distinct sense that most of what Danticat is describing is now gone. There are no omens or soothsayers, and the richness of the place—the tropical vegetation, the precise placement of shops and homes, the Biblical presence and span of family trees—is often a source of joy. But it's difficult not to imagine a grieving Danticat cataloging these as the losses she and other Haitians have suffered . . . Danticat has always portrayed Haiti with a careful lushness, but in Claire of the Sea Light she seems to have a new fervor." —Dwyer Murphy, Guernica

"Haunting . . . the images in Claire of the Sea Light have the hard precision and richly saturated colors of a woodblock print or folk art painting: a great, Hokusai-like wave; a group of girls singing and dancing on the beach; a solitary woman standing alone by the cemetery gate . . . Like Danticat's powerful novel The Dew Breaker, this book uses overlapping tales to create an elliptical but propulsive narrative. The title character is a 7-year-old girl, whose mother died giving birth to her. The perennial subjects in Danticat's fiction and nonfiction—the weight of Haiti's violent history, its extreme poverty and the diaspora that they have created—are addressed indirectly, through the stories of Claire and her family and neighbors in this small town where everyone knows everybody else. There is something fablelike about these tales; the reader is made acutely aware of the patterns of loss and redemption, cruelty and vengeance that thread their way through these characters' lives, and the roles that luck and choice play in shaping their fate . . . Writing with lyrical economy and precision, Danticat recounts [their] stories in crystalline prose that underscores the parallels in their lives. One family after another is fractured by accidental death, by murder or by exile. Death and loss haunt characters in this novel, shadowing them like dogged ghosts. . . . In her memoir Brother, I'm Dying, Danticat wrote about her own sense of abandonment as a child, when first her father and then her mother left for New York, leaving her with relatives. In Danticat's own story, and this novel's story of Claire, love endures in the face of death and departure and disappointment." —Michiko Kakutani, The New York Times

"Haunted by ghosts and grief, lifted by magic and love . . . Danticat takes the reader deep into [Ville Rose's] past and the intricate, sometimes shocking connections among its people . . . She paints each of her characters and their town with vivid detail and lyrical language. The book's plot unfolds not in a straight line but like the petals of a rose, stories one within another, each connected. Claire of the Sea Light is at times heartbreaking, but like the child whose name it bears, it is lit with its own inextinguishable glow." —Colette Bancroft, Tampa Bay Times
 
"Danticat is the literary voice of the Haitian diaspora who has won wide acclaim—a writer who can interpret both cultures and has a keen eye for the tensions between them. Claire of the Sea Light explores the interconnected lives of the inhabitants of a small coastal town in Haiti, yet even within this intensely local narrative, questions of exile and cultural identity are often hovering in the background . . . [It is] a complicated narrative of love, loss, murder and revenge, a web of relationships that transcend class and social divisions . . . Through Claire, the novel becomes a paean to whatever is sacred in the earth and water of this particular place. Claire of the Sea Light is written in the delicate, poetic style that Danticat is known for, which lends this story a fable-like quality. A rich story that provides a glimpse of modern Haiti, as well as a sense of its enduring spirit." —Maria Browning, Nashville Scene
 
"Claire of the Sea Light moves from character to character, sometimes skipping through time, to portray the lives of a small Haitian town. Danticat's approach rewards the reader with a series of revelations. The relationship at the heart of this book is affecting . . . Breathtaking." —Tobias Carroll, Time Out New York
 
"With glorious prose, Danticat's latest novel paints a stunning picture of a small Haitian town and the secrets that emerge when a spirited young girl disappears on her seventh birthday." —Entertainment Weekly
 
"A gorgeous novel that, through death, explores what it means to be alive . . . Danticat's sly humor in disarming asides leavens the portent without upsetting the book's sea-foam delicacy." —B. Caplan, Miami New Times
 
"Claire of the Sea Light reads like the work of a writer eager to create another world . . . A sense of the possibilities is tangible, where Danticat delves into parenting, revenge, reconciliation and remorse. Claire Limyè Lanmè is the daughter of a widower who is mulling whether or not to let someone else raise his daughter. In this small town, other mothers and fathers are working through reconciling their feelings about parenthood while readers experience a day in her life. Simultaneously, Danticat masterfully weaves in necessary parts of the past." —Joshunda Sanders, Kirkus

"For someone born in Port-au-Prince, the temptation to rage at the public's fickle concern [for Haiti] must be immense. But in her rich new novel, Claire of the Sea Light, Danticat continues to speak in a captivating whisper. Claire of the Sea Light [is] a collection of episodes that build on one another, enriching our understanding of a small Haitian town and the complicated community of poor and wealthy, young and old, who call it home. From the first page to the last covers only a single day, but Danticat dips into the past to illuminate the recurring coincidence of life and death among these people . . . Danticat is no magical realist—the peculiarities of this gorgeous, gruesome place are magic enough—but she builds her novel around the uncanny tragedies that accumulate on the anniversary of Claire's birth . . . Danticat is a writer you can trust. The apparently disparate parts of the story knit together in surprising ways that seem utterly right . . . One of Danticat's most entrancing talents is her ability to capture conflicted feelings with a kind of aching sympathy . . . Tightly wound threats of hunger and terror, delight and dread, vibrate through these pages . . . Danticat has perfected a style of extraordinary restraint and dignity that can convey tremendous emotional impact. But in celebration of Claire, the life force of this novel, she delivers a kind of incantation that repels the rising tide of despair. Hearing the villagers searching for the little girl on the night of her birthday, the headmaster's distraught son can't help but feel inspired. 'The name was as buoyant as it sounded, the kind of name you said with love . . . the kind of name that had the power to make the sun rise.' That's a tall order for a name—or a novel. But it's not beyond Danticat's power." —Ron Charles, The Washington Post Book World

"In Danticat's luminous new novel, the search for [a] missing 7 year-old girl serves as a way of re-examining what we overlook and undervalue in life. Set on a single day, Danticat tells the story through a kaleidoscope of perspectives that illuminate life in the island nation where the roles of ex-pats, gangs, radio journalists and shopkeepers crisscross the landscape. In a voice tuned to the frequency of sorrow, with a calmness that neither apologizes nor inflames, [Danticat] lays out the terrible choice that many in Haiti have faced: Keep a child in deepest poverty or offer the child to someone with better prospects . . . Danticat is a beautiful storyteller who doesn't shy from the brutalities . . . but she also applies a finely tuned sensibility to the beauty that surrounds the pain . . . The search [for Claire] provides the vehicle to examine the lives of the perpetually unseen, the less-than, the lost. In the final chapter, we see the story through [Claire's] eyes with an unexpected burst of clarity that wows the reader. The day comes to an end in much the same place where it started. But the village—and readers—are changed. Danticat's determination to face both light and dark brings the story to life. But her skill as a writer makes the balancing act a pure pleasure to read . . . A remarkably well-plotted combination of mystery and social critique." —Amy Driscoll, Miami Herald

"Rising above the sea, Ville Rose is a place of immense beauty and overwhelming poverty, and where only the very few live comfortably . . . The imperative to do right by the next generation is at the center of Danticat's tale, set in the fictional town she sketched in Krik? Krak!, [which] here gets a fuller portrait . . . The book shifts backward and forward over a decade but is not set at a moment of particular peril; the danger Danticat shows us is plentiful in the everyday: the sea that drowns a fisherman, the gangs that rule by bloodshed, the droit du seigneur that results in a maid bearing the child of one of the town's wealthy young men . . . Danticat's language is unadorned, but she uses it to forge intricate connections—the story stealthily gains in depth and cumulative power. The dexterity of Danticat's sympathy is an even match for her unflinching vision." —Laura Collins-Hughes, The Boston Globe

"Fiercely beautiful . . . Ville Rose is a fictional place, but it's described here with the precision and detail of a work of literary nonfiction . . . The landscape of Ville Rose is as rich and varied as the Macondo of Gabriel García Márquez . . . Danticat is a prose stylist with great compassion and insight. And by shifting seamlessly in time and point of view, the sensational turns in her novel quickly lead us back to people who are struggling with concerns that are all too real. Danticat's characters are caught between the hurt a poor country can inflict on its citizens, and the love those citizens feel for their birthplace . . . Claire of the Sea Light brims with enchantments and surprises. Danticat finds a way, in the book's final pages, to convincingly bring her diverse cast of back to the Ville Rose seaside on the same fateful night at which the novel opens. That final feat of writing brilliance brings Claire of the Sea Light to a place few novels reach: an ending that is at once satisfying and full of mystery . . . Impressive." —Hector Tobar, Los Angeles Times

"The fablelike delicacy, lyricism, and hypnotic prose of Danticat's new novel [are] perfectly suited to its setting, the tragic and yet magical seaside town of Ville Rose . . . The title character is a 7-year-old girl who goes missing in the first chapter and stays missing until the very last pages, as a portrait of Ville Rose's sometimes beautiful, sometimes brutal reality is painted and a collision of fates inches closer . . . There is humor here alongside grief. Danticat's work opens itself to a broader readership through her deft intertwining of the specific and the universal . . . In and out of bedrooms, graveyards, restaurants and bars, even the local radio station, she creates rich and varied interior lives for her characters . . . Over the years, Danticat has become the bard of the Haitian diaspora. [But] this book is firmly planted in her homeland, a fictional community whose comings and goings are less connected to any earthly destination as they are to the great beyond . . . Fantastical, heartbreaking." —Deborah Sontag, The New York Times Book Review

"Danticat is as well known for her mastery of language as she is for tackling difficult subjects. With her latest novel, she takes a nuanced approach to Haiti's complex legacies . . . She keeps the reader in suspense, introducing characters to reveal the ties that bind generations not only to each other but also to their vulnerable natural environment . . . Claire [is a] spirited waif wise beyond her years—as children raised in dire conditions often are. Her disappearance set[s] the stage for revelations of the intertwined lives of the disadvantaged and the privileged. It's much too early to say whether Danticat has reached her prime as a writer, but with Claire of the Sea Light, she has written a mature love letter to her homeland." —Gina Athena Ulysse, Ms.
 
"On her seventh birthday, a girl wakes up in a shack by the sea. She has no mother; her father, a fisherman, is considering giving her away. As that setup suggests, this novel has some of the feel of a fairy tale. But its ethereal qualities are offset by its stark portrayal of life in small-town Haiti; the combination makes for a lovely book to read, by the sea or anywhere else." —Kathryn Schulz, New York magazine

"Raw, dark, poetic—Danticat at the top of her game . . . [She] has created a pulsing world of fictional characters—among them a radio talk-show host with ulterior motives; an undertaker turned mayor; and a prosperous local woman whose own daughter died in an accident [and] who agrees to care for Claire as her replacement child. Their haunting stories make up a web of relationships, coincidences, misunderstandings, and ambitions—a multifaceted Haitian love story in which the shimmering Caribbean is both friend and foe. Danticat is expert at subtly exploring such themes as the far-reaching consequences of poverty and the powerful bonds between parent and child. On these pages, the human heart is laid open and the secret contents of its chambers revealed in all their beauty and agony." —Tayari Jones, O, The Oprah Magazine
 
"Masterful storytelling. When Claire, the daughter of widowed fisherman, disappears on the night of her seventh birthday, [he] and his neighbors undertake a search for her that stirs painful memories and forces them to confront startling truths about their own lives. Chapters of the story alternate among narrators, [and] each of their stories is beautifully, unexpectedly intertwined with that of Claire and her parents. As Danticat's narrative unspools with the swift cadence of a fable, it imparts shocking revelations about these intricately flawed characters . . . The unerring lyricism of Claire of the Sea Light illuminates the poignant struggle for ordinary connection and peace in a country of ravaged homes and hearts." —Catherine Straut, Elle
 
"A haunting portrait of heartbreak and healing. . . One of Danticat's finest novels . . . [She is] a powerhouse writer. . . Like the best works of Nobel Laureate Gabriel García Márquez and novelist Maryse Condé, Claire of the Sea Light fearlessly bends time and space, reality and fantasy. Yet the storyteller never loses control of the narrative—or our attention. And she uses fiction for spot-on social commentary about the ways in which Black girls—those who go missing and those whose innocence is stolen—are often invisible even when in plain sight. In the end, this provocative fable, which plays out in a single night, delivers us back to our real worlds, safe enough but somehow touched in ways we may not fully know for days to come." —Patrik Henry Bass, Essence
 
"A fictionalized tale that will enthrall, of Claire, who goes missing on her seventh birthday . . .with descriptions so vivid, you'll imagine you're walking down a street in the Haitian village of Ville Rose. Danticat weaves her magic as we wrestle with what's happened to Claire, and why everybody in town [has] a secret that has to do with her." —Ebony

"The biggest questions in life flow from the pen of this brilliant novelist. In Claire of the Sea Light, Danticat folds the story into a package so preciously tight that we can tuck it in our hearts and keep it close and warm." —Nikki Giovanni

"Nuanced . . . intricate . . . intimate . . . evocative. Danticat's prose has the shimmering simplicity of a folk tale and the same matter-of-fact acceptance of life's cruelties and injustices. Yet despite the unsparing depiction of a corrupt society, there's tremendous warmth in Danticat's treatment of her characters, who are striving for human connection in a hard world. Both lyrical and clear-eyed—a rare and welcome combination." —Kirkus

"As an ardent admirer of Edwidge Danticat's writing, I opened Claire of the Sea Light as if it were a gift. My high expectations were met, and then surpassed. The story she has given us is at every turn surprising, shimmering, deft. It is a jewel—a remarkable book, as luminous as its title." —Ann Patchett

"Highly anticipated . . . In interlocking stories moving back and forth in time, Danticat weaves a beautifully rendered portrait of longing in the small fishing town of Ville Rose in Haiti. . . . [Characters'] stories and lives flow beautifully one into another, all rendered in the luminous prose for which Danticat is known." —Vanessa Bush, Booklist
 
"Gorgeous, arresting, profoundly vivid . . . Danticat once again tells a story that feels as mysterious and magical as a folk tale and as effective and devastating as a newsreel. Claire Limyè Lanmè ('Claire of the Sea Light') is turning seven, and yet her birthday has always been marked by both death and renewal. Claire's mother died in childbirth, and she has been raised by her fisherman father in a shack near the sea. The book begins on the morning of her birthday, before winding back to tell the story of every previous birthday, and who lived, and died, each year. For some time, Claire's father has considered giving her [away], and the heartbreaking question of Claire's fate adds to the novel's suspense, as both the past, and this single day, unfold. In the meantime, Danticat paints a stunning portrait of this small Haitian town, in which the equally impossible choices of life and death play out every day." —Publishers Weekly (starred review)
 
 
Knopf Publishing Group, 9780307271792, 238pp.
Publication Date: August 27, 2013
About the Author
Edwidge Danticat is the author of numerous books, including "Brother, I m Dying, " a National Book Critics Circle Award and National Book Award finalist; "Breath, Eyes, Memory, " an Oprah Book Club selection; "Krik? Krak!, " a National Book Award finalist; "The Farming of Bones, "an American Book Award winner; and "The Dew Breaker, " a PEN/Faulkner Award finalist and winner of the inaugural Story Prize. The recipient of a MacArthur Fellowship, she has been published in "The New Yorker, The New York Times, "and elsewhere. She lives in Miami.

"
Book Videos
or
Not Currently Available for Direct Purchase