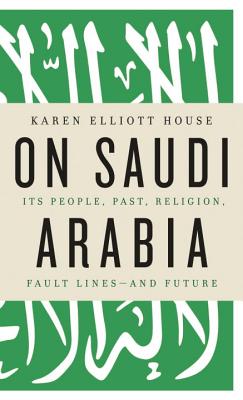 On Saudi Arabia
Its People, Past, Religion, Fault Lines - And Future
Hardcover

* Individual store prices may vary.
Description
From the Pulitzer Prize winning reporter who has spent the last thirty years writing about Saudi Arabia as diplomatic correspondent, foreign editor, and then publisher of "The" "Wall Street Journal" an important and timely book that explores all facets of life in this shrouded Kingdom: its tribal past, its complicated present, its precarious future.
Through observation, anecdote, extensive interviews, and analysis Karen Elliot House navigates the maze in which Saudi citizens find themselves trapped and reveals the mysterious nation that is the world's largest exporter of oil, critical to global stability, and a source of Islamic terrorists.
In her probing and sharp-eyed portrait, we see Saudi Arabia, one of the last absolute monarchies in the world, considered to be the final bulwark against revolution in the region, as threatened by multiple fissures and forces, its levers of power controlled by a handful of elderly Al Saud princes with an average age of 77 years and an extended family of some 7,000 princes. Yet at least 60 percent of the increasingly restive population they rule is under the age of 20.
The author writes that oil-rich Saudi Arabia has become a rundown welfare state. The public pays no taxes; gets free education and health care; and receives subsidized water, electricity, and energy (a gallon of gasoline is cheaper in the Kingdom than a bottle of water), with its petrodollars buying less and less loyalty. House makes clear that the royal family also uses Islam's requirement of obedience to Allah and by extension to earthly rulers to perpetuate Al Saud rule.
Behind the Saudi facade of order and obedience, today's Saudi youth, frustrated by social conformity, are reaching out to one another and to a wider world beyond their cloistered country. Some 50 percent of Saudi youth is on the Internet; 5.1 million Saudis are on Facebook.
To write this book, the author interviewed most of the key members of the very private royal family. She writes about King Abdullah's modest efforts to relax some of the kingdom's most oppressive social restrictions; women are now allowed to acquire photo ID cards, finally giving them an identity independent from their male guardians, and are newly able to register their own businesses but are still forbidden to drive and are barred from most jobs.
With extraordinary access to Saudis from key religious leaders and dissident imams to women at university and impoverished widows, from government officials and political dissidents to young successful Saudis and those who chose the path of terrorism House argues that most Saudis do not want democracy but seek change nevertheless; they want a government that provides basic services without subjecting citizens to the indignity of begging princes for handouts; a government less corrupt and more transparent in how it spends hundreds of billions of annual oil revenue; a kingdom ruled by law, not royal whim.
In House's assessment of Saudi Arabia's future, she compares the country today to the Soviet Union before Mikhail Gorbachev arrived with reform policies that proved too little too late after decades of stagnation under one aged and infirm Soviet leader after another. She discusses what the next generation of royal princes might bring and the choices the kingdom faces: continued economic and social stultification with growing risk of instability, or an opening of society to individual initiative and enterprise with the risk that this, too, undermines the Al Saud hold on power.
A riveting book informed, authoritative, illuminating about a country that could well be on the brink, and an in-depth examination of what all this portends for Saudi Arabia's future, and for our own.
Praise For On Saudi Arabia: Its People, Past, Religion, Fault Lines - And Future…
"Revealing and impressively reported . . . House's 30-plus years' experience in one of the least accessible countries makes us see, hear, and experience Saudi Arabia like a local."
—Tina Brown, The Daily Beast, "Favorite Books of 2012"

"A deeply reported look at an increasingly complicated and fragile society."
—The Kansas City Star

"Very few books about Saudi Arabia will chill the reader as artfully as Karen Elliott House's smart and eloquent On Saudi Arabia . . . straightforward and utterly trenchant . . . Provocative, rich with insight . . . a must-read."
—San Francisco Chronicle
 
"Drawing on thirty years of research and reporting . . . [House] skillfully unveils this inscrutable place for regional specialists and general readers alike."
—The New York Times Book Review

"A well-written exposé . . . an unblemished and objective assessment of the Saudi worldview . . . provides creative insights into how best to engage the Saudis in a productive dialogue."
—The Huffington Post

"Fascinating . . . House's exploration of the inner workings of Saudi society adds considerable weight to her assertions that the problems of succession, the decline of oil reserves, and a population with limited opportunities for employment or self-fulfillment are potential powder kegs . . . an important book that offers insights into the kingdom's fault lines, as well as gentle suggestions for a positive diplomacy that encourages modest reforms."
—Rachel Newcomb, The Washington Post
 
"House . . . is one of the wiliest and most determined newspaperwomen of her generation . . . a gem of reporting on one of the hardest stories to crack . . . illuminating . . . masterful."
—Seth Lipsky, The New York Sun

"Well-researched, informative . . . succeeds in capturing the diversity of Saudi society, painting a more complex picture than the caricature of oil wells and extreme wealth."
—Kirkus

"In her definitive book On Saudi Arabia, Karen House demonstrates an unparalleled understanding of the dynamics of Saudi society. Her extraordinary access to Saudis from all walks of life and her keen insights into the impact of Islam and the governing style of the ruling family on the lives of Saudi citizens greatly enrich the reader's understanding of this significant Middle Eastern country." 
—Senator Susan Collins (Maine), Ranking Member of the Senate Committee on Homeland Security and Governmental Affairs

"Entertaining and lucidly drawn . . . unique in that it mostly avoids the shallow analysis of instant experts, while also forgoing the jargon and sometimes incomprehensible theorizing of academic texts . . . a vivid and rarely seen picture of this closed state . . . eloquent and timely . . . Presenting these issues in a readable yet serious book is a rare feat indeed, and [House] should be commended for it."
—The New Republic

"An engaging and lucid exploration of Saudi politics and culture . . . recommended reading for all those seeking a new perspective on one of the world's most consequential societies."
—Henry A. Kissinger

"The internal contradictions of a medieval theocracy in thrall to modern-day petrocapitalism give Pulitzer Prize-winning journalist House ample material . . . Illuminating . . . cogently written."
—Publishers Weekly

"An incisive analysis of divisive dynamics inside the world's most important supplier of oil. House asks hard questions about the future of Saudi Arabia."
—Graham Allison, Director of the Belfer Center for Science and International Affairs, Harvard University

"A new and different view of Saudi Arabia from the ground up that offers a valuable assessment of where the kingdom is and where it might go. A stimulating and worthwhile read."
—George P Shultz
 
"Karen House's On Saudi Arabia is a book that future Saudi leaders should read carefully. It exposes incisively and dispassionately the social contradictions and the potential political vulnerabilities of contemporary Saudi Arabia. A timely and truly important book."
—Zbigniew Brzezinski
Knopf Publishing Group, 9780307272164, 308pp.
Publication Date: September 18, 2012
About the Author
KAREN ELLIOT HOUSE is a graduate of the University of Texas at Austin. She studied and taught at Harvard University s Institute of Politics and was a senior fellow at the John F. Kennedy School of Government at Harvard University.

House lives in Princeton, New Jersey, with her husband, Peter R. Kann, and their children.

"
or
Not Currently Available for Direct Purchase