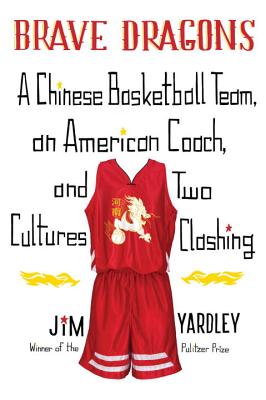 Brave Dragons
A Chinese Basketball Team, an American Coach, and Two Cultures Clashing
Hardcover

* Individual store prices may vary.
Other Editions of This Title:
Paperback (1/22/2013)
Description
The wonderfully original story of a struggling Chinese basketball team and its quixotic, often comical attempt to right its fortunes by copying the American stars of the NBA—a season of cultural misunderstanding that transcends sports and reveals China's ambivalent relationship with the West.
 
When the Shanxi Brave Dragons, one of China's worst professional basketball teams, hired former NBA coach Bob Weiss, the team's owner, Boss Wang, promised that Weiss would be allowed to Americanize his players by teaching them "advanced basketball culture." That promise would be broken from the moment Weiss landed in China. Desperate for his team to play like Americans, Wang—a peasant turned steel tycoon—nevertheless refused to allow his players the freedom and individual expression necessary to truly change their games.
 
Former New York Times Beijing bureau chief Jim Yardley tells the story of the resulting culture clash with sensitivity and a keen comic sensibility. Readers meet the Brave Dragons, a cast of colorful, sometimes heartbreaking oddballs from around the world: the ambitious Chinese assistant coach, Liu Tie, who believes that Chinese players are genetically inferior and can improve only through the repetitious drilling once advocated by ancient kung fu masters; the moody and selfish American import, Bonzi Wells, a former NBA star so unnerved by China that initially he locks himself in his apartment; the Taiwanese point guard, Little Sun, who is demonized by his mainland Chinese coaches; and the other Chinese players, whose lives sometimes seem little different from those of factory workers.
 
As readers follow the team on a fascinating road trip through modern China—from glamorous Shanghai and bureaucratic Beijing to the booming port city Tianjin and the polluted coal capital of Taiyuan—we see Weiss learn firsthand what so many other foreigners in China have discovered: China changes only when and how it wants to change.
Praise For Brave Dragons: A Chinese Basketball Team, an American Coach, and Two Cultures Clashing…
 "Rollicking . . . Lively and often hilarious . . . Yardley's tale resonates far beyond sports . . . He manages to capture, in touchingly human detail, the essence of a nation in transition."
-Brook Larmer, The Washington Post
 
"Illuminating . . . Brave Dragons is to Chinese basketball what Laura Hillenbrand's Seabiscuit was to Depression-era horse racing: Both books certainly do justice to their respective sports but also use them as tools to gain access to wholly different cultures."
-Maureen Corrigan, Fresh Air
 
"An engaging history of basketball in China . . . In Yardley's deft handling, the tale of the Brave Dragons and their American coach becomes something much bigger than an account of an oddball basketball team."
-Jason Zengerle, The New York Times Book Review
 
"Yardley's vivid, pointed, and often very funny examination of Chinese basketball has much to say about the country at large—and the way Americans often come flying down the lane at it, only to find themselves called for a charging foul."
-Jay Jennings, San Francisco Chronicle
 
"Remarkable . . . Brave Dragons is about much more than basketball. It is about more than Weiss's adventures. It is a serious look at the deep divisions between American and Chinese cultures."
-Steve Kelley, The Seattle Times
 
"Brave Dragons is a winner—informative and conversational, occasionally funny and frequently suspenseful . . . Yardley rewards readers with his close eye and felicitous prose. This book amounts to cultural catnip."
            -Karen R. Long, Cleveland Plain Dealer
 
"Exceptionally ambitious . . . Yardley's observations of a country in transition are instructive, sometimes even poetic."
-Bill Littlefield, The Boston Globe
 
"Entertaining . . . Yardley presents basketball and young China's growing fascination with it as an apt, pacy metaphor for a China cautiously engaging with the West."
-David Shaftel, Mint
 
"A-. Brave Dragons is thorough micro- and macro-history, capable of sucking in both the basketball-obsessed and the non-athletically inclined."
-Vadim Rizov, The A.V. Club
 
"Yardley strikes gold . . . The Brave Dragons put together a decent season, and Yardley a memorable book."
-Booklist
 
"Unique . . . Engaging . . . A fantastically implausible, ultimately cautionary tale of how the Chinese and American ways often mix like oil and water."
-Kirkus
 
"Brave Dragons has all the ingredients of a farce: larger-than-life characters, sudden plot twists, and don't-let-the-door-hit-you-on-the-way-out moments. But Jim Yardley sees the bigger picture: In many ways, basketball is a metaphor for the emergence of China as an economic power and its relationship with the rest of the world. "
-Curt Schleier, The Seattle Times
 
"Masterly . . . Brave Dragons is a must-read for any hoops fans with a hankering to understand what is and isn't happening in China."
-Alan Paul, Slam
 
"An engaging story that will appeal to sports fans and general readers alike."
-Publishers Weekly
 
"In delightful and insightful ways this wonderful book takes the reader into a world, China, through another world, basketball, that even helps illuminate a third world, America. I couldn't put it down."
-Ira Berkow, co-author with Walt Frazier of Rockin' Steady: A Guide to Basketball and Cool
 
"Jim Yardley's terrific book, telling the story of an obscure Chinese basketball team and its American coach, opens a vivid window on an unexpected item in the broader Sino-American encounter, and it does so not just perceptively but entertainingly as well. Nobody should mistake Brave Dragons for a sports book alone—yes, it's full of action, big personalities, and excitement, but it's also a universal story of human striving and cultural collision that's hard to put down."
-Richard Bernstein, author of Ultimate Journey: Retracing the Path of an Ancient Buddhist Monk Who Crossed Asia in Search of Enlightenment
 
"By following a backwater Chinese basketball team and its new American coach for a season, Jim Yardley has created a character-driven narrative that tells the reader as much about contemporary China as it does about sport. Yardley takes us into the gym, on the road, and behind closed doors in this immersive, funny and suspenseful book, which I couldn't put down."
-Michael Meyer, author of The Last Days of Old Beijing: Life in the Vanishing Backstreets of a City Transformed
 
"Jim Yardley's wonderful book not only provides a unique prism for understanding today's China but is as entertaining a book as I've read in some time. It's also a basketball fan's delight."
-Bryan Burrough, author of Barbarians at the Gate: The Fall of RJR Nabisco
Knopf, 9780307272218, 320pp.
Publication Date: February 14, 2012
About the Author
Jim Yardley has worked as a journalist for "The New York Times "for the past fourteen years, including eight years as a foreign correspondent and bureau chief in China and India. His reportage on China's legal system won the 2006 Pulitzer Prize for International Reporting, which he shared with a colleague, Joseph Kahn. He has also won or shared numerous other awards, including the Overseas Press Club Award for best international environmental coverage and the Sigma Delta Chi Award for best foreign reporting from the Society of Professional Journalists. He lives in New Delhi with his wife, Theo, and their three children, Olivia, George, and Eddie.
or
Not Currently Available for Direct Purchase