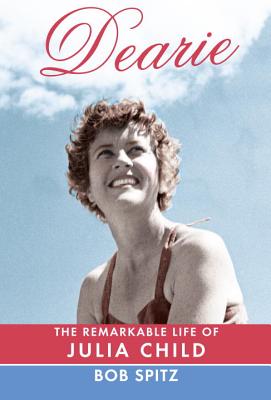 Dearie
The Remarkable Life of Julia Child
Hardcover

* Individual store prices may vary.
Other Editions of This Title:
Digital Audiobook (8/6/2012)
Paperback (4/23/2013)
Description
It's rare for someone to emerge in America who can change our attitudes, our beliefs, and our very culture. It's even rarer when that someone is a middle-aged, six-foot three-inch woman whose first exposure to an unsuspecting public is cooking an omelet on a hot plate on a local TV station.  And yet, that's exactly what Julia Child did.  The warble-voiced doyenne of television cookery became an iconic cult figure and joyous rule-breaker as she touched off the food revolution that has gripped America for more than fifty years.

Now, in Bob Spitz's definitive, wonderfully affectionate biography, the Julia we know and love comes vividly — and surprisingly — to life.  In Dearie, Spitz employs the same skill he brought to his best-selling, critically acclaimed book The Beatles, providing a clear-eyed portrait of one of the most fascinating and influential Americans of our time — a woman known to all, yet known by only a few.

At its heart, Dearie is a story about a woman's search for her own unique expression.  Julia Child was a directionless, gawky young woman who ran off halfway around the world to join a spy agency during World War II.  She eventually settled in Paris, where she learned to cook and collaborated on the writing of what would become Mastering the Art of French Cooking, a book that changed the food culture of America.   She was already fifty when The French Chef went on the air —  at a time in our history when women weren't making those leaps.  Julia became the first educational TV star, virtually launching PBS as we know it today; her marriage to Paul Child formed a decades-long love story that was romantic, touching, and quite extraordinary.

A fearless, ambitious, supremely confident woman, Julia took on all the pretensions that embellished tony French cuisine and fricasseed them to a fare-thee-well, paving the way for everything that has happened since in American cooking, from TV dinners and Big Macs to sea urchin foam and the Food Channel.  Julia Child's story, however, is more than the tale of a talented woman and her sumptuous craft.  It is also a saga of America's coming of age and growing sophistication, from the Depression Era to the turbulent sixties and the excesses of the eighties to the greening of the American kitchen.  Julia had an effect on and was equally affected by the baby boom, the sexual revolution, and the start of the women's liberation movement.

On the centenary of her birth, Julia finally gets the biography she richly deserves.  An in-depth, intimate narrative, full of fresh information and insights, Dearie is an entertaining, all-out adventure story of one of our most fascinating and beloved figures.
Praise For Dearie: The Remarkable Life of Julia Child…
  
"A biography perfectly suited to its subject -- as lively, fascinating, and singular as Julia Child herself."
–Daniel Okrent, author of Last Call: The Rise and Fall of Prohibition

"It's a revelation."
– Lev Grossman, Time Magazine  

"Spitz captures another side of [Julia's] complex personality: her fierce diligence in mastering the science as well as the art of cooking through detailed experimentation and her concern to translate the preparation of complex French recipes for readers in America . . . An engrossing biography of a woman worthy of iconic status."
– Kirkus Review (starred) 

"A rollicking biography that captures the vision, pluck and contagious exuberance that were the essence of Julia Child"
– People Magazine 

 "In this affectionate and entertaining tribute to the witty, down-to-earth, bumptious, and passionate host of The French Chef, Spitz (The Beatles) exhaustively chronicles Child's life and career from her childhood in California through her social butterfly flitting at Smith and her work for a Pasadena department store to her stint in government service, her marriage to Paul Child, and her rise to become America's food darling with the publication of Mastering the Art of French Cooking and her many television shows. . . Released to coincide with Child's centenary, Spitz's delightful biography succeeds in being as big as its subject."
– Publishers Weekly (starred)

"The most engaging celebrity biography we've read in years . . . Spitz manages to convey the vigor, curiosity, confidence and booming voice of a truly remarkable woman as if she is sitting at the kitchen table with you. . . Spitz is a fantastic writer." – LA Weekly

"A much-appreciated, well timed gift to us all . . . Julia has never been more alive in the hearts and minds of those who grew up with her and drank her dreams." – The Huffington Post

"In what is by far the most substantial new book on Child, Bob Spitz draws a lively, affectionately detailed portrait . . . [with] the kind of language, slangy and salty, that Child would have enjoyed and might have used herself." – Wall Street Journal 


"Spitz gives us plenty of the wacky one-liners that endeared Child to her television audience, and a warm, nuanced portrait. But his bigger achievement is in setting her career against the most significant movements of the 20th century, from McCarthyism to the sexual revolution to the greening of America. He reveals how she helped redefine domesticity in the media age, transforming the way we cook, eat and think about food. . . A consideration not only of her life but of her place in 20th century American history, the book makes a strong case for Child as a 'cultural guerrilla' on par with Andy Warhol, Bob Dylan and Helen Gurley Brown." – Newsday

 
"After wiping your drool off the page, you might wonder where Spitz uncovered such narrative gold . . . Author and subject almost become one, as Spitz channels the spirit of Child in his own words. . . His detailed research into mid-century American cooking helps us understand why exactly Child was such a big deal" – Becky Krystal, Washington Post
Knopf, 9780307272225, 576pp.
Publication Date: August 7, 2012
About the Author
Bob Spitz is the award-winning author of "The Beatles," a "New York Times "best seller, as well as seven other nonfiction books and a screenplay. He has represented Bruce Springsteen and Elton John in several capacities. His articles appear regularly in magazines and newspapers, including "The New York Times Magazine"; "The Washington Post"; "Rolling Stone"; and "O, The Oprah Magazine," among others. He can be reached at dearie@bobspitz.com.
Coverage from NPR
or
Not Currently Available for Direct Purchase