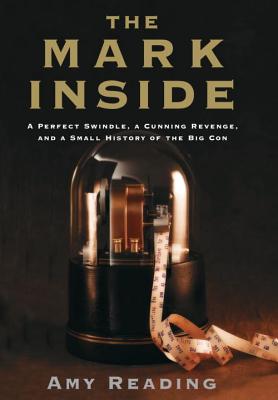 The Mark Inside
A Perfect Swindle, a Cunning Revenge, and a Small History of the Big Con
Hardcover

* Individual store prices may vary.
Other Editions of This Title:
Digital Audiobook (3/5/2012)
Paperback (2/26/2013)
Description
In 1919, Texas rancher J. Frank Norfleet lost everything he had in a stock market swindle. He did what many other marks did—he went home, borrowed more money from his family, and returned for another round of swindling.  
 
Only after he lost that second fortune did he reclaim control of his story. Instead of crawling back home in shame, he vowed to hunt down the five men who had conned him. Armed with a revolver and a suitcase full of disguises, Norfleet crisscrossed the country from Texas to Florida to California to Colorado, posing as a country hick and allowing himself to be ensnared by confidence men again and again to gather evidence on his enemies. Within four years, Frank Norfleet had become nationally famous for his quest to out-con the con men.
 
Through Norfleet's ingenious reverse-swindle, Amy Reading reveals the mechanics behind the scenes of the big con—a piece of performance art targeted to the most vulnerable points of human nature. Reading shows how the big con has been woven throughout U.S. history. From the colonies to the railroads and the Chicago Board of Trade, America has always been a speculative enterprise, and bunco men and bankers alike have always understood that the common man was perfectly willing to engage in minor fraud to get a piece of the expanding stock market—a trait that made him infinitely gullible.
 
Amy Reading's fascinating account of con artistry in America and Frank Norfleet's wild caper invites you into the crooked history of a nation on the hustle, constantly feeding the hunger and the hope of the mark inside.
Praise For The Mark Inside: A Perfect Swindle, a Cunning Revenge, and a Small History of the Big Con…
"Not only does she artfully relate Norfleet's revenge, but [Reading] also places it in the context of scammers dead and living. This is not a history of Ponzi schemes, and it does not reach the heights (or should I say depths) of Bernie Madoff's operation. It is, however, an engaging book for anybody who wants to better understand misconduct in the realm of finance—and the consequences of such misconduct for everybody involved."
     —Steve Weinberg, USA Today

"In these pages are brilliant portraits of Florida before retirement groves, of wild-west Denver before the tech boom, and of Texas before the Bush family decamped there from Greenwich, Connecticut. The country was younger then, though not more innocent. . . . A ripping good read."
    —David M. Shribman, The Boston Globe

"In the era of Bernie Madoff, Nigerian spam scams, and other sordid rackets, it's heartening to remember that swindling once took a touch more finesse. . . . The Mark Inside is an astounding tale, brought to vivid life by an historian who has had to become an expert at distinguishing fact from romantic fiction."
     —Jim Kelly, Businessweek
 
"Reading doesn't swindle her readers. . . . She delivers the goods, with enough scholarly information on America's con men to keep intellectually minded readers from feeling guilty about reading such a whopping good tale."
     —Doug Childers, Richmond Times-Dispatch

"Amy Reading brings to life one actual con in a book as riveting as a movie. . . . An amazing piece of historical research that will ensnare the reader."
     —Arthur T. Vanderbilt, Newark Star-Ledger

"Engrossing. . . . [Reading] gets to the center of both Norfleet's story and the mass appeal of the con artist as a figure in American culture."
    —Ian Crouch, The Paris Review Daily

"Vibrant characterizations. . . . This narrative of vigilante justice flows like fiction, as con artistry is illuminated throughout, with resonance in today's world of high-tech con artistry."
     —Publishers Weekly

"Fascinating . . . Norfleet's quest seems both quixotic and inspiring."
     —Kirkus Reviews

"Most scholarship reads like a trip to the dentist. The Mark Inside reads like a trip to the track."
   —David Mamet, Pulitzer Prize–winning author of Glengarry Glen Ross and House of Games
 
"With pitch-perfect storytelling and stylish prose, Amy Reading weaves a gripping tale of a grand swindle and even grander act of revenge, a solo manhunt throughout North America that's as hilarious as it is compelling. Rarely has history been this fun, fast-paced, and fulfilling. The Mark Inside is a book you won't put down and a story you'll never forget."
     —Karen Abbott, New York Times best-selling author of American Rose and Sin in the Second City

"Part page-turning crime drama, part juicy tale of vengeance and obsession, part informative social history, and part  intriguing epistemological rumination about literary truth, Amy Reading's The Mark Inside is always great fun. From the first page Ms. Reading hooks the reader as shrewdly as any of the bunco men she writes about—only she makes good on this enticement, delivering narrative gold."
     —Howard Blum, best-selling author of The Floor of Heaven and American Lightning

"An astonishing story of one victim's determined quest to bring down a ring of swindling confidence men.  We have rigged fights, fake stock exchanges, gun battles, jailbreaks, a hardy Texan, an honest dentist and a righteous DA.  Here's early twentieth-century capitalism—a great humbug run by the ghost of a grinning P.T. Barnum."
     —Ann Fabian, author of Card Sharps and Bucket Shops

"It's tempting to say that The Mark Inside reads like a historical novel, but really it's more like a great heist film. Amy Reading entertains while explaining why all Americans—from Ben Franklin to Bernie Madoff—are part trickster and part sucker."
   —Scott A. Sandage, author of Born Losers
Knopf, 9780307272485, 304pp.
Publication Date: March 6, 2012
About the Author
Amy Reading holds a Ph.D. in American Studies from Yale University. She lives in upstate New York with her husband and two children.
Coverage from NPR
or
Not Currently Available for Direct Purchase