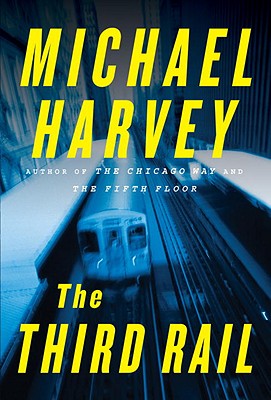 The Third Rail (Hardcover)
Knopf, 9780307272508, 304pp.
Publication Date: April 20, 2010
Other Editions of This Title:
Digital Audiobook (4/19/2010)
Paperback (3/22/2011)
Mass Market Paperback (3/22/2011)
Hardcover, Large Print, Large Print (8/1/2010)
* Individual store prices may vary.
Description
A woman is shot as she waits for her train to work. An hour later, a second woman is gunned down as she rides an elevated train through the Loop. Two hours after that, a church becomes the target of a chemical weapons attack. The city of Chicago is under siege, and Michael Kelly, cynical cop turned private investigator, just happens to be on the scene when all hell breaks loose.

Kelly is initially drawn into the case by the killers themselves, then tasked by Chicago's mayor and the FBI to hunt down the bad guys and, all things being equal, put a bullet in them. Kelly, of course, has other ideas. As he gets closer to the truth, his instincts lead him to a retired cop, a shady train company, and an unnerving link to his own past. Meanwhile, Kelly's girlfriend, Rachel Swenson, becomes a pawn in a much larger game, while a weapon that could kill millions ticks away quietly in the very belly of the city.

The Third Rail is stylish, sophisticated, edge-of-your-seat suspense from a new modern master.
About the Author
Michael Harvey is the author of "The Chicago Way" and "The Fifth Floor, " and is also a journalist and documentary producer. His work has won numerous national and international awards, including multiple Emmy Awards, two Primetime Emmy nominations, and an Academy Award nomination. He holds a law degree from Duke University, a master's degree in journalism from Northwestern University, and a bachelor's degree in classical languages from Holy Cross College.

www.michaelharvey.com
Praise For The Third Rail…
Praise for Michael Harvey's The Third Rail
 
"[A] knockout thriller. . . . Harvey dispenses the pressure plays, cruel surprises and heartbreaking setbacks of his plot with crack timing, never allowing the reader a moment to unfasten his seat belt. And all the while Harvey renders [P. I. Michael] Kelly's Chicago in crisp, tough and ironic prose."
—Gerald Bartell, The Washington Post Book World

"Michael Harvey should be read by all."
—John Grisham
 
"[A] stellar third novel. . . . Harvey stakes a persuasive claim as the preeminent contemporary voice of Chicago noir."
—Publishers Weekly (starred review)
 
"[A] book-length jolt of pure adrenaline."
—Kirkus
 
"The expert use of Chicago politics that distinguished Harvey's previous novel, The Fifth Floor, is much in evidence here as well. . . . [T]he action is nonstop, Harvey once again captures the unique zeitgeist of the city, and Kelly, tough, smart, and a bit rough around the edges, is a true native son."
—Thomas Gaughan, Booklist
 
"Harvey drives his third Michael Kelly entry (after The Fifth Floor) like an efficient train. . . . The mixture of high-speed drama and historical elements showcases the author's journalist roots.  It comes off like a juicy true-crime story with abundant twists, ensuring that the reader is left feeling unbalanced most of the time.  Harvey shares his passion for Chicago, much like Gabriel Cohen does with his Brooklyn crime novels."
—Teresa L. Jacobsen, Library Journal
 

Praise for The Fifth Floor
 
"In The Fifth Floor, Michael Harvey gives us a tale of murder, bare-knuckle mayoral politics, and historical catastrophe–in short, the perfect Chicago detective story, complete with a loving tour of the city's funkier locales that'll make any displaced Chicagoan long for home."
—Erik Larson, author of The Devil In the White City
 
"Michael Harvey has done for Chicago what Raymond Chandler did for Los Angeles and Dashiell Hammett for San Francisco. . . . Dazzlingly good."
—Les Roberts, The Plain Dealer
 
"This is a first-rate detective novel that brings back the glory of those earlier heroes, but with the appeal of today's modern world. They don't come much better than this one."
—The Journal Star
 
"Harvey is a budding superstar."
—The Daily News
 
"Impressive . . . a tangled, fascinating tale."
—The Chicago Tribune
 
"A sophisticated caper that keeps readers guessing. . . . Rapt attention is necessary to keep track of the plot twists and characters, but Harvey brilliantly brings all the threads together, and provides a satisfying conclusion."
—The Missourian
 
 
Praise for The Chicago Way
 
"A magnificent debut that should be read by all."
—John Grisham
 
"Harvey's debut delivers a fast-paced thrill ride through Chicago's seedy underbelly . . . [He] masterfully combines the sardonic wit of Chandler with the gritty violence of Lehane's Kenzie and Gennaro series. Bringing Chicago to life so skillfully that the reader can almost hear the El train in the distance, Harvey is poised to take the crime-writing world by storm."
—Publishers Weekly (starred review)
 
"Heartfelt, ambitious . . . Kelly, a wisecracking Irish Scrapper, slings metaphors like Philip Marlowe and reads Homer and Aeschylus in Greek . . . Harvey ends up delivering the goods."
—Kirkus
 
"Michael Harvey's tightly plotted evocation of the Chicago underworld is set in the present but brings to mind the voices of Chandler and Hammett."
—New York
 
"Gritty and witty, The Chicago Way is done the classic Raymond Chandler Way. Harvey's taut plot, snappy prose, and memorable characters make this debut novel a real winner."
—Kathy Reichs
 
"The Chicago Way is a wonderful first novel. Michael Harvey has studied the masters and put his own unique touch on the crime novel. This book harkens the arrival of a major new voice."
—Michael Connelly
 
"An intricate, fast-paced crime thriller."
—Chicago Sun-Times
 
"The efficiency of [Harvey's] cinematic style . . . suits the brisk, animated shots of Chicago that give the story both grit and authenticity."
—New York Times Book Review
 
"It is a measure of the ambition of Michael Harvey's first novel, The Chicago Way, that we start it thinking about Dashiell Hammett and end it pondering Aeschylus."
—The Washington Post Book World
 
"A smart, stylish debut . . . fresh. . . . The dialogue is snappy and crisp and the characters pop off the page. The plot flows along swimmingly with plenty of surprises."
—The Boston Globe
 
"Not to be outdone by his work in television, Harvey has written a provocative novel that captures the grittiness of the Windy City and spins a murder mystery with a satisfying and out-of-left-field ending. . . . Readers will find the clipped cadence of Harvey's dialogue and narrative wonderfully reminiscent of Raymond Chandler."
—USA Today
 
"[Harvey] composes punchy noir sentences that he stacks into punchy noir paragraphs that have all the rhythm, irony, and wit of the genre's manly classics of the 1920s and '30s."
—Jennifer Reese, Entertainment Weekly
 
"The opening pages are packed with the kind of wry, dry narration that goes down as smoothly as a pulp paperback with a shot of rye. . . . A twisty page-turner."
—Booklist
 
"This contemporary police procedural by the man responsible for TV's Cold Case Files smacks of Raymond Chandler filtered through Robert B. Parker."
—Go Magazine
 
"The Chicago Way by Michael Harvey is as entertaining as a night out on the town."
—The Missourian
Book Videos
or
Not Currently Available for Direct Purchase