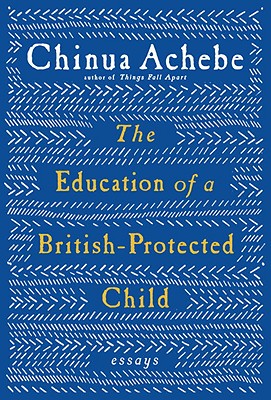 The Education of a British-Protected Child: Essays (Hardcover)
Essays
Knopf, 9780307272553, 192pp.
Publication Date: October 6, 2009
* Individual store prices may vary.
or
Not Currently Available for Direct Purchase
Description
From the celebrated author of Things Fall Apart and winner of the Man Booker International Prize comes a new collection of autobiographical essays—his first new book in more than twenty years.

Chinua Achebe's characteristically measured and nuanced voice is everywhere present in these seventeen beautifully written pieces. In a preface, he discusses his historic visit to his Nigerian homeland on the occasion of the fiftieth anniversary of the publication of Things Fall Apart, the story of his tragic car accident nearly twenty years ago, and the potent symbolism of President Obama's election. In "The Education of a British-Protected Child," Achebe gives us a vivid portrait of growing up in colonial Nigeria and inhabiting its "middle ground," recalling both his happy memories of reading novels in secondary school and the harsher truths of colonial rule. In "Spelling Our Proper Name," Achebe considers the African-American diaspora, meeting and reading Langston Hughes and James Baldwin, and learning what it means not to know "from whence he came." The complex politics and history of Africa figure in "What Is Nigeria to Me?," "Africa's Tarnished Name," and "Politics and Politicians of Language in African Literature." And Achebe's extraordinary family life comes into view in "My Dad and Me" and "My Daughters," where we observe the effect of Christian missionaries on his father and witness the culture shock of raising "brown" children in America.

Charmingly personal, intellectually disciplined, and steadfastly wise, The Education of a British-Protected Child is an indispensable addition to the remarkable Achebe oeuvre.
About the Author
Chinua Achebe was born in Nigeria in 1930. His firstnovel, "Things Falls Apart," became a classic of international literature and required reading for students worldwide. He also authored four subsequent novels, two short-story collections, and numerous other books. He was the David and Marianna Fisher University Professor and Professor of Africana Studies at Brown University and, for over 15 years, was the Charles P. Stevenson Jr. Professor of Languages and Literature at Bard College. In 2007, Achebe was awarded the Man Booker International Prize for lifetime achievement. He died in 2013.
Praise For The Education of a British-Protected Child: Essays…
"African literature is incomplete and unthinkable without the works of Chinua Achebe. For passion, intellect, and crystalline prose, he is unsurpassed."
—Toni Morrison

"An eclectic and thorough view of Achebe in his longtime roles as writer, father, and teacher. [Written] with the same generosity and humility that have always distinguished his work. . . . [Achebe] strives to act and to write with empathy and nuance rather than with fanaticism. . . . [He writes] in his characteristically gentle narrative style, that way he has of seeming to be in casual conversation, discussing matters big and small with an interested and sympathetic companion."
—The New York Times Book Review

"Measured but firm. . . . Achebe's deeply humane intelligence reverberates."
—Newsday

"Sharp and fresh. . . . Achebe's assessment of colonial contact [has] gravitas and pathos. . . . He is one of world literature's great humane voices."
—The Times Literary Supplement (London)

"A welcome return. . . . [Achebe] writes firmly and vividly. . . . [He] tangles further, and profitably, with the obsessions that have defined his career; colonialism, identity, family, the uses and abuses of language."
—The New York Times
 
"Quite wonderful: it gives the reader the feeling of sitting across the table and talking on easy terms with one of the world's deepest and broadest literary minds, gaining insight into Achebe's life and work, but also into Nigeria, colonialism, and the complicated interplay of European and African culture. . . . Rich and insightful."
—The Buffalo News
 
"Timeless. . . . Achebe has stayed an engaged and provocative voice. There's plenty of pluck and fight in this collection. . . . [His] arguments are well reasoned, interesting, and often engrossing."
—The Associated Press
 
"This collection of beautifully written autobiographical essays reveals much about [Achebe's] worldview."
—The Christian Science Monitor
 
"[Achebe's] essays range from the political to the historical to the personal, yet they are all projected through an intimate, biographical lens, thus making each a milestone on his long journey on this earth. . . . It is a mark of Achebe's genius as a narrator that one could hear him many times on the same subject and never grow bored."
—The Guardian (London)
 
"British protection assumed the humiliation and denial of dignity of colonialism but also allowed for the unpredictable in human affairs. . . . In all of these essays . . . Achebe generously locates and describes this unpredictable area."
—The Boston Globe
 
"Achebe has discharged the burden of storyteller and intellectual with penetrating intelligence and sensitivity. . . . The essays reveal a characteristic awareness of history . . . and an intellectual temperament suspicious of fanaticism of any sort, secular or religious."
—Financial Times
 
"The hero Achebe has become is not disassembled before us in these essays. If anything, he is, as an individual hero, remade. . . . [His] many personal anecdotes in The Education amount, in the end, to something like liner notes to the great songs of his novels."
—Columbia Journalism Review
 
"Early in the book, Achebe states that his thinking occupies the 'middle-ground' which is 'un-dramatic' and 'unspectacular.' But don't be fooled; his is a voice that roars. . . . There is much to admire about the life and mind of one of the world's most important writers and thinkers."
—The Independent (London)
 
"The essays, like his novels, are models of clarity, care and thoughtfulness. They are the product of a western-educated mind, but are suffused with an Igbo sensibility."
—The Times (London)

"Surprising and revelatory . . . wise and scintillating. . . . Here style is substance as Achebe writes with generosity, reason, and elegant clarity about the perpetual struggles between tyranny and resistance, denial and remembrance."
—Booklist
 
"For all the ferocity of Achebe's argument, he never loses his sense of humour, his instinct for poetry, nor his belief in the resilience of the human spirit."
—The Scotsman
Coverage from NPR
Advertisement