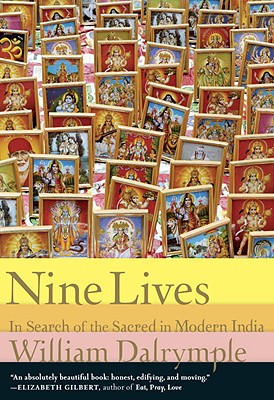 Nine Lives
In Search of the Sacred in Modern India
Hardcover

* Individual store prices may vary.
Other Editions of This Title:
Paperback (6/14/2011)
Description
From the author of "The Last Mughal" ("A compulsively readable masterpiece" --"The New York Review of Books"), an exquisite, mesmerizing book that illuminates the remarkable ways in which traditional forms of religious life in India have been transformed in the vortex of the region's rapid change--a book that distills the author's twenty-five years of travel in India, taking us deep into ways of life that we might otherwise never have known exist.
A Buddhist monk takes up arms to resist the Chinese invasion of Tibet--and spends the rest of his life atoning for the violence by hand printing the finest prayer flags in India . . . A Jain nun tests her powers of detachment as she watches her closest friend ritually starve herself to death . . . A woman leaves her middle-class life in Calcutta and finds unexpected fulfillment living as a Tantric in an isolated, skull-filled cremation ground . . . A prison warder from Kerala is worshipped as an incarnate deity for three months of every year . . . An idol carver, the twenty-third in a long line of sculptors, must reconcile himself to his son's desire to study computer engineering . . . An illiterate goatherd from Rajasthan keeps alive in his memory an ancient four-thousand-stanza sacred epic . . . A temple prostitute, who initially resisted her own initiation into sex work, pushes both her daughters into a trade she nonetheless regards as a sacred calling.
William Dalrymple chronicles these lives with expansive insight and a spellbinding evocation of circumstance. And while the stories reveal the vigorous resilience of individuals in the face of the relentless onslaught of modernity, they reveal as well the continuity of ancient traditions that endure to this day. A dazzling travelogue of both place and spirit.
Praise For Nine Lives: In Search of the Sacred in Modern India…
"Nine Lives is not only a masterful text, but it is also an extraordinarily important book . . . Simply as stories, each discrete episode is an emotive and moving tale of how an individual found, or inherited, a path to spiritual dedication . . . But often, these nine lives capture larger issues or trends, beyond the specificity of each individual's story."
—San Francisco Chronicle
 
"Nine Lives fulfills the premise that a master artist can make something very difficult look easy. The transparent prose reminded me of the great American nonfiction writer Tracy Kidder's work . . . Even skeptical readers will be hard-pressed to ignore the great comfort and inspiration these practitioners of Hinduism, Buddhism, and Islam take from their daily worship. You don't have to know a thing about India to enjoy this book, but when you're done you will know and appreciate much more about its people and their various lives—of the body, of the spirit, and of the heart."
—Seattle Times

"Nine Lives is an absolutely beautiful book: honest, edifying, and moving. I love so much about it, but mostly I love how William Dalrymple has gotten out of the way of the story, letting the characters inhabit in their own voices every square inch of each page. It's a delight."
—Elizabeth Gilbert, author of Eat, Pray, Love

"Absorbing . . . The narratives Dalrymple unearths are fascinating and sometimes painfully moving, and he surrounds them with generous knowledge. This is the India we seldom see, populated by obscure people whose lives are made vivid by their eloquent troubles and reckless piety."
—New York Times Book Review

"In this exquisite book of extraordinary lives, we see that the sacred survives in India amidst all its contradictions and modernity. William Dalrymple dazzles us with stories of how a deeper reality stokes the fire of life in the recesses of our souls. These are stories of real people in postmodern India. By peering into the secret passages of their psyches, we learn more about our own self, our fantasies, our shadows, our longings, our hidden potential."
 —Deepak Chopra
 
"William Dalrymple's triumphant return to travel writing not only illuminates India's relationship with religion but casts the genre itself in a new light . . . A wise and rewarding book fizzing with Dalrymple's signature erudition and lightness of touch . . . The travel book of the year."
—The Guardian (UK)
 
"Through the stories of nine people, told simply and powerfully, Dalrymple unpicks the diversity and complexity of religious belief and spiritual practice in the subcontinent, while underscoring the fragility of some of these unique traditions in a rapidly modernizing country. Like Chaucer's The Canterbury Tales, Nine Lives presents a wonderful pageant of believers whose stories are as much about spirituality as about society."
—Christian Science Monitor
 
"Nine Lives shows us lives hidden almost entirely from Western readers . . . Such books open up the world in a compelling way."
—Wall Street Journal

"Dalrymple vividly evokes the lives of these men and women, with the sharp eye and good writing that we have come to expect of his extraordinary books . . . Nine Lives is a glorious mixture of journalism, anthropology, history, and history of religions, written in prose worthy of a good novel . . . Not since Kipling has anyone evoked village India so movingly . . . The book gives an answer to Christopher Hitchens, Richard Dawkins and those who would condemn all religions for the sake of the fanatical fringe."
—Wendy Doniger, The Times Literary Supplement (UK)
 
"This is travel writing at its best . . . It is also a series of biographies which unpick the rich religious heritage of the subcontinent . . . This book makes its political points more powerfully than any newspaper article."
—The Observer (UK)
 
"A singular achievement . . . Dalrymple brings a powerful restraint and clarity to precisely the two subjects—India and faith—that cause most observers to fly off into cosmic vagueness or spleen. The result is a deeply respectful and sympathetic portrait of those modest souls seldom mentioned in the headlines."
—Pico Iyer, Time
 
"A fascinating new book . . . These might seem like exotic characters, but Dalrymple allows them to tell their own stories, and they emerge as deeply sympathetic and human . . . He's succeeded brilliantly."
—Newsday

"Beautifully written, ridiculously erudite and, more than any of his previous work, reveals Dalrymple to be remarkably warm- and open-hearted . . . He [is] a towering talent."
—The Sunday Times (UK)
 
"Gripping, and often very moving . . . Characters rarely allowed into contemporary Anglophone writing about India are given an opportunity to describe their deepest aspirations without the slightest hint of authorial condescension."
—Pankaj Mishra, The National (Abu Dhabi)
 
"The outstanding read of the year . . . Entirely absorbing and beautifully lucid . . . The sub-continent rises, bemusing, bedazzling, a sensory tapestry crafted brilliantly."
—The Scotsman
 
"Heart-wrenching . . . Each of the nine stories speaks of the resilience of the human spirit when fighting against impossible odds . . . Dalrymple [is] among the most perceptive and humane of travel writers."
—Indian Express
 
 
Knopf Publishing Group, 9780307272829, 275pp.
Publication Date: June 15, 2010
About the Author
William Dalrymple is the author of six previous acclaimed works of history and travel, including "City of Djinns, "which won the Young British Writer of the Year Prize and the Thomas Cook Travel Book Award; the best-selling "From the Holy Mountain; White Mughals, "which won Britain's most prestigious history prize, the Wolfson; and "The Last Mughal, "which won the Duff Cooper Prize for History and Biography. He divides his time between New Delhi and London, and is a contributor to "The New York Review of Books, The New Yorker, "and "The Guardian. "
Coverage from NPR
or
Not Currently Available for Direct Purchase