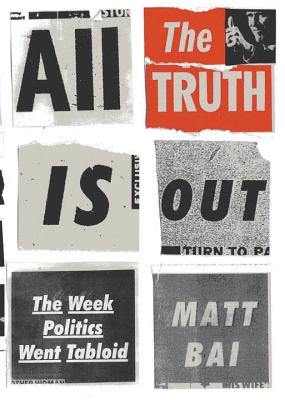 All the Truth Is Out
The Week Politics Went Tabloid
Hardcover

* Individual store prices may vary.
Other Editions of This Title:
Paperback (9/15/2015)
Description

Yahoo'snational political columnist and the former chief political correspondent for"The New York Times Magazine"brilliantly revisits the Gary Hart affair and looks at how it changed forever the intersection of American media and politics.
In 1987, Gary Hart-articulate, dashing, refreshingly progressive-seemed a shoo-in for the Democratic nomination for president and led George H. W. Bush comfortably in the polls. And then: rumors of marital infidelity, an indelible photo of Hart and a model snapped near a fatefully named yacht ("Monkey Business"), and it all came crashing down in a blaze of flashbulbs, the birth of 24-hour news cycles, tabloid speculation, and late-night farce. Matt Bai shows how the Hart affair marked a crucial turning point in the ethos of political media-and, by extension, politics itself-when candidates' "character" began to draw more fixation than their political experience. Bai offers a poignant, highly original, and news-making reappraisal of Hart's fall from grace (and overlooked political legacy) as he makes the compelling case that this was the moment when the paradigm shifted-private lives became public, news became entertainment, and politics became the stuff of Page Six.
Praise For All the Truth Is Out: The Week Politics Went Tabloid…
"Digging deep into a long-ago, mis-remembered scandal, Matt Bai has written an acutely intelligent and surprisingly moving page-turner about Gary Hart, journalistic blindness, and the trivialization of American politics."
—George Packer, author of The Unwinding: An Inner History of the New America

"In the tradition of his friend Richard Ben Cramer, Matt Bai astonishes us by delving deeply into a story and thus overturning our views about how the press should cover politics. This fascinating and deeply significant tale shows how the rules of American politics and journalism were upended for the worse by the frenzied coverage of Gary Hart's personal life. The soot still darkens our political process."
—Walter Isaacson, author of Steve Jobs

"A finely written, strikingly mature and thoughtful revisitation of the tawdry episode that destroyed Gary Hart's promising political career. It would have been enough for Matt Bai just to tell that story, or to assess what it cost those directly involved, including the journalists sucked into it, but he goes much further, weighing its profound cost to us all. All the Truth Is Out is in the impressive tradition of Nixon Agonistes, only with a dramatic personal narrative at its core. I could not admire it more."
—Mark Bowden, author of Black Hawk Down

"As an account of an emblematic scandal—what we knew, thought we knew, and never knew till now—Matt Bai's All the Truth Is Out is funny, sad, and riveting. As a work of cultural history and criticism, it is splendid—a clear-eyed but wholehearted exploration of the forces that have given us our (often disastrous) contemporary notions of campaign coverage, leadership, 'character,' privacy, and redemption." 
—Margaret Talbot, author of The Entertainer

"The kerfuffle about alleged sexual impropriety that torpedoed Gary Hart's presidential bid in 1987 drove an uncommonly promising leader from public life. It also helped to spawn the 'gotcha' journalism that has ever since sacrificed propriety and substance on the altars of prurience and sleaze. Fueled by a keen reverence for the finest traditions of his craft, Matt Bai revisits the sorry tale of Hart's humiliation to measure the depths of journalism's debasement today, and the harm it continues to inflict on American democracy."
—David M. Kennedy, author of The American Pageant

 "What makes All the Truth Is Out such an extraordinary achievement is that the reader is spellbound by every unfolding detail, in the manner of a crime novel—even while, as Matt Bai makes all too clear, the true crime of the Gary Hart saga is how politics and journalism descended hand in hand into a 'gotcha' netherworld from whence it's unlikely to return."
—Robert Draper, author of When the Tea Party Came to Town

"With extraordinary care and rare insight, Matt Bai leads us from the unraveling of Gary Hart's presidential campaign in 1987 to the present day. It's a trail that leads directly to the triumph of tabloid journalism—exposing falsehoods rather than illuminating worldviews, finding character flaws and isolated transgressions rather than looking for experience and intelligence, playing 'gotcha' rather than examining a candidate's capacity to govern. As Bai notes, that trail has brought American politics to a deadening end."
—Robert B. Reich, author of Aftershock 

Knopf Publishing Group, 9780307273383, 263pp.
Publication Date: September 30, 2014
About the Author
Matt Bai is the national political columnist for"Yahoo News." For more than a decade he was a political correspondent for"The New York Times Magazine, "where he covered three presidential campaigns.He is the author of"The Argument: Billionaires, Bloggers, and the Battle to Remake Democratic Politics, " named a notable book of 2007 by"The New York Times." He lives in Bethesda, Maryland.

www.mattbai.com

@mattbai

"
Coverage from NPR
or
Not Currently Available for Direct Purchase